Album Review: Skybrudd – Skybrudd (Self Released)
Norwegian metal band, Skybrudd can best be described as a melting pot where doom, sludge, black metal and all that is dark and malevolent is merged into a massive, heavy and dark matter. Fitting considering their name is derived from the weather phenomenon known as cloudburst where extreme amounts of precipitation appear without warning over a short period, often leading to floods and destruction.
In 2015 the band released their first EP, and has since then worked hard to finish writing their full-length debut album. This is now finally going to see its release on May 10th 2019.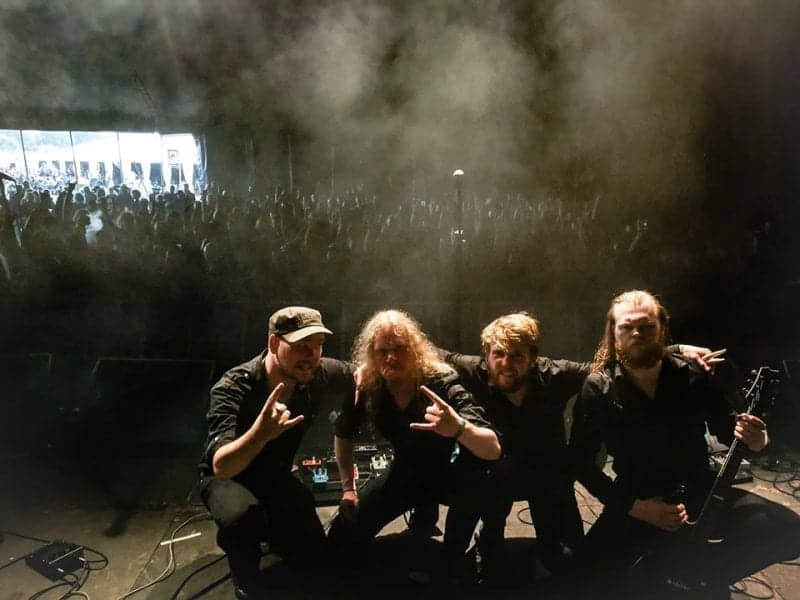 Beginning with a bang, a very heavy and dark bang, Vile Redeemer sees Skybrudd draw from the well of black and doom metal for a nasty sounding opener. One with the fire and brimstone of hell but with a suffocating rhythm and an exciting extra touch of guitar groove. It's a strong start, the twisted vocals and chug of the guitar really standing out.
The shadows deepen with melodic darkness for Interlude before The Will of the Gods brings some progressive sounding guitar work followed by chugging heaviness. Here we get a chorus with a little bit of harmony, nastier and more evil sounding but harmony none the less. It's really well done.
We then get the a three-parter in the form of Individ 808. Part I is filled with echoing melody that builds in effect for a more post-like finish. It flows into Part II where the guitar melody continues but this time spoken-word vocals and background crooning add some more weight to it. There's a growing desperation that increases here leading to a more imaginative finish. Before Part III welcomes us to hell with a chunky drum beat and the most brutalising sounding vocals heard on the album so far. This is pure head-banging heaviness, Skybrudd at their deepest and darkest.
The penultimate track, Nøkken is a chance to take a breather from the suffocating heaviness as it's a couple of minutes of post-metal guitar melody and deep, clean vocals. A track that is quite a bit different but very welcome. Especially as it prepares us for the finale. The title track and band name, Skybrudd is the longest and most complex sounding track on the album. Complex in how the guitars feed a different kind of beast but don't panic, it's still impressively heavy.
The vocal roars mixed with some absolutely killer rhythm makes this easily the best track on a album that Skybrudd can be very proud of.
Skybrudd – Skybrudd Full Track Listing:
1. Vile Redeemer
2. Interlude
3. The Will of the Gods
4. Individ 808 (Part I)
5. Individ 808 (Part II)
6. Individ 808 (Part III)
7. Nøkken
8. Skybrudd
The album will be available via all major streaming services including Spotify. Find out more about Skybrudd via their Facebook Page, Instagram and YouTube. Check out their full Bloodstock 2018 performance below.
Skybrudd - Skybrudd (Self Released)
The Final Score -

8/10