Album Review: SkeleToon – Nemesis (Scarlet Records)
After successfully revisiting the myth of the 'Goonies' flick with the brilliant 'They Never Say Die' album (2019), your favourite NerdMetal gang is back (with a vengeance).
The fourth chapter of SkeleToon's own spectacular power metal saga, 'Nemesis' is the beginning of a new conceptual story with tons of feel-good vibrations and, last but not least, their inborn sense of wonder and amazement.
When you desperately crave something to put a smile on your face after a year that can loosely be called 'a bit shit', along comes SkeleToon and their brand new album, Nemesis. An album jam-packed with hyper energy and genuinely feel good highs, it's power metal dialled up to 11.
It's not exactly a trot out of the gates with Brighter Than 1000 Suns, more of a full-on gallop where you're clinging on for dear life. The guitar melee complimented by racing drums, light symphonic elements and a powerful vocal performance.
Take a breather, sit back and enjoy the epic-ness that is Will You Save All? Before the chunky rhythm of the title track sets the senses alight again and Starseeker jettisons the mind up and out into space at the speed of light. A track to make you feel ten feet tall.
With such a constant focus on larger than life metal, you might expect the formula to get stale fairly quickly. However, SkeleToon are better than that and prove it with the heroic ballad that is Cold the Night, the vigour of Wake Up the Fire and the lavish, wide-ranging effort that is Arcana Opera.
The grin will be plastered all over the face, as though the wind changed, and you're stuck that way forever. Just tell anyone that asks that you've heard SkeleToon's Nemesis.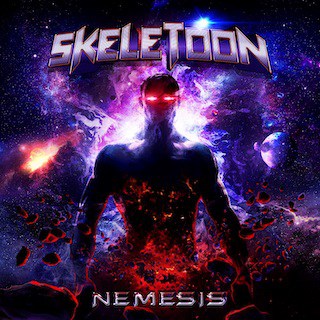 SkeleToon – Nemesis Full Track Listing:
1. Prelude: Falling Galaxies
2. Brighter Than 1000 Suns
3. Will You Save All?
4. Nemesis
5. Starseeker
6. Cold The Night
7. Follow Me Home
8. Wake Up The Fire
9. Il Tramonto Delle Ere
10. Arcana Opera
11. The NerdMetal Superheroes
12. Carry On
Links
SkeleToon - Nemesis (Scarlet Records)
The Final Score -

9/10