Album Review: Shiva – Planet Eater (Realityfade)
Shiva is a new deathcore trio based in Sydney, Australia. Realityfade is releasing their debut album entitled 'Planet Eater' on July 9th, 2021. The album consists of 11 tracks + 1 Kanye West cover for New Slaves + 1 instrumental bonus track. This band is a hidden treasure for any fan of not just deathcore but metal in general.
The Aussie deathcore scene is one of the world's finest and Shiva have a tough task to match, let alone better, the greats of it. Credit where credit is due, they give it a damn fine go on this, their debut record. Laying down the gauntlet with the absolute rager that is Hand of Death. Pick the pieces of your brain up, there's plenty more to come.
The chainsaw riffing and filthy guttural roars of Purist of Power, the methodical heavy battering that Planet Eaters dishes out and the violently epic soundscape of Strip the Crown. The first portion of this album delivers head-crushing brutality and it is awesome.
A short intermission of building percussion and epic sounding effects (Last March) leads into The Glow That Blinds where it's not just the siren at the start that heralds the end times. The lively tempo, different vocal style and crunchy metal groove will make the destruction clear.
Moody, mind-altering and epic, Plagued is a great example of just how Shiva have more in their tank then just noisy metalcore. Although you can rest assured that noisy metalcore is still very much a part of their being. Four Walls is Shiva out there looking for a fight, Such Is Life's despondent belligerence is simply thrilling, Animals' is wild and bloodthirsty but with a calming melodic chorus and Alpha ends the original efforts with deathcore ferocity 101.
It's quality stuff which is not something that can be said for the cover of Kanye West's New Slaves. Sure, a deathcore version of this track is amusing but that's about it. You can appreciate what Shiva are doing here but if you can't stand the original, you're not going to be won over here.
Thankfully, it's not how the album ends as that would have left a bad taste in the mouth. Instead, an instrumental version of the kick-ass track, Plagued closes things out. It's a banger and the clarity in the symphonic elements that exist here really makes it worth hearing.
Shiva are another in a long line of excellent deathcore bands emerging from the land down under. This debut does more than enough to help make them stand out from the pack.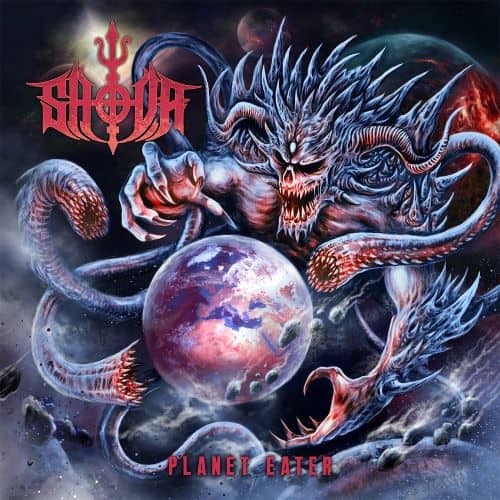 Shiva – Planet Eater Full Track Listing:
1. Hand Of Death
2. Pursuit Of Power
3. Planet Eaters
4. Strip The Crown
5. Last March
6. The Glow That Blinds
7. Plagued
8. Four Walls
9. Such Is Life
10. Animals
11. Alpha
12. New Slaves (Kanye West Cover)
13. Plagued (Instrumental)
Links
Facebook | Instagram | Realityfade
Shiva - Planet Eater (Realityfade)
The Final Score -

8/10