Album Review: Serene Dark – Enantiodromia (Self Released)
Canada's Serene Dark's "Enantiodromia" is out on July 17, 2020 (pronounced en-an-ti-o-dromia). Under the name Endemise, the band released Far From The Light (2013) and Anathema (2016), but now with the new name, Serene Dark have made a refreshing start with elements of the previous band still lingering, but taking the songs and style to a new level on this record and experimented with various instruments and vocal styles. This album sets a new calibre and standard for Serene Dark.
The band's take on the album:
The album explores the confrontation between the shadow aspect of the personality and the integration of it into the self to create wholeness. Influenced from philosophy, stoicism, hermetecism and the occult. The album, lyrically, is a journey towards individuation by the exploration of human darkness and transforming that pain into something tangible and meaningful. In essense- to lose one's self entirely to reach perfection.
Epic, blackened death metal…if those words excite you then you're in for a real treat. Serene Dark are at the top of their game with a new album that is the pinnacle of imagination when it comes to this style of metal. As classy as it is heavy, as brutal as it is attractive and as impactful as it is numbing.
Experimentation pays off as we get ruthlessness blended expertly with pandemonium lasting for 55-odd minutes. 10 tracks to experience on this wild ride, an all surrounding and consuming effort. The equivalent of being picked up and carried in a tornado, except it's not Oz that will be the landing site.
It's all about the layers and Serene Dark showcase so many layers to their music. The strength of the drums, the guitars complex and fascinating, vocals that have so much growl about; thrown into the mixing bowl with symphonic elements and more.
Comparisions to the likes of Rotting Christ, Septic Flesh and Fleshgod Apocalypse are fair as they're certainly cut from the same cloth. However, Serene Dark are certainly not just a repeat of what those bands have done. We can though, see a repeat of those band's accomplishments with an album this strong.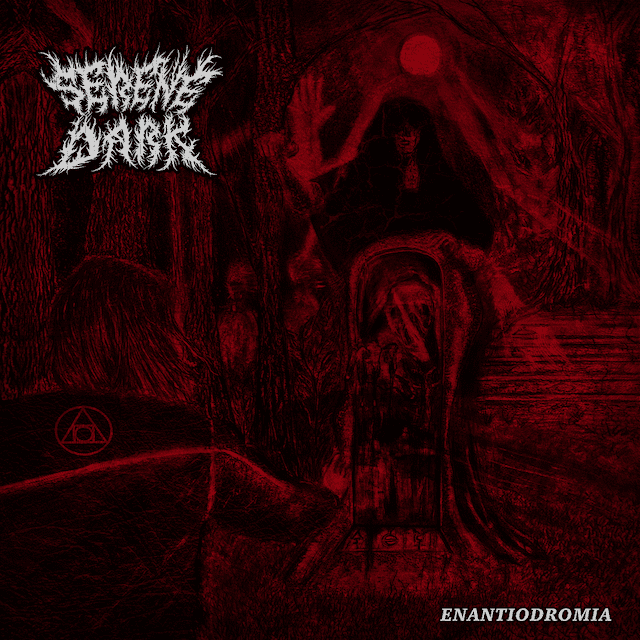 Serene Dark – Enantiodromia Full Track Listing:
1. Dualitatem
2. Of Serpentine Form
3. Where Time Drowns Still
4. Trance of Disintegration
5. Dweller In The Void of The Spirit
6. Reflecting Envenomed
7. Grieving The Distortion of Self
8. Malocchio
9. The Last Disciple of Dionysus
10. Onward, Burning Radiance
Links
Bandcamp | Website | Facebook | Instagram | YouTube
Serene Dark - Enantiodromia (Self Released)
The Final Score -

9/10