Album Review: Pattern-Seeking Animals – Prehensile Tales (InsideOutMusic)
In 2019, Pattern-Seeking Animals, the California-based band featuring Ted Leonard (lead vocals & guitars), Jimmy Keegan (drums & vocals), Dave Meros (bass) and John Boegehold (keyboards), presented its much-lauded eponymous debut.
Now just a year later, the group releases its second opus, "Prehensile Tales", to be released through InsideOutMusic on May 15th, 2020.
For the six songs on the album (the longest clocking in at over 17 minutes), the band introduced violin, flute, trumpet, cello, sax and pedal steel to the sound palette that was once again recorded & mixed by Rich Mouser at The Mouse House.
An unusual rock offering, Prehensile Tales is a varied assortment of sounds. Put together by a talented quartet with an ear for catchy and memorable rhythms. Groovy as all hell, Raining Hard in Heaven is like an acid-trip, one that gets more and more intense as it goes on.
It's up to Here In My Autumn to calm things down. The use of a flute, the mellow vocals, the soft guitar melodies… this is a wonderfully sweet listen.
Shorter and more to the point, Elegant Vampires delivers a dreamy psych-tinged effort followed by the mixed bag of Why Don't We Run. The Bollywood-style touch, blended with odd rock stylings and jazzy moments is interesting but this is probably the track that lacks the most oomph.
However, that's far from the case with the humongous double of Lifeboat and Soon But Not Today. Strap in for a pair of impossibly absorbing tracks that together, near the 30 minute mark. The former being the longer of the two. A flood of ideas put together in a epic-ally disjointed but appealing listen. You're going to need time, a lot of time to let this sink in.
Prehensile Tales is not something you put on in the background while doing something else. This is an album that needs you to be focused on everything Pattern-Seeking Animals are producing here. It's an oddity but an exciting one.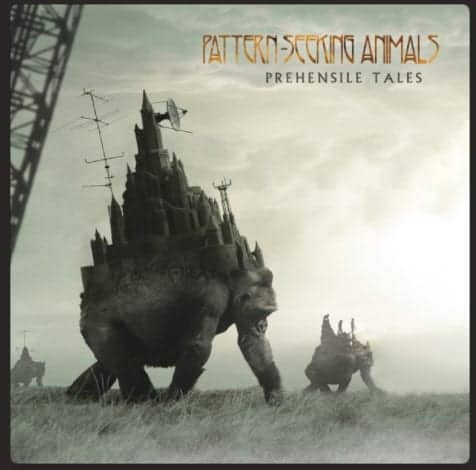 Pattern-Seeking Animals – Prehensile Tales Full Track Listing:
1. Raining Hard in Heaven
2. Here In My Autumn
3. Elegant Vampires
4. Why Don't We Run
5. Lifeboat
6. Soon But Not Today
Links
Website | Facebook | Instagram | Twitter
Pattern-Seeking Animals - Prehensile Tales (InsideOut)
The Final Score -

8/10