Album Review: Oath of Cruelty – Summary Execution at Dawn (Dark Descent Records)
Houston, Texas based death/thrash unit Oath of Cruelty will unleash Summary Execution at Dawn this winter on Dark Descent Records. Oath of Cruelty's long-awaited first full-length album comes after the achieved underground acclaim with a pair of demos and the 2014 Hellish Decimation 7-inch vinyl EP.
Vocalist Dave Callier calls the album:
A culmination of spastic, frenetic riffs and urgent blasting energy, punctuated by sadistic, harsh lyrics delivered via barbarous, grating vocals.
Dark Descent Records will release Summary Execution at Dawn December 9th 2019 on CD, digital, black vinyl and gold vinyl.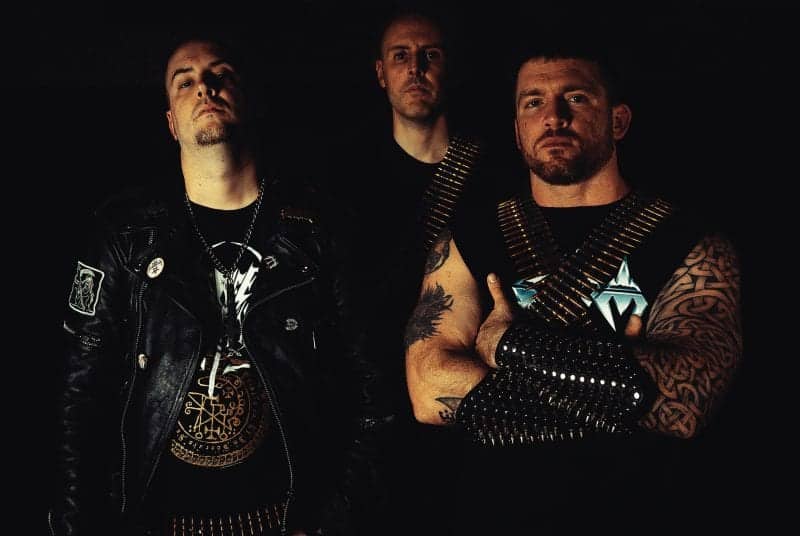 The urgency for Oath of Cruelty to expel the demonic force within them is strong. Like a band possessed, they play thrash infused death metal with boundless energy seemingly to the point of collapse. Summary Execution at Dawn, their latest heavy excretion is 9 bucking, raging and foaming at the mouth ritualistic statements. Simply put, if you're after unfettered savagery, mindless brutality and furious metal power, this is a record that will give you all of that.
Each track proves to be another attempt by Oath of Cruelty to crush and destroy all while systematically exorcising the twisted evil inside them. From the frenzy of riffs that emerge from Pounding Hooves of Shrapnel through to the blood-curdling terror of Pathogenic Winds of Swarm and the white-hot fiery flood of intense metal noise that pours from Denied Birth (Merciless).
Three very strong examples of just how savage Summary Execution at Dawn is. Of course, the flaw in all of this is the numbing of the mind that often comes with metal played at this consistent tempo. It's so mind-melting in its ferocity that a lot of it begins to blend together. It's not the worst album for this, but it's something that is unfortunately present especially around the middle.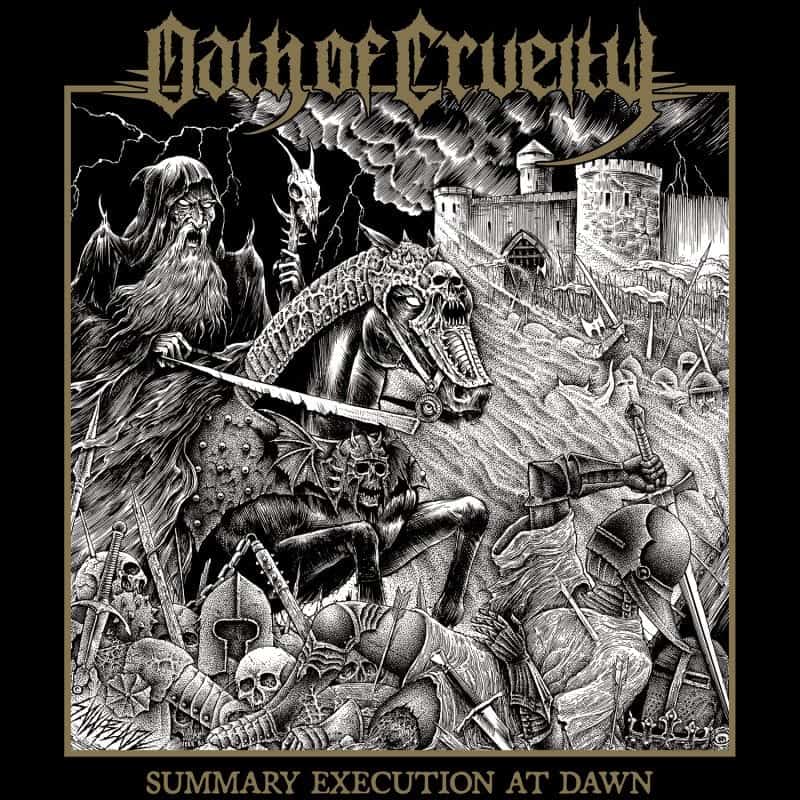 Oath of Cruelty – Summary Execution at Dawn Full Track Listing:
1. Pounding Hooves of Shrapnel
2. Stabbing Forth with Invincible Damnation
3.Through Alchemy and Killing
4. Pathogenic Winds of Swarm
5. Into the Chamber of Death
6. At the Tyrant's Behest
7. Victory Rites of Exsanguination
8. Denied Birth (Merciless)
9. Summary Execution at Dawn
Links
Oath of Cruelty - Summary Execution at Dawn (Dark Descent Records)
The Final Score -

7/10