Album Review: Noirad – Penny Dreadfuls (Self Released)
Released on September 13th 2017, Penny Dreadfuls is the new album from solo project, Noirad. An album that can be considered as a sort of collection of horror stories that have crossed the border of fantasy and trespassed on the real world.
Kicking off with an intense blast of guitar-led heavy metal, 10 Rillington Place doesn't quite light up as much as you might have hoped. However, that's quickly corrected with Bedlam, a track that might come as something of a surprise. A melodic groove with some really cool vocals & a solo that absolutely slays, it's got a certain catchiness about it.
These unexpected changes in tone really make Penny Dreadfuls an excellent release. Tracks like the unexpected near two minutes beautiful & sorrowful sounding melody that comes with Blood on the Blackboard is something else. Such a stunning piece of music that it will leave you wide-eyed.
Continuing the trend of unique ideas, From Hell brings a much more intense black metal edge alongside a gothic piano tone. While the spoken word & sudden blasts of screeching guitars on The Treacherous Calm Before… might be brief but it really sticks in the mind.
The themes behind Penny Dreadfuls is one of the coolest things about the album. Tracks like Genetic Scars deal with the Chernobyl disaster while 10 Rillington Place talk about the John Reginald Christie murders. Themes that add a level of realness to the story telling.
Metal is at the heart of Penny Dreadfuls but it is far from confined to those chains. Noirad know the importance of catchy rhythm & melody utilising everything in their arsenal to drive stunners like The Great Thunderstorm & Pompeii to be the best they can be.
The most imaginative & expansive track comes near the latter end of the album. Highgate Cemetery is 9 & a half minutes of gothic melody, gorgeous vocals, soaring solos & blasting heavy metal.
Penny Dreadfuls is a hugely impressive album, one that offers a lot of variety & exciting moments wrapped up in stories that really come through. The mix of exciting metal & glorious melody is some of the best heard this year.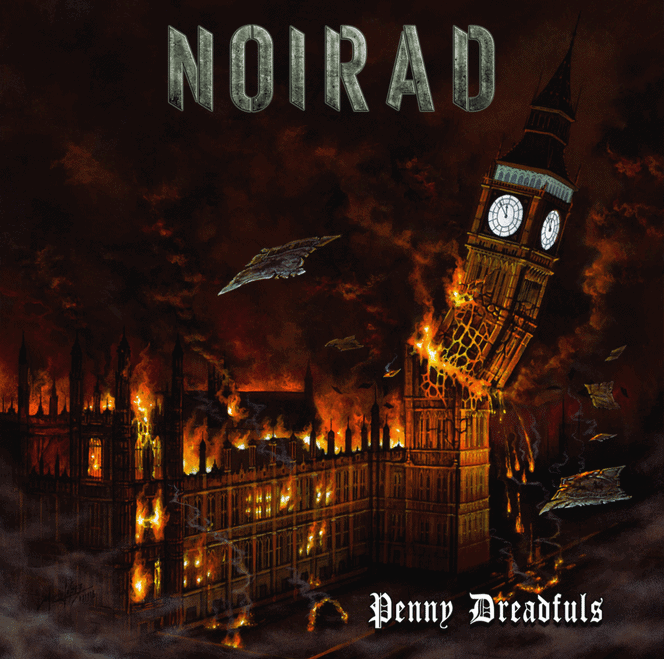 Noirad – Penny Dreadfuls Full Track Listing:
1. Global Enslavement
2. 10 Rillington Place
3. Bedlam
4. Genetic Scars
5. The Treacherous Calm Before…
6. The Great Thunderstorm
7. Pompeii
8. Blood on the Blackboard
9. Highgate Cemetery
10. From Hell
11. A Stain of Grey
Head over to Bandcamp to pick up the album & find out more about Noirad on Facebook, Twitter & YouTube.
Noirad - Penny Dreadfuls (Self Released)
The Final Score -

9/10