Album Review: Nightstalker – Great Hallucinations (Heavy Psych Sounds)
Formed in Greece in 1989, by singer (and at the time drummer) Argy and made truly stable with the addition of bassist Andreas in 1992, Nightstalker managed to meld their heavy rock influences with funky rhythms and grungy melodies to create a whole new beast. With all these elements in place, they released the first EP in 1994 entitled 'SideFx.' With their first full length 'USE' in 1996, the band established themselves and their own brand of dark heavy sounds. 2000 saw a slight shuffle in membership as well as a new EP 'The Ritual', which saw the band treading further into the realms of deepest, darkest psychedelia. 2004's 'Just A Burn' and 2009's 'Superfreak' garnered the band a new and loyal following across the world.
Which set the stage for their dark masterpiece, "Dead Rock Commandos." Another distinctive album that proved they belong as one of the key outfits in the history of European Hard Rock.
Now in 2019, 'Great Hallucinations' is due out on October 4th on Heavy Psych Sounds.
Rooted in an old school hard rocking sound, Nightstalker's Great Hallucinations begins with the bouncy and upbeat Black Cloud. The kind of track that goes down well with a beer or two. Whereas Sweet Knife is a bit more introspective with its weathered vocals, soft guitar strumming, heavier chorus and increasing tempo.
Sad Side of the City nails its riffs and the dour rhythm is surprisingly appealing, the latter half of the track really excels. Seven out of Ten is a little bit filthy, almost sludgy like thanks to the fuzz that sticks to the guitars. Cursed then goes all out to get the foot tapping and head nodding along. A real rocking effort with a screeching solo from a band that could do this kind of music in their sleep.
It's good but that being said, it's not going to live too long in the memory simply because it's not got anything particularly standout. Very enjoyable while on but not likely to get much replay.
That's certainly even more the case as the album reaches its conclusion. Half Crazy a bit catchy and the title track that brings in some trippiness to its lengthy finish.
The best track, thanks to the hefty riffs comes in between. Hole in the Mirror delivering chunky groove and a haunted vocal performance. This is the one you play to someone if you want them to check out the album.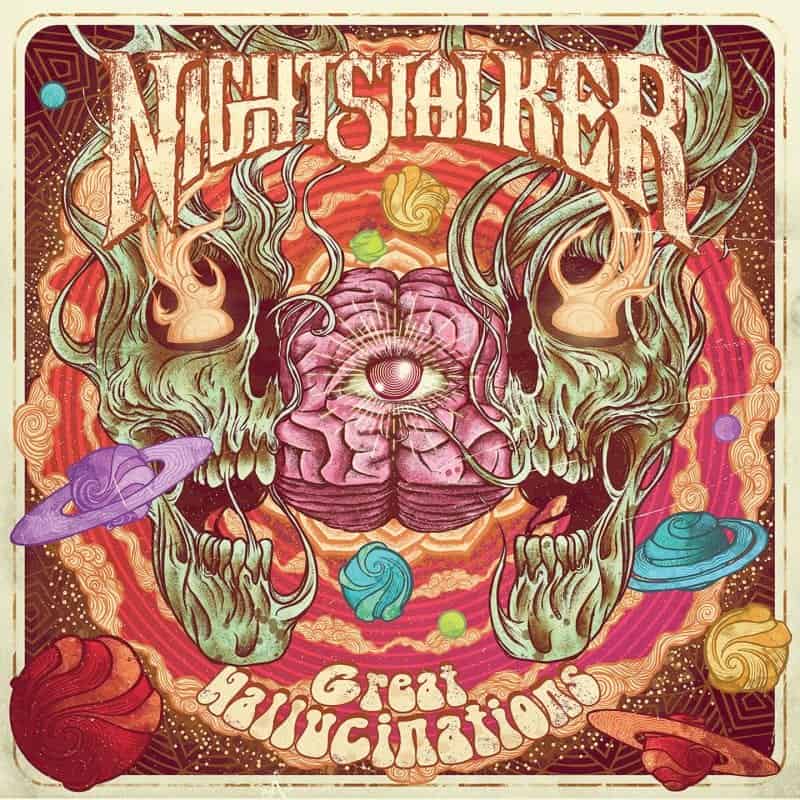 Nightstalker – Great Hallucinations Full Track Listing:
1. Black Cloud
2. Sweet Knife
3. Sad Side Of The City
4. Seven out of Ten
5. Cursed
6. Half Crazy
7. Hole In The Mirror
8. Great Hallucinations
Links
Pre-order | Website | Facebook | Heavy Psych Records
Nightstalker - Great Hallucinations (Heavy Psych Sounds)
The Final Score -

7/10