Album Review: Netherbird – Arete (Eisenwald)
Melodic black/death metal band Netherbird are back with the third instalment of the trilogy that started on 'The Grander Voyage' and continued on 'Into the Vast Uncharted'. The journey has come to its completion with this album, where the very concept of Arete – the classic ideal of excellence – is scrutinized from various angles in these songs.
Both 'The Grander Voyage' and 'Into the Vast Uncharted' were excellent albums and it seems almost impossible for Netherbird to reach those heights again. Yet here we are. With Arete, another momentous slab of melodic blackened death metal that does a thrilling number on the emotions while being ruthlessly heavy.
The storm breaks, dark melody clouds the mind as the intro of Âme Damnée spreads outwards. Into the black metal frenzy, but clean and rhythmic, sound of Towers of the Night. Netherbird are off and rolling and things are only going to get better as halfway through the track, they showcase the perfect combination of melody and harsh metal. Something Netherbird are so very good at.
Solidifying that with the peaceful guitar strumming that is the intro to Void Dancer before the darkness fully rolls in. The measured tempo, a less intense but still heavy speed, makes for another thrilling listen. Before Infernal Vistas turns the heat up for a fiery burst of traditional sounding black metal with just a touch of melody near the end to take things in a different direction.
The most straight-forward offering comes next in the form of Carnal Pentiment before the Mystes delivers complexity and fascinating intrigue. A track with enlightening peaks and valleys, driven by exceedingly good guitar riffing.
Leading to the end with the pairing of The Silence of Provenance and Atrium of the Storm. The former displaying Netherbird's inimitable talent to dish out blackened heaviness and innate savagery. Where the urge to head-bang into oblivion is super strong thanks to some classic sounding guitar riffs and soloing. The latter is all about icy cold melody and bouts of forensic brutality drawn out over 8 minutes but like everything Netherbird does, it's utterly captivating.
The third part of the trilogy is just as strong as everything that came before and Netherbird continue to prove just why they're necessary listening.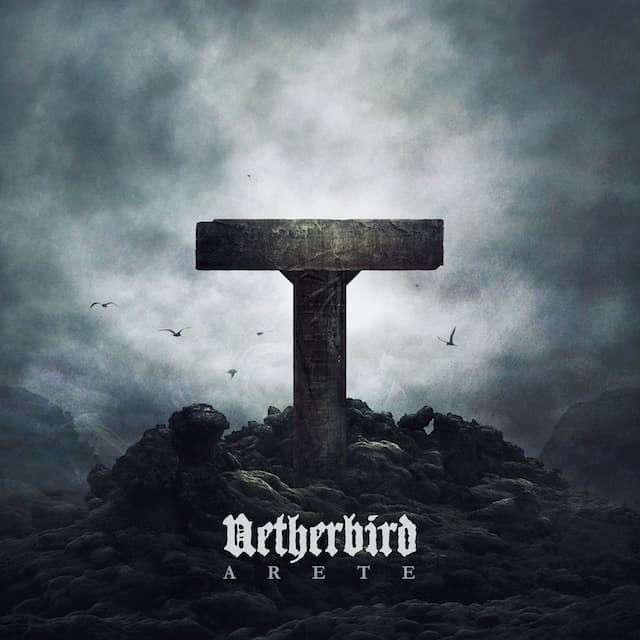 Netherbird – Arete Full Track Listing:
1. Âme Damnée
2. Towers of The Night
3. Void Dancer
4. Infernal Vistas
5. Carnal Pentiment
6. Mystes
7. The Silence Of Provenance
8. Atrium Of The Storm
Links
Website | Bandcamp | Facebook | Eisenwald
Netherbird - Arete (Eisenwald)
The Final Score -

9/10