Album Review: Necrosexual – Grim 1 (Self Released)
Horror-themed band, The Necrosexual will release their debut album, Grim 1 on February 23rd 2018. An album made up of 9 tracks of thrashing black metal riffs with horror-themed lyrics.
Check out our interview with frontman, The Necrosexual here!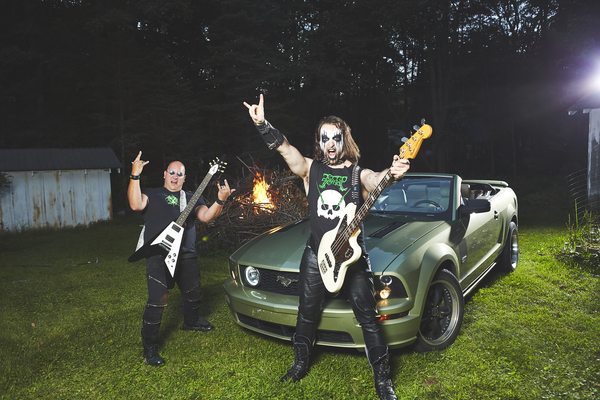 An old school black/thrash metal album that has plenty of inspiration from the likes of King Diamond, especially within the vocals. It's a brave attempt to capture the spirit of a style of music that has been mostly forgotten & for the most part captures it but unfortunately falls short overall.
Early on the issues with Grim 1 become apparent as Necrosexual Encounter's guitar sound clashes with the vocals. They sound like different entities meant for different albums & it's a bit jarring on the ears.
Black Metal White Wonder & The Lair Where No Light Enters improve on this. The highlight being a quality guitar solo near the end of the latter.
It's an album that is just a bit too hit & miss though. It has its high points with the groovy Trust No One, a fun cover of The Rolling Stones' Paint It Black and the beat-heavy Bottomless Pit. The problem is that you're scrabbling around for these positives rather then having them jump out at you.
Necrosexual – Grim 1 Full Track Listing:
1. Clockwork Funeral
2. Necrosexual Encounter
3. Black Metal White Winter
4. The Lair Where No Light Enters
5. My Kind of Freaks
6. Trust No One
7. Paint it Black (The Rolling Stones Cover)
You can stream singles on Bandcamp here as well as find out more on Facebook & Twitter. Also check out The Necrosexual on YouTube!
Necrosexual - Grim 1 (Self Released)
The Final Score -

5/10