Album Review: My Dying Bride – The Ghost of Orion (Nuclear Blast)
They're back…although it wasn't always on the cards.
My Dying Bride's three decades of misery almost came to an end several years ago. Following 2015's universally lauded 'Feel the Misery' album, vocalist Aaron Stainthorpe's daughter, just five years old at the time, was diagnosed with cancer. Shocked and heartbroken, Stainthorpe put all band activities on hold while he, his immediate family, and My Dying Bride put their collective energies into eradicating what Stainthorpe called, "the cruellest of God's bitter and loveless creations."
The high hurdles, however, didn't stop with cancer. In 2018, returning original member and guitarist Calvin Robertshaw texted his departure, effective immediately. No reason was given or explanation provided to anyone. Then, just as My Dying Bride had regrouped after positive news that his daughter was effectively cancer free, returning drummer Shaun Taylor-Steels departed right before the band were slated to enter Mark Mynett's studio, Mynetaur Productions. Down two members but feeling right as rain, My Dying Bride moved on, mastered the doldrums, recording magnificent new album, 'The Ghost of Orion', to the joyful tears of fans across the globe, in the process.
Says Stainthorpe:
We've had everything thrown at us but we've managed to come out the other side smelling like roses. It proves that the challenges, for which there are many, of being in a band can be overcome. We overcame everything! From cancer and members leaving to feeling like all hope was lost in the studio. I think a lesser band would've said, 'Ah, f**k it! This person's left, that person's not reachable. Let's just call it a day.' It wasn't like that. We were strong. We carried on. And the evidence, thankfully, is just about to be released. There's no stopping MY DYING BRIDE.
The Ghost of Orion will be released on March 6th 2020 via Nuclear Blast Records.
Let the doom wash over you. My Dying Bride are back and stronger then ever with an 8-track album that comes in at around 56 minutes long. Before the winding riff of the opener Your Broken Shore kicks in, it's clear this is going to be somewhat of an epic. A doom epic.
Melodramatic, miserable, cold and dark but layered with an inner beauty that is so reflective of what this band are capable of delivering.
Having been available to listen too for some time, Your Broken Shore is already a My Dying Bride classic. A calculated doom approach that has sporadic highs, the melodious rhythm is shaken up by consistently startling heaviness. A track that conjures up the rain, wind and feeling of despondency.
Without missing a beat, it moves into To Outlive the Gods. The crypt door is slowly slamming shut, the weight of it ensuing there is no escape. Buoyed by thumping percussion, there's almost some energy to this track but in My Dying Bride's unique way.
The powerful Tired of Tears, dripping with emotionally wrought riffs and a stirring vocal performance, is one of the album's best. A focused effort, even as it sheds its skin and begins to drop deeper and deeper into the doomy mire, it's impossible to not be affected by its dark beauty.
At the halfway point, we get a shorter (by their standards) number in The Solace and somewhat of a break in what we've experienced so far. Like a song played at a funeral procession, the glorious sound of the guitars alongside eerie and light female vocals delivers something truly evocative.
Having made their way through the dreariness, My Dying Bride emerge like heralds of the reaper with the stunning The Long Black Land.
An outstanding doom performance, encouraging the listener to turn and face their own mortality. It slinks and sneaks around the mind in such a way that it's almost seems hypnotic. A midpoint drop in slight ringing feedback, soft guitars and the brief noise of a shaky drum symbol is simply brilliant.
Book-ending The Old Earth with the two shortest tracks, first up is the quiet morose sound of the title track which flows into the aforementioned number. Scaling everything back, for nearly 2 minutes of its 10 minute run time, it's very light guitar strumming and echoing vocals. Before it rises up with refined and renewed strength for a crushing penultimate effort. Effectively the final track, My Dying Bride prove any doubters wrong with a transformative and transcendent piece of music.
Wow. Simply wow. The short emotional choir singing of Your Woven Shore (the actual final track) is just an extra added bonus of darkness.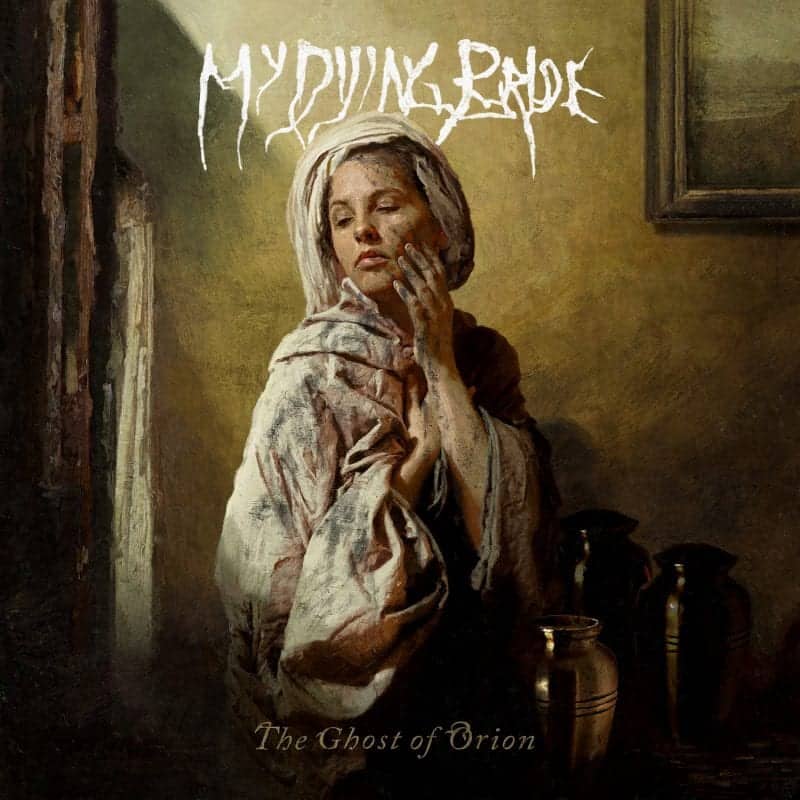 My Dying Bride – The Ghost of Orion Full Track Listing:
1. Your Broken Shore
2. To Outlive the Gods
3. Tired of Tears
4. The Solace
5. The Long Black Land
6. The Ghost of Orion
7. The Old Earth
8. Your Woven Shore
Links
My Dying Bride - The Ghost of Orion (Nuclear Blast)
The Final Score -

10/10