Album Review: Montezuma's Revenge – S.W.I.M. (DTH Records)
Originally formed in Moscow in 2004, Russian quartet Montezuma's Revenge are not only a formidable and highly impressive sludge rock machine, they're also quite possibly one of Eastern Europe's best kept underground secrets.
Having released a steady stream of music for over a decade and a half and shared stages with the likes of Crowbar, Mastodon, Red Fang and more, the 23rd July will see the official release of S.W.I.M.; the Muscovites third studio album and first offering of new music since their phenomenal 2017 sophomore effort, Them.
Unleashing a barrage of sludgy and fuzzy noise, strange effects and hammer blows of heaviness. Montezuma's Revenge begin their new album with dangerous instrumentation, the heavyweight hit of Soyux-111 (Terrore Su Venere) landing weightily on the mind.
The following Mine is not any less distorted or dirty but it does feature vocals which somehow makes things feel even more grubby. The feedback squeals and slight uptick in tempo adds some variety before New You really changes tactics. The animated rhythm, cleaner overall sound and ethereally tinged vocals is unexpected but very welcome. The icing on the cake being a strong guitar solo that gets stranger and stranger as it goes on. Leading to an utter mental collapse into filth-caked doom and sludge.
Weekend Valhalla seems straightforward enough at first. The blast of noise, par for the course. Until the band unleash some synthy sounds and we get something that is still thick and meaty but a tad more melodic. The expansive growth in sound continues into the cold melancholy of Winter. A long wander through icy ends and melody driven emotion.
The hyper, dark 80's synth of COTS (Reprise) serves as a breather between Winter's chill and the following crunchy, crushing heaviness of Comfort of the Sick. The clean singing and descent into post-like melody is intriguing.
It's a re-imagining of an early recording to wrap the album up though. Called Sleeping Beauty (Exhumed), this finale tells the tale of an ethereal snow maiden, freezing everything in her path. Fitting as the album does have icy tendrils reaching out to grasp the soul throughout. Here, powerful rock groove combines with drifting doom and dirty stoner heaviness. It's a massive closer that confirms this as an album you must check out.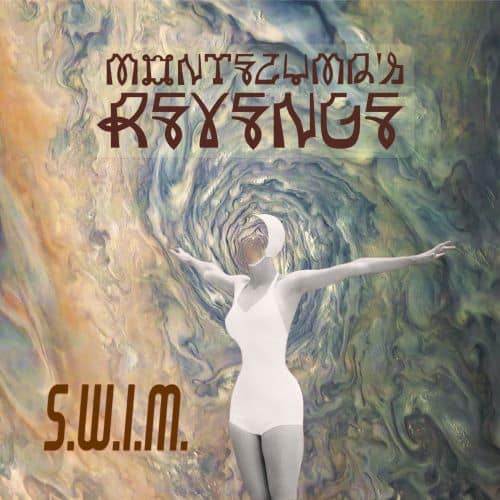 Montezuma's Revenge – S.W.I.M. Full Track Listing:
1. Soyux-111 (Terrore Su Venere)
2. Mine
3. New You
4. Weekend Valhalla
5. Winter
6. COTS (Reprise)
7. Comfort Of The Sick
8. Sleeping Beauty (Exhumed)
Links
Website | VK | Facebook | Bandcamp | Instagram
Montezuma's Revenge - S.W.I.M. (DTH Records)
The Final Score -

8/10