Album Review: Monolith – Lord Conspirator (MMD Records)
South African death metallers Monolith are preparing to release their first full-length album, The Lord Conspirator, on April 28th, 2020 via MMD Records. Hailing from the coastal city Port Elizabeth, Monolith offers a follow-up to their successful EPs Memory Palace (2016) and Legacy of the Opium Eater (2015).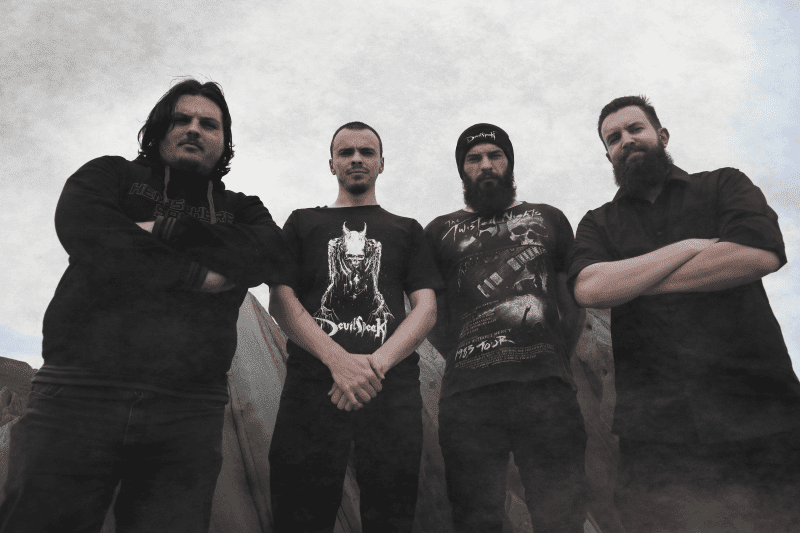 Monolith was founded in 2015. After a successful run of shows with local Port Elizabeth bands and playing in support of Cape Town favorites The Fallen Prophets, Imperial Destruction, and DevilSpeak, Monolith was invited to perform at the Hellington Open Air Festival in Wellington, South Africa. This concert featured the top-tier of the South African metal scene, and Monolith ZA was proud to be included.
The band was soon signed to MMD Records (Cape Town), to be included in their new cherry-picked stable of metal acts to be released on the MMD Black sub-label. MMD Records re-released the first two EPs, with The Legacy of The Opium Eater receiving new artwork as well as a remix and re-master.
Now on April 28th 2020, The Lord Conspirator arrives.
As crunchy as the sound that emerges as you walk across a crypt floor covered in dry and old bones. Monolith's style of death metal is very dark and very menacing. Dragging its broken and desiccated body towards you, the revulsion you'll feel is only matched by the horror. Yet, there is a sense of curiosity too, the thickness clouds the air. Choking and spluttering for breath, these 8 tracks are forced down the throat with painful precision.
Stop fighting it and let it ease down as Monolith really have something good here. A belter of an album that rages as hard as it possibly can while also having a much tighter and clinical approach to the riffing and rhythms. There's no burying of the guitars on the likes of The Descent, The Abyss and Black Earth's Gate.
They're far from the only highlight though as Monolith's punchy drum beat and throaty guttural vocals make an impression too. Just more elements that make this one a heavy positive of 2020.
Monolith – The Lord Conspiracy Full Track Listing:
1. The Lord Conspirator
2. The Descent
3. The Abyss
4. Nightfall
5. Black Earth's Gate
6. The Perilous Edge
7. The Profound Wells of Fire
8. Saturn
Links
Facebook | Bandcamp | MMD Records
Monolith - Lord Conspirator (MMD Records)
The Final Score -

8/10