Album Review – Make Them Bleed by Terror Universal (Minus Head Records)
American super group, of sorts, and horror metal band Terror Universal have released their debut full length album. That album is called Make Them Bleed. It was released on the 19th of January via Minus Head Records.
Not a huge amount has been confirmed around the members of Terror Universal. They go by stage names and wear horror themed masks. We do know that Ahrue Luster (ex Machine Head) was a member at some early stage of the band on lead guitars and potentially is on the bass still now. There have also been members from Ill Nino, Upon A Burning Body and Soulfly in Terror Universal at one point. Maybe even still today. The only member of the band who has come out and confirmed their involvement is Ill Nino's Dave Chavarri.
Chavarri goes under the stage name Massacre and is on drums. He is joined by, possibly, Ahrue Luster on bass under the stage name Diabolus. Finally, the definitely unknowns are Thrax on guitars and the lead singer, pleasantly referred to as Plague. The horror stylings in the names, lyrical themes and guttural vocals is backed up by the horrific masks each band member wears. Seen below. We also know that there guest appearances from Tony Campos (Soulfly, Fear Factory, Static X) and John Moyer (Disturbed, Art of Anarchy).

Make Them Bleed follows the band's initial EP released in 2015 called Reign of Terror. Make them Bleed actually consists of that whole EP plus 5 new tracks. That is perfect for me, who missed Terror Universal's first release. For those who picked up the first release, and preordered Make Them Bleed, you got it for the reduced price of $6.66. In keeping with the theme then.
So we have ten tracks in total on Make Them Bleed and is around 38 minutes long. Really it feels very much like a wonderful ode to the heavier side of the late 90s, early 2000s. We aren't talking Limp Bizkit or that ilk. Think more Chimaira, Mudvayne, Slipknot or Mushroom Head. Add a large sprinkling of extra horror and you will get Terror Universal. Perhaps it isn't really a surprise that there members sound has culminated in this sound. The confirmed members really were big in that age – Ahrue Luster and Supercharger (Machine Head), Ill Nino. Make Them Bleed is these guys a decade or two later like a decent scotch, they have aged well.
The whole album is chock full of bassy, crunching riffs that have an ominous undertone. Opener Passage of Pain is exactly this – groove tinted metal splattered with ferocity and viciously spat out vocals. Frenetic drumming and tons of growls and roars. Choruses see guitar melody added and a bit more of a singing tone to the throaty vocals. This formula of big riffs, catchy choruses – big groove laden metal is used across the whole album.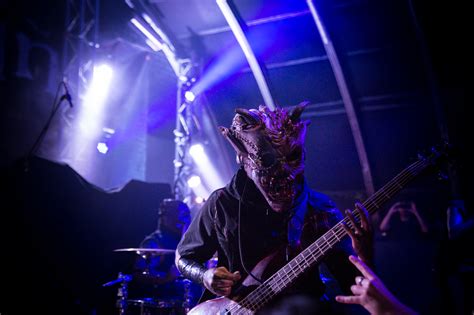 The style never really changes but each song has characteristics that make them stand out from each other. Welcome to Hell has intensely fast drumming in the vicious verses but builds to an anthemic, cleanish singing chorus. Kind of Trivium like actually. The whole of the track Spines is a bit of anthem with tight, thrashy sections with a riff that doesn't sound a million miles away from Fear Factory. Clean but gruff singing follows that builds in intensity as the verse progresses. This leads to a huge sounding chorus. Really good metal.
Title track Make Them Bleed has a ton of groove layered over a fast drum beat. The vocals are excellent here. Vicious snarls and deathly growls lead into a brief hushed section before a crescendo of instruments and vocals come in for a big chorus. Dead on Arrival and Your Time is Come raise the speed and intensity a notch or two with some blisteringly fast beats and riffing. Both still find a little time for a slightly cleaner, catchy chorus though. Other tracks like Through the Mirrors or Your Time has Come go for a heavy, bass laden tone with lashings of groove. They have a vicious edge to them – really make your head bang along.
The whole of Make Them Bleed offers a level of angst and anger that will make listeners take notice. It is reminiscent of older days but in a good way and with a modern level of maturity. Make Them Bleed is chock full of solid riffs and pounding drum rhythm. The vocals, clean or roared are excellent and the band sound really tight musically. I really enjoyed the album. A crunchy, riff heavy metal album chock full of aggression, devilish verses and even the odd anthemic chorus. Great stuff.
You can grab a copy of Terror Universal's Make Them Bleed on all the usual streaming services now. You can also pick it up over on Minus Head's Bandcamp page here. Or grab it from the Amazon links below. Find out more about them over at their Facebook, Twitter or Instagram page. Be sure to like and follow them while you are there.
[amazon_link asins='B077PQJRZV,B00TI2FPKQ,B07831NKC4,B07832KWL7,B07835QBDN,B07836285J,B07832LKPZ' template='UseThisOne' store='g0e5b-21′ marketplace='UK' link_id='5c5cc8f6-021a-11e8-9bdf-4d1eb9bc6878′]
Make Them Bleed by Terror Universal (Minus Head Records)
The Final Score -

9/10
Comments Rating
( reviews)