Album Review: Magic Kingdom – MetAlmighty (AFM Records)
Magic Kingdom will release their new album 'MetAlmighty' on 22nd November 2019 via AFM Records.
Even though the name Magic Kingdom conjures up a certain innocence, you should not be fooled by it. The band's sound has some serious balls, is deeply rooted in melodic metal and has definitively a mind of its own.
Looking at the track listing, you're no doubt expecting power/fantasy metal and there is a lot of that in MetAlmighty. However, the richness of Magic Kingdom's efforts also borrows from melodic metal resulting in a heavier and more expansive listen.
Simply put, it soars on wings of mighty metal. The kind of excitable and energetic metal that gets the heart racing and the blood pumping.
Get that fist in the air as Magic Kingdom Unleash the Dragon and call upon Wizards and Witches. The former's drum beat as heavy as wings that could crush a person and the latter's group vocalisation nailing the power metal feel. Then, arriving In the Den of the Mountain Trolls, the sense of epic is only enlarged with a folksy and bouncy rhythm that is so much fun.
The faster and heavier side of Magic Kingdom then bursts forth with Fear My Fury, albeit a much catchier number. While Rise from the Ashes, Demon and the title track deliver punchy riffs and showcase Magic Kingdom's determination to keep things inventive.
Inventiveness that just keeps coming as the mellow tones of So Fragile comes out, Temple of No Gods bellows with force and Just A Good Man drips emotion. All leading to a wonderfully epic final pairing of Dark Night, Dark Thoughts and King Without A Crown.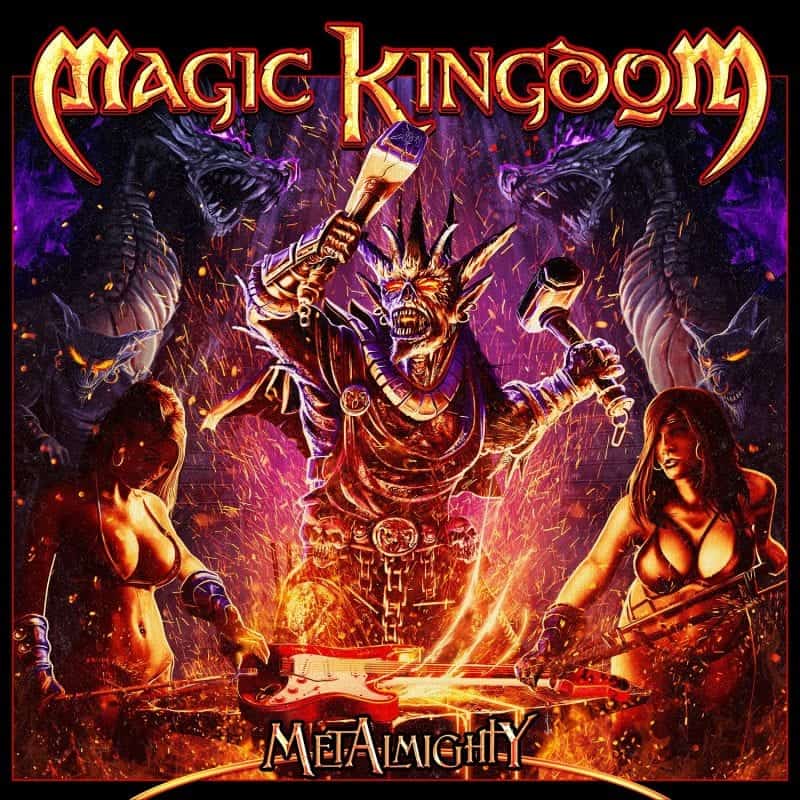 Magic Kingdom – MetAlmighty Full Track Listing:
1. Unleash the Dragon
2. Wizards and Witches
3. In the Den of the Mountain Trolls
4. Fear My Fury
5. Rise from the Ashes, Demon
6. MetAlmighty
7. So Fragile
8. Temple of No Gods
9. Just A Good Man
10. Dark Night, Dark Thoughts
11. King Without A Crown
Links
Magic Kingdom - MetAlmighty (AFM Records)
The Final Score -

8/10