Album Review: Kryptik Mutation – Pulled From The Pit (Redefining Darkness Records)
Formed in the Summer of 2019, Kryptik Mutation are a group of close friends who share a love for extreme metal, horror movies, and video games. While the band take their music seriously, they try not to take themselves too seriously and embrace fun in the creation of their art. Every song has some reference or nod to a video game or horror movie, whether a favourite or a unique story, they create inspired from those favourites.
Pulled From the Pit is the band's first and only release, and Redefining Darkness Records will present it to the world on May 7th 2021.
An extreme metal band that uses horror and video games as their inspiration? Has there ever been a band so perfect for GBHBL?! How can we not approach this album with excitement?
Less than 25 minutes long but with 8 tracks to showcase, Kryptik Mutation are not pulling their extreme metal punches at all here. Drawing from the deep well of extreme death/grind/slam to drink deeply from it. They have one eye on the classic sound while another eye is firmly focused on the future. Paying tribute to the no-nonsense aggression of the classic death sound while also wanting to ensure those who listen can see that Kryptik Mutation are their own entity.
There's no question that this is a malevolent release. Kryptik Mutation infiltrate the mind with their focused heaviness. The grinding squeals and chunky slam bursts adding a filthier edge to proceedings. The furious pace of the first half of the album; Placentapede, Empires of Galactic Misery, Brain Splatter and Demon's Crest proving to be vicious and spiteful jabs and digs. Although the traditional heavy metal riffing that crops up in the latter track there is worthy of a mention too.
The second half of the album; Blistering Blow, Dying to Rot, Tied Under a Buzzsaw and Sacrifice to Pulverise has Kryptik Mutation showcasing just as much destructive detail as before. As well as how much they relish it. There's no surprises or sudden turns for this monstrosity. Instead, it's all about the steadfast march to oblivion. Credit where it's due, Kryptik Mutation make sure Pulled From the Pit stands out for all the right reasons without ever betraying the 'core' sound.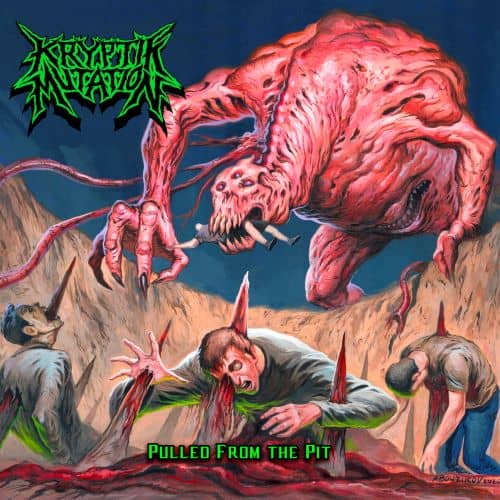 Kryptik Mutation – Pulled From the Pit Full Track Listing:
1. Placentapede
2. Empires of Galactic Misery
3. Brain Splatter
4. Demon's Crest
5. Blistering Blow
6. Dying to Rot
7. Tied Under a Buzzsaw
8. Sacrifice to Pulverize
Links
Bandcamp | Facebook | Instagram | Redefining Darkness Records
Kryptik Mutation - Pulled From The Pit (Redefining Darkness Records)
The Final Score -

7/10