Album Review: FireWalkWithMe – The Eternal Black Rainbow (Self Released)
FireWalkWithMe are no ordinary band; they are a group of musicians reborn with a passion to create truly earth-shaking rock music. The Eternal Black Rainbow is bursting with bright colors and textures, counterweighted by lyrics discussing dark and foreboding themes such as mortality, afterlife and being swallowed by the ocean. You may have seen those involved in FireWalkWithMe before, but not like this.
So, who's involved? Four of Austin's finest: songwriter Ricardo Mendez and Jason Westbrook have been repping the Austin music scene via one of the heaviest bands in the last decade, High Watt Crucifixers. Westbrook met Christian Kyle, meanwhile, in CMJ Top 20 band Schatzi. This is all tied together by drumming legend Jason Reece from one of the city's finest exports – …And You Will Know Us by the Trail of Dead. Drawing from their rich history, the group deftly weave alt-rock and art-rock, noise and nuance, punk and poise, into nine songs that show exceptional depth in both their construction and performance.
FireWalkWithMe honor their origins, both musical and geographical, and do a stellar job of "keeping Austin weird".
The Eternal Black Rainbow will be released on the 16th August 2019.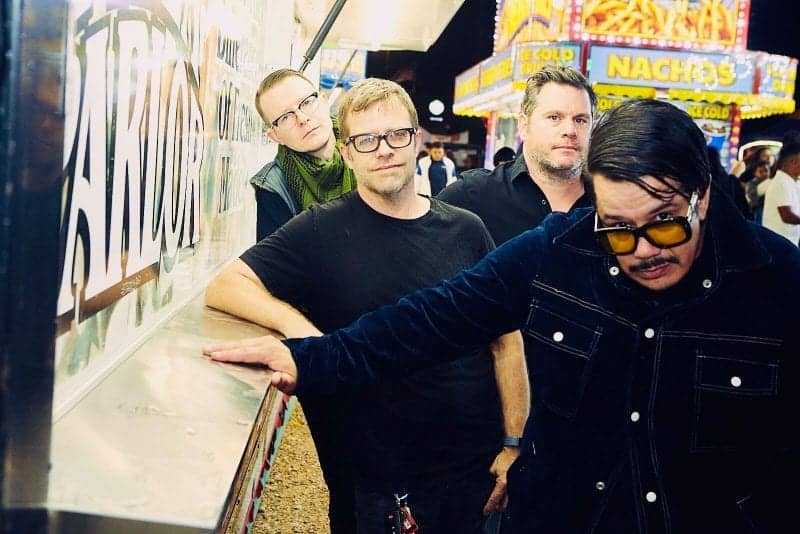 The intro of This Is How It Ends does a great job of building excitement and anticipation for what seems as though it will be thrilling combination of old school rock and roll filtered through modern sensibilities.
That is applicable here but it does a little bit of disservice to FireWalkWithMe as they certainly aren't your run of the mill rock band.
Larger and louder, A Tired God Looks On has all the mellow vibes that lifts the soul up but with the welcome addition of having a faster groove. Particularly near the end when things get a little wild.
Before I Disappear doesn't quite follow that with the pop-rock start sounding a bit uninspired. Although it does pick up, it's one of the weaker tracks on the album. A flavourless tune on an album that spends most of the time bursting with sharpness.
An example of that is Song About Death. An upbeat set of riffs and energetic performance selling it. With an even faster tempo that is a little bit punky on the following Ships of Antikythera.
This begins a strong run of top tracks for FireWalkWithMe. Still Life in Photography added an element of tipsiness to a slower rock rhythm, My Roots Deep Within the Earth vocals work against a more sour beat and Swallowed By the Sea mixes soft mellowness with nice and airy guitars.
FireWalkWithMe – The Eternal Black Rainbow Full Track Listing:
1. This Is How It Ends (Intro)
2. A Tired God Looks On
3. Before I Disappear
4. Song About Death
5. Ships of Antikythera
6. Still Life In Photography
7. My Roots Deep Within The Earth
8. Swallowed By The Sea
9. This Is How It Ends (Outro)
Links
Website | Facebook | Instagram | Soundcloud
FireWalkWithMe - The Eternal Black Rainbow (Self Released)
The Final Score -

7/10