Album Review: Fear Factory – Aggression Continuum (Nuclear Blast)
It has not been the prettiest of routes to this release but it's here… finally. Legal battles, in-fighting, confusion over who is actually still in the band… it's been a mess. Which, lets be honest, doesn't bode well for the creative output of Fear Factory. Aggression Continuum comes out under a cloud but rays of sunshine are beginning to come through.
Aggression Continuum will be released on June 18th 2021 via Nuclear Blast Records.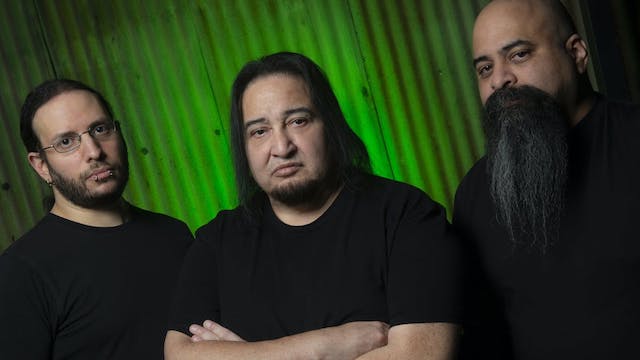 Sticking to Fear Factory type, Aggression Continuum is heavily focused on the band's 'man versus machine' mantra. Creating cinematic soundscapes of apocalyptic worlds, never-ending wars and the evolution of AI and humankind. Always interlinked and always moving forward.
That is exactly what the voice recording states at the start of Recode… we are the resistance. Get ready to fight, get ready to head-bang, get ready for industrial and cinematic heaviness as only Fear Factory can do. Aggressive riffing and blast beats, classic Burton roars, growls and melodic highs, this is a banger of an opener.
We've already had a bit of time with Disruptor (previously released single) and it keeps the heavy pace focused alongside a solid chorus for memorability. The title track's drums absolutely slay and the roar of 'no more will I be a victim' is chest-beating stuff. Purity has some of the album's chunkiest guitars and really pushes the cinematic edge to great highs. This is also the track with one of Fear Factory's most beastly breakdowns to date!
At the halfway point, there's no denying just how satisfying things have been so far. However, it's hard to get too excited by Fuel Injected Suicide Machine at first. A track that is formulaic and unexciting for the most part. Aside from the melody that plays during the Burton clean singing segment. It's heavy, very heavy but there's a feeling of familiarity to this one, although it has to be said that it does grow as it goes on.
Pure head-banging chunky heaviness is the name of the game with Collapse, a track that conjures up images of societal collapse. Manufactured Hope is frantic and frenzied noise and Cognitive Dissonance's sonic cinema-scape is really prominent. In fact, it should be noted that the effects are quite prominent throughout but mostly lift things to grander heights. Mostly because they can't quite turn that track into something that isn't so forgettable.
While that might have been a miss, the penultimate effort that is Monolith is certainly not. A much more melodic effort, the bursts are killer and the brief guitar solo is really infectious. The perfect precursor to the finale, End of Line. A truly fitting track title, this gargantuan ending is over 7 minutes in length. The expectation being that it will follow the Fear Factory formula from the last few albums. A massive and emotive closer to leave you feeling reflective and introspective. Alas, that is not quite the case here and instead we get something more in keeping with the album as a whole. Is it a disappointing ending? Only if you expected more which will be quite a lot of regular Fear Factory listeners.
Truth be told, it's not a brilliant album and far from the best thing Fear Factory have produced. However, it does have some great songs and if this is Burton C. Bell's Fear Factory swan song, it's a fine way to bow out.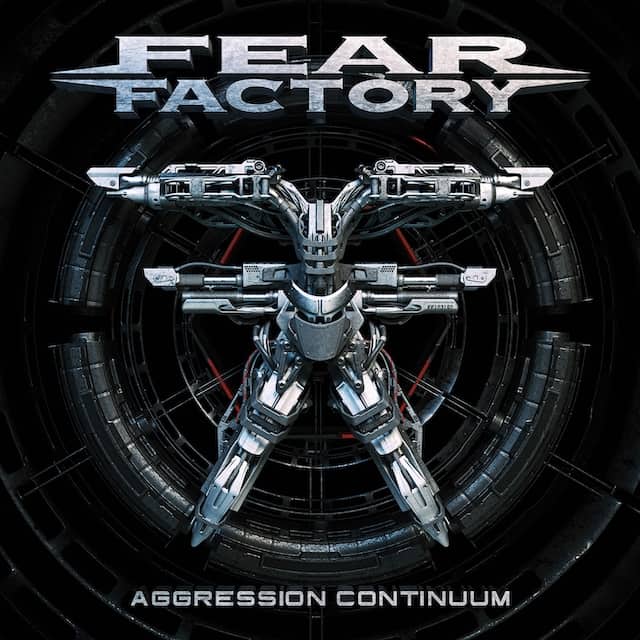 Fear Factory – Aggression Continuum Full Track Listing:
1. Recode
2. Disruptor
3. Aggression Continuum
4. Purity
5. Fuel Injected Suicide Machine
6. Collapse
7. Manufactured Hope
8. Cognitive Dissonance
9. Monolith
10. End of Line
Links
Fear Factory – Aggression Continuum (Nuclear Blast)
The Final Score -

7/10