Album Review: Eye of the Destroyer – Baptized in Pain (High Potency)
Baptized in Pain – Eye of the Destroyer's newest album from the diverse group of New Jersey natives is the band's sixth release and second full length. Though it has been a long time coming, this album feels fresh and new. With a lineup change featuring former drummer Joe Randazza making the move to vocals and John Scott, a well known veteran of the New Jersey music scene on drums – Eye of the Destroyer is stronger and rawer than ever.
Leaning into the band's symbolic rebirth, Baptized in Pain makes its debut on the weekend of the Scorpio Full Moon, May 17th 2019. This album contains a visceral mix of classic death metal rooted in hardcore, harrowing lyrics about the plague of humanity, and good old fashioned north Jersey grit.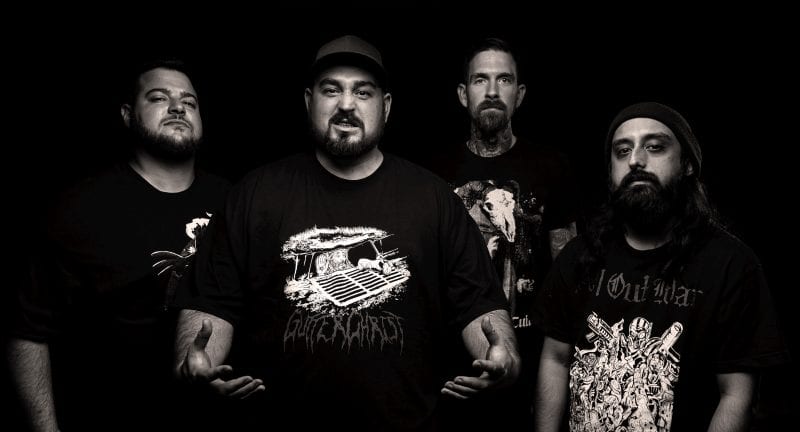 Woof, this is a long one.
16 tracks long, 16 tracks of classic death metal with the sound of angry hardcore (can hardcore really ever not be?). It might seem like it's far too much for any one person to take and it is, but with metal this fierce and heavy, it's impossible to not enjoy the absolute pummelling Eye of the Destroyer dish out.
From the moment Buried Alive begins, what this album is becomes painfully clear. Brutality personified as the band slam their guitars and drums as hard as humanly possible and the vocals roar with terrifying strength. This is a mean record but fans of the heavier stuff will certainly fall in love with it.
If that track wasn't enough, then hold on to your shit because Death Master is just as savage and Body Snatcher threatens to rip everybody limb from limb. It's at this stage hopefully most will realise just what makes this album a worthy listen and that's how it's not just heavy for heavy's sake. There is an incredible amount of death metal rhythm, riffs and hooks and it makes the album all the more appealing. The breakdown at the end of Body Snatcher will blow out ear drums.
Postmortem Mutilation, False Prophet, Twisted Perception and Endless Suffering are just a selection of the horror that you can and should subject yourself too but you could choose any track and still have your face melted off. Does it get old being 16 track long? Surprisingly not as there is a marked difference between a lot of the tracks even if it is based around raging death metal and hardcore hate.
One of the heaviest releases you'll hear all year.
Eye of the Destroyer – Baptized in Pain Full Track Listing:
1. Rebirth
2. Buried Alive
3. Death Master
4 Body Snatcher
5 Life Of Deceit
6 Postmortem Mutilation
7. Baptized In Pain
8. False Prophet
9. Disposal Of Flesh
10. Twisted Perception
11. Starved and Hanging
12. Stalked And Slain
13. Endless Suffering
14. Violent By Design
15. Plagued With Regret
16. Face Down
The album can be ordered via Bandcamp and via Eye of the Destroyer's website.
Eye of the Destroyer - Baptized in Pain (High Potency)
The Final Score -

8/10