Album Review: Dragony – Viribus Unitis (Napalm Records)
We return to the days when Austria was ruled by emperor Franz Joseph and his wife, empress Sisi. But forget everything you've heard and read so far! According to Austrian symphonic power metal heroes Dragony and their brand-new record Viribus Unitis, the history of their home country took a completely different turn.
Founded in 2007 and after releasing three studio records, with Viribus Unitis, Dragony return to their rock opera roots, following up on the conceptual approach of the debut album Legends.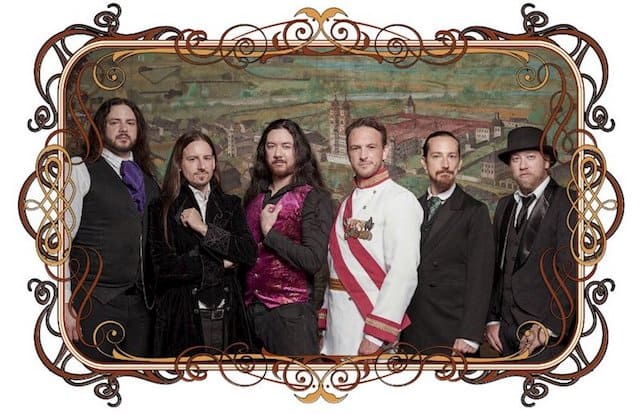 What really happened at the time of the last Habsburg ruler of Austria, his wife and their son, the troubled Archduke Rudolf, is revealed by the symphonic power metal six-piece on their fourth full-length Viribus Unitis. Let's clear the assumption that Rudolph died after trying to take his life at castle Mayerling in 1889. No way! Instead, after his mother Sisi is assassinated in 1898 in Switzerland, he subsequently gets in contact with dark powers which, driven by his desire to be with her again, make him turn to black magic and demonology. Now history takes its true (!) course. There are not only zombies and cyper-punks lurking, DRAGONY also managed to prove further entanglements of well-known personalities you might never imagine.
Viribus Unitis will be released on January 15th 2021 via Napalm Records.
Wow. Just wow.
This is the kind of release that turns a band from relative unknowns in some countries to worldwide names. An album that lights a rocket under a band and sends them soaring into the stratosphere. The kind of power metal that lifts the soul and the kind of story that is immeasurably entertaining to hear.
It's a wicked concept; taking history, bastardising the facts and twisting the narrative into something truly unique.
Of course, that wouldn't really matter if the music wasn't up to scratch but that is so not the case here. Dragony have produced a modern power metal great, where the chest-thumping rhythms make you feel ten feet tall. Where the fast-paced tempo of the drums and riffs put a spring in the step and the clean vocals lift the soul to grand heights.
Expansive lows, implausible highs and everything in between. One track ends and you'll be convinced that you've heard your favourite and then the next hits and it is instantly the new favourite. This will happen across the entire album, every bar that Dragony create they then instantly surpass.
You'll want to punch the air in excitement. To sing from the highest mountain in unison with the band. To swear allegiance to Dragony and convince the world that their version of events is the one true story.
Simply put, this is the power metal opera of the year. This is going to take some beating.
Dragony – Viribus Unitis Full Track Listing:
1. On the Blue Danube
2. Gods of War
3. Love You to Death
4. Magic
5. Darkness Within
6. A.E.I.O.U.
7. Viribus Unitis
8. Golden Dawn
9. Made of Metal (Cyberpunk Joseph)
10. Battle Royale
11. Legends Never Die
12. Haben Sie Wien schon bei Nacht geseh'n
Links
Website | Facebook | Instagram | Napalm Records
Dragony - Viribus Unitis (Napalm Records)
The Final Score -

9.5/10