Album Review: Dira Mortis – Ancient Breath Of Forgotten Misanthropy (Selfmadegod Records)
The third full length of Poland based band Dira Mortis brings forth seven intense, massive and crushing death metal songs influenced by bands like Incantation , Immolation and Autopsy. Ancient Breath Of Forgotten Misanthrophy will be released on Christmas Day, December 25th 2020 via Selfmadegod Records.
At around 40 minutes of the darkest and most evilest sounding death metal, this Christmas Day forget the Queen's Speech or yet another re-run of Oliver. Instead welcome the death metal chaos-bringers that is Dira Mortis into your homes.
This is a hellaciously heavy record. Death metal tinted with blackness and doom, focused on the absolute crushing the percussion can cause. Its headache inducing crashes and bangs are accompanied by controlled bursts of speed and sharply splayed guitar squeals and hooks. Each of the 5 tracks (it is actually 7 tracks long but two are an intro and outro) is a monumental ode to everything that is brutal.
When you have the likes of Worshipping the Terror of Madness coming in at 9+ minutes, your initial feeling might be that it's just too much. However, Dira Mortis have a deft hand at keeping the interest there. Changing the pace on a whim, letting the instruments do all the work before delivering a sharp whip to the back with a guttural set of growling vocals. The further down the rabbit hole you go with Dira Mortis, the more you become part of their savage world of death.
You can tell a ton of thought and care was put into the structure of this album, especially when the three major focuses are black, death and doom. How do you keep that sounding so interesting for 40-odd minutes? Dira Mortis have managed it. What a Christmas present it is.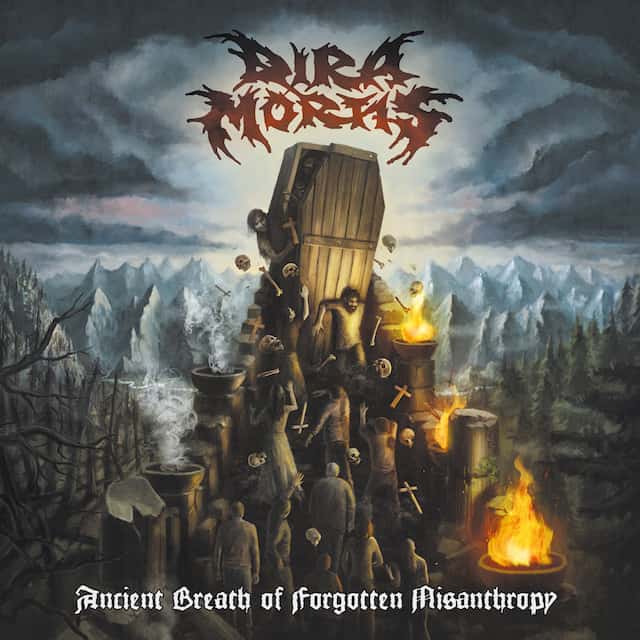 Dira Mortis – Ancient Breath Of Forgotten Misanthrophy Full Track Listing:
1. Legions Heading For Eternity
2. Worshipping The Terror Of Madness
3. Sepulchlar Maniac
4. Twilight Of Divine Purgatory?
5. The Falling Majesty Of Abomination
6. Forward To The Abyss Of Misanthropy
7. The Altars Fall
Links
Bandcamp | Facebook | Selfmadegod Records
Dira Mortis - Ancient Breath Of Forgotten Misanthropy (Selfmadegod Records)
The Final Score -

8.5/10