Album Review: Demons and Wizards – Demons and Wizards: Remastered (Century Media Records)
Demons & Wizards are a power metal band 'side-project' of Blind Guardian vocalist, Hansi Kürsch, and the Iced Earth guitarist, Jon Schaffer.
They released two albums, the self titled Demons and Wizards in 2000 and the follow-up, The Crimson King in 2005. Dormant since then, they group are back and planning to release new music as well as perform live.
Ahead of all that though they're re-releasing their earlier albums full remastered with some additional content added in. First up is the remastered version of the self titled album, Demons and Wizards out on June 7th 2019 via Century Media Records.
I must confess to not having heard of Demon and Wizards until recently. I certainly wasn't a fan of either Blind Guardian or Iced Earth back when they first released music but times have changed. Blind Guardian are one of my favourite metal bands and while I don't love Iced Earth in quite the same way, they are still an impressive listen.
Combine the two and we have Demons and Wizards, what's not to like?
So this being a remaster hardly makes a difference for me. I don't know the original so I have nothing to compare it too. It might as well be a brand new release from the super group.
Giving us the best of both worlds, we have the heavier and more frantic style of power metal that Iced Earth deliver with the thrilling vocals of Blind Guardian. A mix of crushing riffs, folk-infused melody, gothic rhythm and more, there's a wide range of tracks and plenty to enjoy.
The highlights include the frantic speed of Heaven Denies. The epic ballad of Fiddler on the Green. Tear Down the Wall's galloping riffs. The spectacular that is My Last Sunrise and the catchy guitar groove of White Room.
As remasters go, it's a very solid job and if there is one element that doesn't quite sound right though it is the drums. At times it is a little bit like the sound of someone hitting buckets. Not too distracting overall though.
As enjoyable as it is, there's no escaping the fact that it does have a few flat moments too. Not only that but there are few songs here that anyone could say come close to the best that either Iced Earth or Blind Guardian has put out.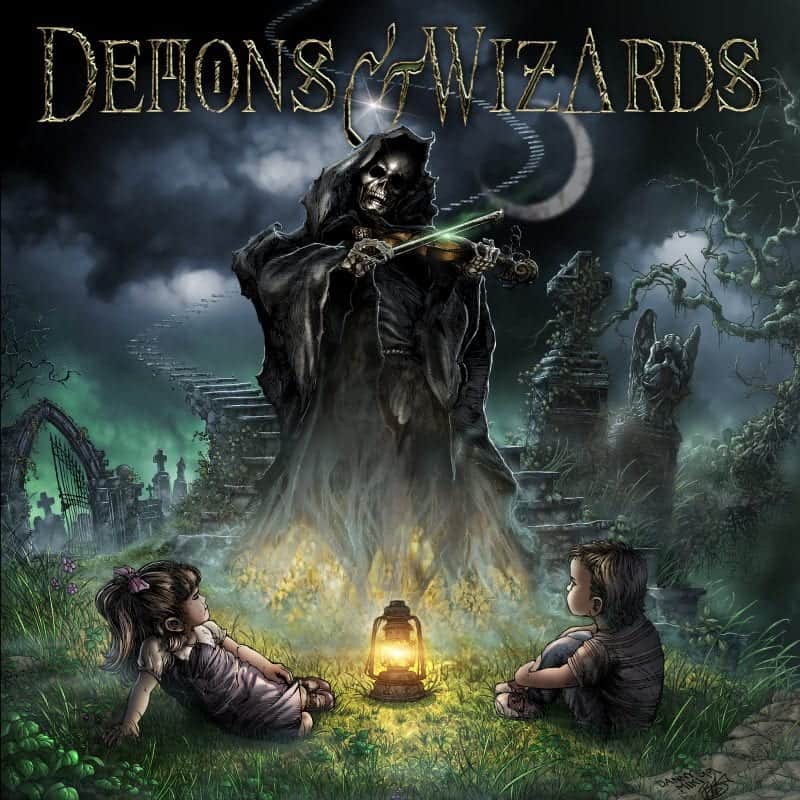 Demons and Wizards – Demons and Wizards Full Track Listing:
1. Rites of Passages
2. Heaven Denies
3. Poor Man's Crusade
4. Fiddler on the Green
5. Blood On My Hands
6. Path of Glory
7. Winter of Souls
8. The Whistler
9. Tear Down the Wall
10. Gallows Pole
11. My Last Sunrise
12. Chant
13. White Room
14. The Whistler (Alternative Version)
15. Heaven Denies (Demo)
You can find all your streaming and order links here.
Demons and Wizards – Demons and Wizards: Remastered (Century Media Records)
The Final Score -

7/10