Album Review: Cybernetic Witch Cult – Absurdum Ad Nauseam (Self Released)
Cornwall's finest psychedelic stoner rock band, Cybernetic Witch Cult's third album 'Absurdum ad Nauseam' sees the trio focusing and honing in on key sonic elements to elevate their own unique perception and create a heavier experience for listeners, without losing the progressive and 70s influences the band are well known for.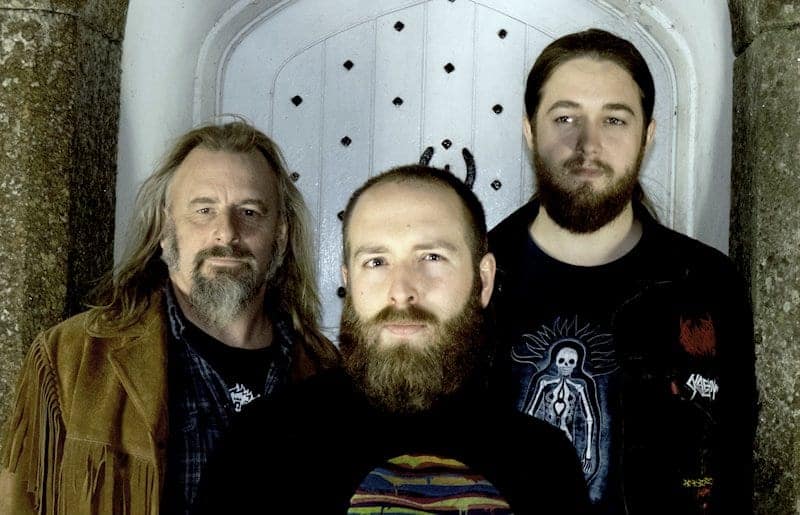 The songs on 'Absurdum ad Nauseam' reflect on troubling times in the world, notably climate change. vocalist/guitarist Alex Wyld Wyld says:
I first took climate change seriously at university in 2010: During my Astrophysics degree I opted for a course called 'Energy and the Environment' and during our first lecture a student asked the professors "what are our chances like?" and the lecturers gave a solemn look to each other and said "very bleak with the current state of affairs", everyone had a solemn feeling after that lecture and I think the state of things have gotten worse since then.

It's tragic to see that while there's more general awareness of the crisis now, theres also more (non factual) vocal opposition to climate science and crazy talk of conspiracy theories. I do worry for the future, and I think that's partly why this album turned out so much heavier and more serious than our older material. But you have to hope that things will improve and that the people who are in power will start to actually make some policy changes to safeguard our civilisation's future.
Absurdum ad Nauseam will be released on December 6th 2019.
Often touted as one of the stars of the British rock and metal scene, those unfamiliar with Cybernetic Witch Cult have been missing out. Missing out for far too long and now they have the chance to correct that with the release of their brand new album, Absurdum ad Nauseam.
This is the psychedelic fuzz everyone needs in their life and few do it better than the Cornwall natives. Does Absurdum ad Nauseam stack up when held against the band's earlier work? Absolutely it does. In fact it's not hyperbole to suggest this is might very well be the bands best work to date.
After an uncomfortable level of rumbling horror where snippets of voices (I think) can be heard, Hypercomputer (Part 1) gets the stoner show on the road properly. Here several questions comes up. What's more entrancing? The echo of the bass? The sticky fuzz that is covering the guitars? The hypnotic drum beat? Or the delectable vocals? Put them all together and what we have is a track that could be telling you to go throw yourself off a cliff and you'd do it happily.
Don't do that though because there are a fair few more tracks to get through and you won't want to miss out on what comes next.
That next is Cromagnonaut and sees the riffs dropping to doom levels of heavy before the tempo picks back up for a wild and energetic performance. This is stoner metal to dance too and Cybernetic Witch Cult are leading.
The Cetacean demands much more though, the echoes of the start reminiscent of deep space signals before a thrumming guitar breaks apart the malaise. Joined by the wonderful clean vocals, the drums then pick up the beat and everything begins to turn more and more psychedelic. Being nearly 10 minutes long, it should come as no surprise that it's an ever evolving track and just keeps on getting better and better.
Not that The Ivory Tower is much shorter at just short of 9 minutes long. Here the band once again showcase just how trippy they can be while also letting some of that 70s influence shine through. It's a fairly mellow listen at first but the bassy undercurrent keeps on growing in volume and power until it's almost too much to bear. An unconventional rhythm keeps the track on par with what has come so far.
What follows though is arguably the best track of the album, Spice. A deep and echoing fuzz covered guitar rhythm, the vocals slightly wavering and wobbling, the drums sounding out a beat that is as doomy as it is stoner. A Cybernetic Witch Cult classic already.
Not quite done yet, the penultimate track is The Myth of Sisyphus, where the band reach even deeper levels of heaviness with the bass while being a tad more catchy than most might expect. It's another incredible piece of music from a band that oozes stoner metal confidence.
Ending on a high with Hypercomputer (Part 2), there's no big changes to the formula set out before and that's a damn good thing. Mellow vocals, playing off differing levels of testing and tear-jerking guitar riffs and melodies, it's a wonderfully morose effort leading to a faster guitar solo and 70s rock infused finish.
It's coming in at the last minute but Absurdum ad Nauseam can proudly join the few bands vying for the album of the year spot.
Cybernetic Witch Cult – Absurdum ad Nauseam Full Track Listing:
1. Intro
2. Hypercomputer (Part 1)
3. Cromagnonaut
4. The Cetacean
5. The Ivory Tower
6 . Spice
7 . The Myth of Sisyphus
8 . Hypercomputer (Part 2)
Links
Bandcamp | Website | Facebook | Instagram | Twitter | YouTube
Cybernetic Witch Cult - Absurdum Ad Nauseam (Self Released)
The Final Score -

10/10