Album Review: Black Crucifixion – Lightless Violent Chaos (Séance Records)
On June 3rd 2019, Séance Records is proud to announce the release of the definitive, worldwide edition of Black Crucifixion's fourth album, Lightless Violent Chaos.
Forming in the dark days of 1991, Black Crucifixion have long been a revered name in the Finnish black metal scene.
A true "dark horse" if there ever was one, Lightless Violent Chaos had its preliminary release as a limited edition in the band's homeland in 2018, and the album has not been available outside Finland. Longtime fans Séance Records – who worked with the band for the international edition of their third album, 2015's Coronation of King Darkness – are now proud to give Black Crucifixion's Lightless Violent Chaos the worldwide OFFICIAL release outside the Nordics.
The world outside Finland can be grateful to Séance Records as they bring us this stellar slab of black metal from Black Crucifixion. A deliciously evil, a delectably twisted and atrociously bleak listen.
After a slow build with Five-Pointed Eye, Black Hole Metal sends us careening down into the darkness with scratchy riffing before Free of Light takes things in a more melodic direction. At least at the start before the beat picks up into something akin to a blend of harder rock riffs and feral-like metal. It's an awesome listen that showcases the variety in Black Crucifixion's sound.
We're only getting started though as Deathless Be Me combines an echoing drum beat with layered guitars. Then Of the Godless and Brave builds on the disturbing layers heard so far. The way in which the wildness erupts from the latter is one of the best things on the album.
Finally we get the grumbling softness of the vocals, lighter melody and deep throb of bass in Discipline. A perfect precursor to the building brutality of Intuition. A final and wonderful example of how Black Crucifixion know how to build upwards and onward to unleashing the terror that exists in their heads and hearts.
We can be very glad to finally hear this album. As it's one of the best black metal releases this year.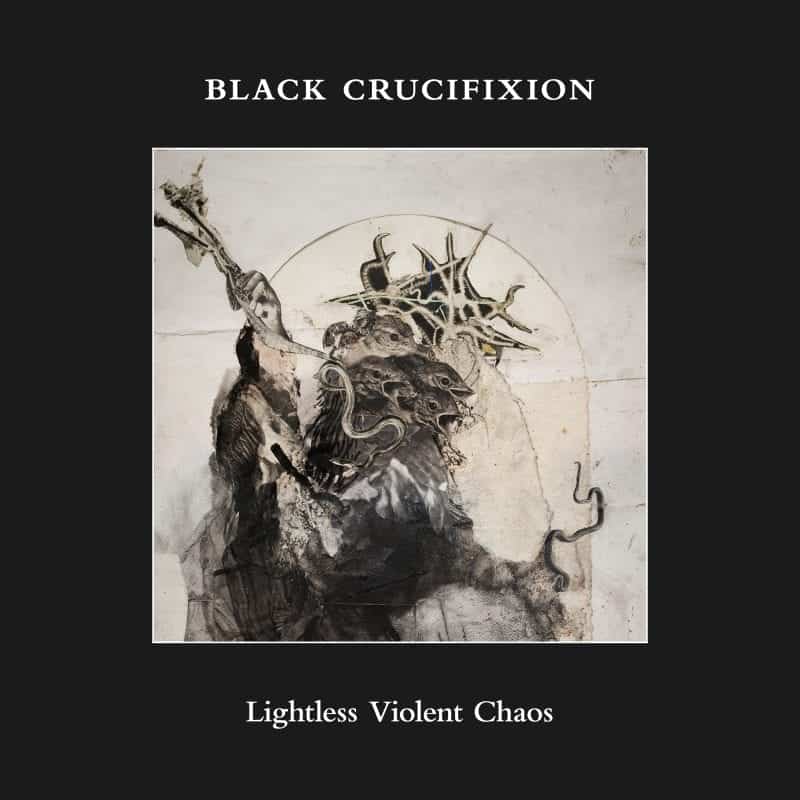 Black Crucifixion – Lightless Violent Chaos Full Track Listing:
1. Five-Pointed Eye
2. Black Hole Metal
3. Free Of Light
4. Deathless Be Me
5. Of The Godless and Brave
6. Discipline
7. Intuition
Head over to Seance Records here to order the album now and find out more via Black Crucifixion's Facebook Page.
Black Crucifixion - Lightless Violent Chaos (Séance Records)
The Final Score -

9/10