Album Review: Basalt Shrine – From Fiery Tongues (Surrogate Rec/Cruel Nature Records/PAWN)
Philippines, doom and post metal band Basalt Shrine will release their debut album 'From Fiery Tongues' on June 13th, 2022. The album is being released by Surrogate Rec (Ukraine), Cruel Nature Records (UK), and PAWN (Ph) on CD and cassette.
All about atmosphere, Thawed Slag Blood builds up in sinister style, increasing in volume and becoming more and more uncomfortable to listen to. It's the lurking dark, the fear that sits outside the cusp of the mind, the sound of chittering things you can just about hear in the dead of night. It's incredibly atmospheric and one hell of an introduction to Basalt Shrine.
Having left that impression, it's time for another. This time one of abject horror as In the Dirt's Embrace sees Basalt Shrine explode with virulency. Heavy, raw and intense… it's filthy doom with a scratching and clawing post edge. This goes on, with many a delightful twist and turn, for nearly 11-minutes. Showcasing the true capabilities of this band and leaving a clear, unflinching and cold impression.
Adorned for Loathing Pigs adds even more horror, ritualistic and black-infused horror. Getting delectably doomy, infusing chilling atmosphere and leaving the mind empty and isolated. Before the title track begins in surprisingly different fashion. A more rhythmic beat, the foot starts to tap and the head starts to nod, but Basalt Shrine are only playing coy as the volume increases, then drops to darker levels, before erupting in explosive fashion. One of the most unique and dangerous sounding tracks on the album.
Capped off with The Barren Aftermath, where the aforementioned dark atmosphere grows in stature until it is near suffocating. The guitar tone, eerie and melodious, this is a track that wraps itself around you like a death shroud.
What an impressive debut release this is. Basalt Shrine coming out of nowhere to deliver a cold, dark and downbeat genre-defying album that is going to resonate with many people.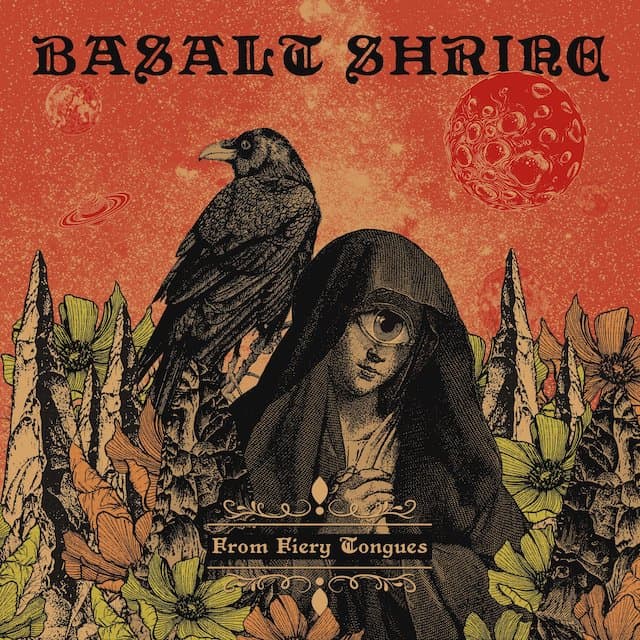 Basalt Shrine – From Fiery Tongues Full Track Listing:
1. Thawed Slag Blood
2. In the Dirt's Embrace
3. Adorned for Loathing Pigs
4. From Fiery Tongues
5. The Barren Aftermath
Links
Basalt Shrine - From Fiery Tongues (Surrogate Rec/Cruel Nature Records/PAWN)
The Final Score -

8.5/10