13 Days of Halloween: TV Series Review: Costume Quest – Season 1
Based on the video game of the same name, Costume Quest a 2019 American animated fantasy web television series created by Will McRobb and Bryan Caselli and co-produced by Frederator Studios and Amazon Prime.
The main voice cast stars Gabriella Graves, Sloane Letourneau, Issac Ryan Brown, Allie Urrutia and Fred Tatasciore. Season one (the only season as of 2022) was split into two halves with the first released in March of 2019 and the second in October 2019. Each episode (aside from the finale) features two segments with an overarching story linking the two.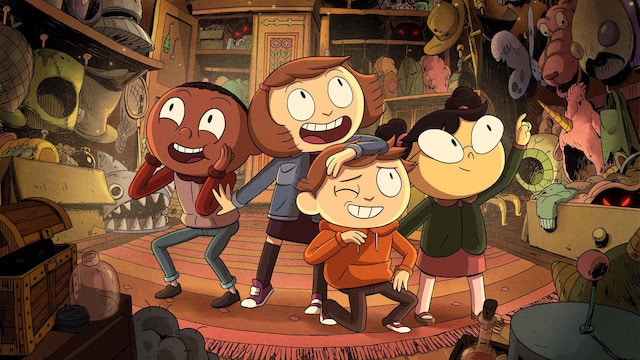 Both games, Costume Quest and Costume Quest 2 delivered delightful Halloween themed experiences. While neither game was flawless, the mix of adventure and party-based roles playing gameplay entertained. So much so, that it's a real shame we've not seen a new game in the series since 2014.
This series doesn't count. Putting it bluntly, it's not very good which probably won't be too much of a surprise for those who have played the games. While the world of Costume Quest is ripe for expansion, the gameplay elements of it just wouldn't work in a show format.
One thing the show does do well is expand upon the world and introduce a bevy of new characters. Everyone's just a little unusual but thanks to great voice acting and great animation, most of them become quite ingrained. Of course, the show focuses on the main four kids from the games; Wren, Reynold, Everett and Lucy and thankfully, they're quite likable. Again, the voice acting is top notch and their comedic timing is on point. However, it's when the kids have to deal with something real that things get particularly good.
While the majority of the show is them trying to get on with life and having to deal with the monsters of Repugnia (known as Repugnians), there are times when the kids have to face reality somewhat. These moments, often sprinkled throughout episodes, make the slog feel more worthwhile.
It is a slog regardless though and not just because it's aimed at a younger audience. It's a slog because there really isn't that much imagination used when it comes to writing these stories and almost every episode has filler. Which is simply inexcusable when you consider the short length of each segment. Staying focused long enough to watch every single one is harder than you think and the moments that grab are few and far between.
It certainly seems as though the writers struggled to come up with uniquely interesting and clever stories. It also seems as though the few ideas they did have were used early on, as the show really grinds to halt in the second half.
Will kids enjoy it? Maybe, as the voice acting is lively and the animation is quite vivid. Yet, it's hard to see even the target audience being so wowed that they can find interest in the lacklustre stories on offer.
Costume Quest - Season 1
The Final Score -

5/10