13 Days of Halloween: Horror Q&A: Novacrow
Forming in late 2013, dark and delicious alternative metal band from Liverpool, England, Novacrow is formed of Kitty Staunton on lead vocals/ guitar, Federico "Freddy" Spera on bass/backing vocals and Jonyx on guitars/backing vocals.
Following the successful EPs 'Black Syrup', 'Criminal Mastermind' and 'Novacrow: Volume 1', Novacrow's debut album 'Look at Me Now' showcases the best of Novacrow. Their eclectic sound combines a wild blend of genres, infused with horror influences and a touch of humour. It was released on September 30th, 2022.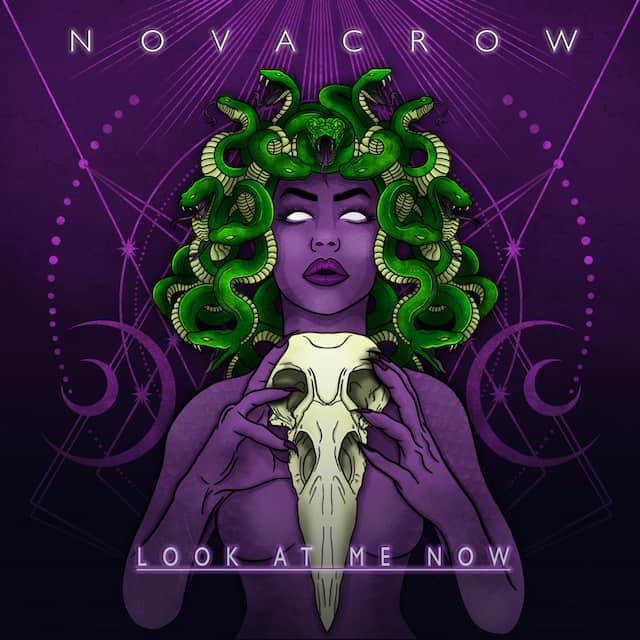 Halloween Horror Q&A
Kitty (vocals & guitar) for Novacrow
1. Happy Halloween! Tell us, what is your perfect Halloween night?
Spooky film marathon or a horror game with nice beer, blankets and themed snacks. For the last few years, Jonyx and have I tried to Spooktober, so a different Halloween appropriate film every night of October. I enjoy the challenge aspect (I'm terrible at sitting down and relaxing), but also the variety of cramming in loads of different types of spooky movies. I do love a good Halloween party too, any excuse for DIY costumes. I went as Elvira last year, complete with cardboard boobs.
2. What is the perfect Halloween horror to put on?
I love giving everything a chance, but you can't go wrong with Nightmare on Elm St. I do adore a cosy evening with the old classics though, can't beat all of the old Universal Monsters and Vincent Price films.
3. In our best Ghostface voice – what's your personal favourite scary movie and why?
The Thing, because it is brilliant. Love the practical effects, the storyline and the overall aesthetic.
4. What's your earliest memory of seeing a horror movie?
Me and my best friend borrowed The Grudge from a local video shop by lying about our age. I found it great and loved being "scared"… my friend didn't sleep for weeks. Haha!
5. Have you ever experienced something unusual or unexplainable in real life?
When I was a kid, we used to do a lot of seances and think that weird sounds were happening, or we could see odd things… (which in hindsight were just totally normal haha). So no.
6. What's the best modern horror you've seen recently?
I loved Host, because I think they did an admirable job of making a genuinely good horror during lockdown. Some savage jumpscares in that! Shoutout to The Mortuary Collection, The Platform, the It remakes, His House and The Invisible Man remake.
7. What is your favourite type of horror?
I love a good slow burner found footage film or a gritty thriller…but I do love campy slashers with OTT practical gore.
8. What's a horror cliché that you just can't stand?
Lame and poorly written "heroines" who can't run more than a few steps without falling down and spend the whole film screaming. Also, when people don't bother arming themselves with anything nearby when they know they're being pursued. Like, I would be grabbing absolutely anything nearby to lob at the killer, even if it is shit. Better than nothing right?
9. Freddy, Michael or Jason? Who is your favourite and why?
Freddy. His iconic sweater and luncheon meat face combo. Honourable mention to Jason for the sleeping bag smash though.
10. 70s sleaze or 80s cheese. What's your poison and why?
80s all the way. Nightmare on Elm St, Chucky, Gremlins. All the classics.
11. Would you rather: spend a night in 112 Ocean Avenue (Amityville) or Hill House (The Haunting/The Haunting of Hill House)?
Hill House. Sign me up for the ghosts please.
12. Would you rather: 'play a game' (Saw) or be 'shown such sights' (Hellraiser)?
Be shown such sights. Standard Saturday night round here.
13. Would you rather: have a good guy doll (Chucky) or an Annabelle doll (Annabelle/The Conjuring)?
Definitely a good guy doll. We could wear little matching dungarees.
14. Would you rather: be stuck in the Burkittsville, Maryland woods (Blair Witch) or stuck in the caves of the Appalachian Mountains (The Descent)?
Maryland woods. The Descent was brutal. If I was in Blair Witch I'd like to think I'd have helped ease some of the chaotic bickering… I certainly wouldn't have gotten rid of the bloody map like an asshole.
15. Would you rather: be hunted by the Predator or by the Alien?
Predator and just spend my days caked in mud. I would embrace a nice new swamp life.
16. What character would you be in a traditional slasher movie (the nerd, the jock, the cheerleader, the final girl etc)?
I'd like to say final girl, but due to my purple hair and piercings etc, I'd probably be the edgy alternative girl that doesn't quite make it to the end, but probably at least has some cool death/gay scene or cheesy "metal" montage bit which I'd be remembered for.
Links