Video: Oddko – Disobey (Official Video)
LA's new industrial/alternative rock project Oddko has made its debut with a groundbreaking video for their first single 'Disobey'. The video features some of the most ambitious and spectacular visual effects ever used in a music video.
ODDKO, a Los Angeles based music project in conception since 2011 and created by musician and award-winning visual director Giovanni Bucci, is a manifestation of the animal within – the wild beast in all of us – driven by instinct and the longing to break free of society's cage.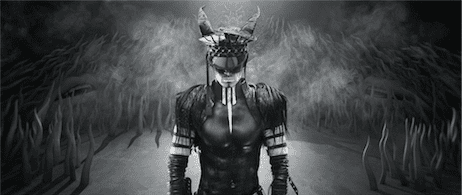 The project's debut 13-track album, Escape The Maze, is the fruit of Gio's eclectic tastes, passion, and his desire to make a vibrant new multifaceted work of art. The album's soundscape includes a range of influences from metal and alternative, to classical, electronic, and cinematic sounds.
The album's first single, "Disobey," delivers an engagingly dark surreal experience, a taster of the album's observations on contemporary society. The video for the track was directed by Gio himself and produced together with Paola Rocchetti through visual arts production company Void n' Disorder. "Disobey" explores themes of Man vs. Machine, of Nature vs. Technology, and paints the goddess Hekate as a 21st Century nightmare, ensnaring victims and bending them to her will. The video beckons to the beast within, the hungry animal straining against the leash. A call to the wild: Disobey.
Prior to the ODDKO project and the release of Escape the Maze, Gio has blazed his own trail in the industry. His background is multicultural; spending his life across four countries (Italy, Netherlands, UK and USA), which has deeply influenced his approach to music and art. He's directed two award-winning videos for Korn, with additional music clients including Jane's Addiction, MGMT, Andrea Bocelli, Timbaland, and Lindsey Sterling. He's also done notable work as a motion designer for films such as Star Trek, RoboCop and Pacific Rim, while his services have been commissioned for high profile clients including Disney, Red Bull, MTV, Warner Bros, BBC, and Netflix.