Single Slam – Sultan's Curse by Mastodon (Emperor of Sand)
Sultan's Curse by Mastodon is the first single to be released from their new album, called Emperor of Sand. Emperor of Sand is due to be released on the 31st of March via Reprise Records. It will be the band's 7th release since forming in 2000 and follows 2014's release, Once More 'Round the Sun. Emperor of Sand is a concept album that follows the tale of a desert wanderer with a death sentence. Specifically it deals with the band's personal experience with different forms of cancer.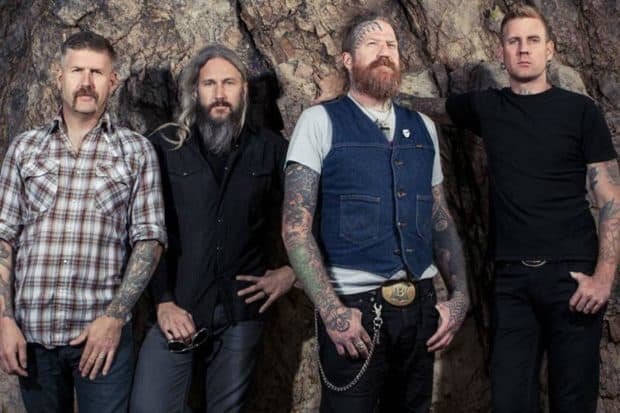 Sultan's Curse is the first track on the new album and is 4 minutes and 9 seconds long. It is, perhaps unambitiously, pretty much what you would expect to hear from a new Mastodon track. It has different sections utilising all 3 singers. Troy, Brann and Brett Hinds all have alternating vocals in what is a pretty slow placed, plodding track. There is a neat little opening riff and Dailor is great on the drums, as he so often is. Everything is pretty catchy, if not a little uninspiring. The song switches up nearing the end to a more creative and more interesting sound that builds into a very good solo from Hinds. That solo plays through until the end with the addition of backing vocals before a sudden stop.
Everything on the song works just fine. Vocals sound good, the riff is decent, there is some great drumming and a nice solo. It's all just, well, good. It isn't brilliant, inspirational or game changing. It is just another Mastodon track that could have been from a few of their recent releases.
That isn't necessarily a bad thing though. We certainly shouldn't be annoyed at a band for releasing a good song and Sultan's Curse ticks that box comfortably. On that same note, the album will hopefully not be comprised of another ten tracks as safe as this one.
I do want to point out again that this is a concept album. With that in mind, the story is just started and the next track on the album could lead directly from this. Often when that happens, it can make your feelings about a track change as more pieces of the puzzle unfurl. This song is plain but it may need to be when we hear track 2.
Drummer and vocalist Brann Dailor released the following statement regarding the Emperor of Sand: "At the end of the story, the person simultaneously dies and is saved. It's about going through cancer, going through chemotherapy and all the things associated with that. I didn't want to be literal about it. But it's all in there. You can read between the lines."
Bassist and vocalist Troy Sanders added the following: "We're reflecting on mortality. To that end, the album ties into our entire discography. It's 17 years in the making, but it's also a direct reaction to the last two years. We tend to draw inspiration from very real things in our lives."
Sultan's Curse is a good song, with a better ending. All of the members of Mastodon pull off their duties as expertly as we would expect. There is ample good singing, drums and guitar work but the song is just a little boring and flat overall. As only the first release of a highly anticipated album, I still look forward to hearing more of it and am very interested in seeing where the concept goes next. I do hope for a little more ambition and creativity on future tracks though.
Check the song out for yourself here. If you like it, why not preorder it from Mastodon's official website? Give the band a Like or Follow over on Facebook or Twitter to keep up to date with further information too.
Sultan's Curse by Mastodon (Emperor of Sand)
The Final Score -

6/10
Comments Rating
( reviews)