Single Slam – Rats by Ghost (Prequelle)
Swedish occult metallers/irritating pop rock band, depending on your opinion, have released a new single called Rats. Rats will feature on the band's new album, Prequelle, due out on the 1st of June this year via Loma Vista Recordings.
To say Ghost are a bit of a marmite band is an understatement. I have tried really hard to like them but it just hasn't clicked for me at any point. Well, I enjoyed them once and that was the only time I saw them Live at Bloodstock Festival in 2017. They certainly put on a show. Despite trying to enjoy Meliora and Infestissumam, I just found myself struggling especially with the vocals. I tried Ceremony and Devotion and failed there too. Then Square Hammer and Popestar came out and I gave up trying. Man I dislike that song and EP. You can check out some different opinions on these records by clicking on the links though.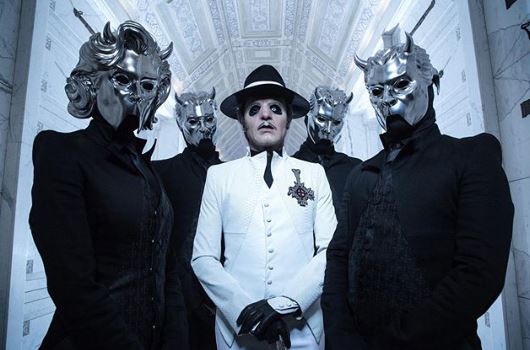 Still, here I am again. Trying once more. A new album announcement brings with it a change to the line up. Well a change to the perceived line up. As the unnamed clergy announce the arrival of a new leader called Cardinal Copia. Cardinal Copia now takes over the reigns of the band so maybe I am in for a pleasant surprise in regards to a slightly different style? Let's see.
Rats is 4 minutes and 22 seconds long and was released alongside a slightly bonkers music video which you can see below. It starts off with a decent drum rhythm and catchy enough riff. Vocals come in and we are warped back in time to that familiar 80's almost proggy style. I actually don't hate the vocals this time round but it certainly lacks any real punch or excitement. The chorus shout of Rats is delivered with a bit of menace and followed by some higher pitched "ah, ahs" which off set each other well.
There is a big solo which I do like. It still carries that old school tone but sits nicely in the track. It kicks up in pace for a second section along with the drums before we are back to the vocals and slower tempo. After some repeated choruses we move into a horrible sounding church like keys section before we get a nice chugging riff through to the end.
I would be lying if I said I hate this song, Rats, as much as most of their previous work. I actually don't. Maybe I even quite like it. I do think the vocals still lack a bit of oomph but that is their style, I guess. Also, I really don't like the keys sound at the end either. I get what they are trying to do with their sound but it doesn't fit seamlessly into the song in my opinion. Having said that, the chorus is pretty cool. I like the solo and the chugging end to the song too. Yeah, it isn't bad.
That is coming from a guy who doesn't like Ghost so I imagine there are going to be some pretty pleased Ghost fans around right now. This one song isn't enough for me to change my mind about this band. There are still plenty of things I don't like about Rats. Mainly the keys and I find myself getting a bit bored during the verse vocals. For once though, I have to say that I mostly enjoyed it. Maybe Prequelle will be the album that finally makes me get this band? I'll have to wait on a few more singles to see.
Check out that video above. You can pick up Rats now on all the usual streaming services like Apple Music, Amazon and Spotify. You can alos pick up a preorder or the new album, Prequelle from here. There many weird and wonderful bundles to choose from. Keep up to date with news on Prequelle and Ghost at their Instagram, Twitter and Facebook pages.
[amazon_link asins='B0785GFV7Q,B00ZB7UW2S,B00BQ1D9IW,B0041KOVNM,B07CBMVCW6,B07CF6WS52,B07BZB64G8,B07CF6WS53′ template='UseThisOne' store='g0e5b-21′ marketplace='UK' link_id='6935b546-3fc3-11e8-9539-739b61c88744′]
Rats by Ghost (Prequelle)
The Final Score -

6.5/10