Single Slam – Of Suffering by Earthbound (Desolate)
Melodic death metallers, Earthbound, are back with a brand new single called Of Suffering which will feature on the band's new EP, Desolate.
Desolate is due to be released on the 11th of October this year and Of Suffering is our first taste of new music. Earthbound are based in Hertfordshire in the UK. They are a five piece with lead vocals from Tom Watson. On guitars and backing vocals, it's Louie Penfold alongside John Stacy, also on guitars. Chris Stroud is on the bass and last but not least, on drums it's Richard Shearing.
We at GBHBL are big fans of Earthbound. We really liked their debut EP, Endure despite it having a few minor production flaws. You can read our thoughts on it here. We caught up with the band pre their appearance at Bloodstock 2018 and also while we were there. Read/watch those interviews by following the links. Want to know how well they performed at Bloodstock? Well check out our festival review here. We also reviewed their single, The Sentinel, which was released earlier this year. Check out our thoughts on that here.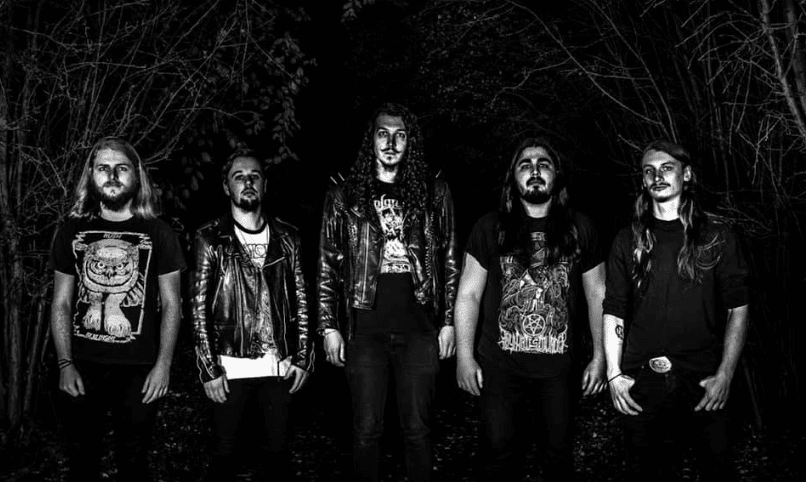 So, you can see we are always happy to hear of new music from Earthbound, and here it is, Of Suffering.
Of Suffering is 5 and a quarter minutes long and is a banger. It seems like you can feel the growth of these guys with each release and this is no different. There sound here is absolutely on point, the raw, local band feel of, say, Endure, has now transformed into a full sounding, layered and professional mix that could come from a band with a 20 year career in their pockets. As well as the growth in their sound, the fuller mix has also given them an even heavier and more extreme edge.
A powerful riff, filthy bass line and speed drumming hit you hard right from the off. The vocals are dark and chock full of strength and the higher toned backing vocals add a clever layer in where you might not have expected it. The drop in to the chorus is the first jaw dropping moment as the extreme metal jumps into a little more melody and plenty of groove. The vocals turn to clean while the guitars blaze out melodic lines. It's brilliant, a proper anthem of a chorus that you just have to head bang to.
More jaw dropping comes at the end of the second verse as we move to solo and instrumental sections starting with a pit inducing section of pure force followed by a wicked solo and then a heavy, rhythmic punch. Brilliant. Though just as brilliant is the sudden and brief stop that then dives back in a full power. Wow!
I said a the beginning of the review that I was a fan of Earthbound and can honestly say this is the best song they have written to date. Not just a favourite but the best. The best structure, transitions, vocals, riffs and instrumentation. Of Suffering is a phenomenal song that deserves to be heard and, if this is a sign of what is to come on Desolate, we are all in for a heavy, head banging treat.
Earthbound Links
Facebook – Twitter – YouTube – Spotify – Instagram – Bandcamp
Of Suffering by Earthbound (Desolate)
The Final Score -

10/10