Horror Movie Review: Martyrs (2008)
To use a sporting idiom, Golf I believe, Martyrs is a game of two halves. The film opens on a scene of a young and bloodied girl, Lucie, fleeing the abuses that she has suffered on a seemingly abandoned industrial estate. This is followed by a documentary / home movie style montage of her physical recovery at an orphanage. Emotionally and mentally scarred, Lucie manages to form a bond with another girl, Anna , and a deep and loving friendship is born.
As the girls get older it becomes clear that the only way Lucie will assuage her guilt for leaving another young woman behind is to exact revenge on her captors, whom she has tracked down to an unassuming country house, shotgun stylee.
As she enters the house it would seem that this French language film offers nothing new to the revenge film genre. Do not be fooled. Firstly the physical representation of Lucie's guilt is both horrifying and heartbreaking in equal measure. Secondly, the film takes an unexpected twist of biblical (sort of), proportions around the halfway point.
This is where Anna becomes the focus of the film. Now, Anna makes some frustratingly poor decisions, particularly after making a disturbing discovery within the household. Its enough to have you screaming at the screen " Get the fuck out of the house!", or whatever the French equivalent is, I don't know, I'm monolingual.
The films pacing is slow but purposeful, and there is a slightly confusing yet intriguing explanation for the events of Lucie's past as well as Anna's future. Oh boy is Anna's future brutal! From this point we are treated to scenes of sustained physical and mental torture, and the cold numbing feeling of watching a persons will and strength get stripped away. Its a hard watch and I'm not ashamed to say that at certain points I shed a tear or two.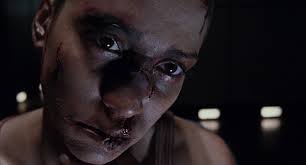 Terms like torture porn and shock for shocks sake are often bandied about, and detractors may accuse Martyrs of this, but I would disagree. I actually found it incredibly refreshing to watch a film as visceral as this without being subjected to images of sexual violence. That's right, THERE IS NO OBLIGATORY RAPE SCENE!! Shockedface.
The finale is both gruesome and delightfully ambiguous. You are encouraged to make up your own mind, and if you like your loose ends tied up in a pretty bow you will come away disappointed. Martyrs poses more questions than it answers. Though frustrating to some, considering what you have been through with the characters, I don't find this to be a cop-out of a lazy writer, rather a perfectly fitting end to a thought provoking story.
I came away from this film dazed, emotionally spent, yet ultimately entertained. It certainly played on my mind for a long while after, and isn't this the mark of a good film? Brutal, bleak and beautifully shot, Martyrs features some fantastic acting across the cast. Now to finish how I began, with another incredibly accurate sporting idiom, Tennis this time, Martyrs is a no holds barred revenge film with a hell of a twist.
Martyrs
The Final Score -

8/10
Comments Rating
( reviews)