Horror Movie Review: Halloween III (1982)
Halloween 3: Season of the Witch will take fans of Michael Myers by surprise; he is no-where to be found. John Carpenter & his co-creator, Debra Hill wanted Halloween to be a series of movies each containing their own story & characters. The potential for stories based around the Halloween holiday was huge but the movie didn't very well at the box office resulting in the return of Michael Myers in the next instalment.
The movie opens a week before Halloween as a man is running from a group of sincere looking business men in sharp suits. After being attacked by one & escaping he gets to a nearby gas station where he collapses holding a jack-o'-lantern mask & saying "they're going to kill us".
At the hospital he is put into the care of Dr. Dan Challis (the amazing Tom Atkins). While talking with other staff one of the suited men enters the hospital & kills the man by crushing his skull (it's pretty graphic). As Dan gives chase the man enters his car, pours petrol & sets himself on fire.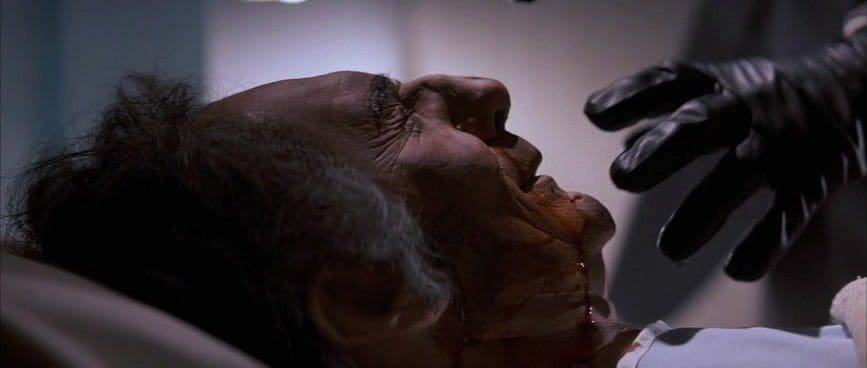 Dan ends up meeting the man killed in the hospital's daughter, Ellie & together they start investigating what happened. Their snooping leads them to the Silver Shamrock Novelties, a Halloween mask company that has been running TV ads leading up to Halloween promising a huge giveaway to kids wearing their masks the night of Halloween.
The advert is both catchy & annoying…I found myself humming the tune afterwards.
Silver Shamrock Novelties is run by Mr. Cochran a seemingly loving & friendly man with children's best interest at heart. As Dan & Ellie keep digging they uncover the truth behind Silver Shamrock Novelties & their plan for the countries children on Halloween night.
Halloween 3: Season of the Witch explores elements of Halloween long forgotten; it deals more with connections to witchcraft & Irish folklore. It should be interesting but it's a half-baked idea that is explained poorly in one of those 'James Bond evil bad-guy speeches'.
The reality is that if this movie didn't have the Halloween name it probably would have slipped away hidden & unnoticed amongst all the other serviceable but forgotten 80's horror movies. The problem lies in the lack of any real suspense in the build up to the big reveal. An admirable attempt is made with great acting especially by the legendary Tom Atkins who is on fire here.
His desperation at the end of the movie is thoroughly believable & his despair haunting at times.
Musically the film was never going to be able to capture the magic created with THAT Halloween tune but it does a good job of coming up with some sinister jingles that blend nicely into the scenes.
It's not a gory film but does have some nice head-crushing moments as well that look & sound pretty authentic. The film's decision to go for kids was brave & controversial. Don't expect graphic violence towards kids…it's more implied.
Ultimately Season of the Witch will forever be known as that one without Michael Myers in it (although technically he is as the original movie is seen on a TV) but it deserves better treatment as it is a good throwaway horror flick. Tom Atkins is as great as always & there are some moments that will raise a smile.
Halloween III
The Final Score -

6/10
Comments Rating
( reviews)