Live Review: Video Games Live at The Roundhouse, London (29/10/18)
Video Games Live is an immersive concert event featuring music from the most popular video games of all time. Top orchestras & choirs perform along with exclusive video footage and music arrangements, synchronised lighting, solo performers, electronic percussionists, live action and unique interactive segments to create an explosive entertainment experience!
If you've never experienced a Video Games Live show and you're a fan of video game music, then you've been missing out. Created and produced by industry veteran and world-famous video game composer Tommy Tallarico, these shows are a treat for the eyes and ears.
This is my second time experiencing Video Games Live, the first coming in 2014 at the Hammersmith Apollo in London. It was incredible so the chance to be part of it again but at one of London's best venues wasn't something to be missed.
Dubbed as a Halloween special. The show included soundtracks from horror themed games. As well as a medley of popular ones from the likes of Final Fantasy, Mass Effect and Kingdom Hearts.
While the Roundhouse is barely half-full (a bit of disappointment) those who have come out two days before Halloween are very happy to be part of this show. The lights dim, the loading bar reaches full and the Plastic Acid Orchestra come out on stage to a rousing array of cheers.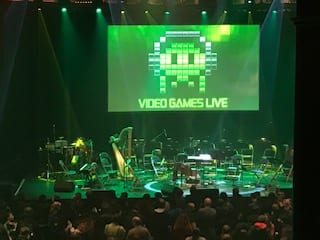 Plastic Acid Orchestra is a modern full symphony orchestra that creates an exciting new musical experience. By combining original Plastic Acid compositions, bold compositions from some of the most accomplished young Canadian composers and modern symphonic arrangements of popular music. Founded by Music Director, Bryan Deans, PAO brings a symphonic sound with a modern edge that tears down both genres and generations.
That spiel is incredibly accurate and they are mesmerising to watch. The bass section alone is incredible. The excitement builds as Tommy Tallarico arrives on stage in a blur of energy, guitar in hand for a kick-ass rendition of Castlevania's famous soundtrack.
A glorious light show, the mesmerising orchestra, the energetic Tommy on guitar and the huge screen playing the highlights of the series so far makes it hard to know just what you should be watching!
Now depending on what music means the most to you will depend on what you really enjoy here. World of Warcraft, Shadow of Colossus, Resident Evil 5 and Overwatch do little for me even if they sound fantastic. Whereas Metal Gear Solid, Undertale, Final Fantasy X, The Legend of Zelda and The Last of Us are simply breath-taking.
It's not all about the music though as the show is broken up by funny little videos that play on the screen. Videos that combine two games into one (such as Contra with Duck Hunt and Frogger with Grand Theft Auto) resulting in everyone having a good laugh.
Tommy Tallarico is also a man of many words. Praising the importance of video game music and how it inspires, giving massive credit to the Plastic Acid Orchestra and dropping in his own experiences of the industry. It's often easy to overlook just how important he is within it and that is highlighted by Earthworm Jim, a game Tommy refers to as the one he is most proud of having worked on.
The show wraps up with a guest performer. Jason Paige, the original Pokémon theme tune singer who comes out for a grin-inducing rendition of the Pokémon theme song!
Video Games Live at The Roundhouse, London (29/10/18)
The Final Score -

8/10