Live Review: Nervosa with Plaguemace, Cogas and Die Ego at The Underworld, Camden, London (22/05/23)
It's a night of extremely heavy music in London as death-thrashers Nervosa are in town on a short stint around England. Tonight is the first night of a five-date tour, which should have culminated with an appearance at Manorfest but that festival has been cancelled. A disappointing outcome for everyone, including Nervosa, but that hasn't stopped them from bringing their 'A' game to The Underworld in Camden.
We're a little late to The Underworld to catch all of the opening band Die Ego's set, but with a beer in hand, we do get to enjoy 15 minutes of meaty and mean metal. It's a thrashy, groovy, contemporary head-banger of a set from this London based band. A really strong showcase of their stage presence and metal power, Die Ego warm up those who turned up early very nicely.

There's little time to let the ears recover as up next is the blackened death noise that emanates from London's own Cogas. Self-described as 'violent and infernal music for the ignorant', we must be feeling pretty damn unaware tonight as this is not a great showing from this band. It pains us to criticise any band, in fact we'd rather just not talk about the band, but we can't ignore the flat, repetitive, and overall uninteresting set we experienced from Cogas.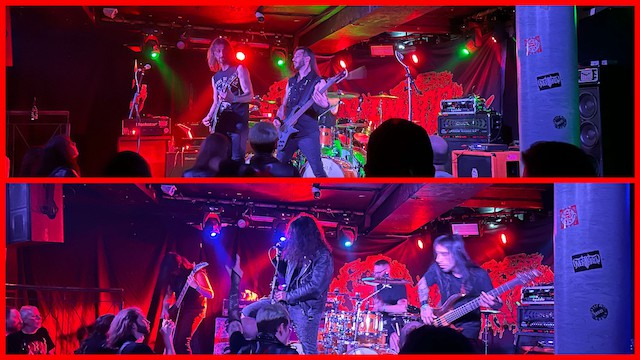 Which is made all the more prevalent when they're followed by Denmark's Plaguemace. A band that left with a ton of new fans, including us. The blend of death, thrash, and hardcore is one thing, but the amount of energy this band throws into their set is another. To call them an animated bunch is an understatement, yet they have the tunes to back up the antics on the stage. Not only do they get the first circle pits of the night, but they end their show in the crowd, going absolutely wild. We're not just talking about the vocalist either, both the bassist and one of the guitarists are part of the mayhem, and it's pretty damn incredible to experience.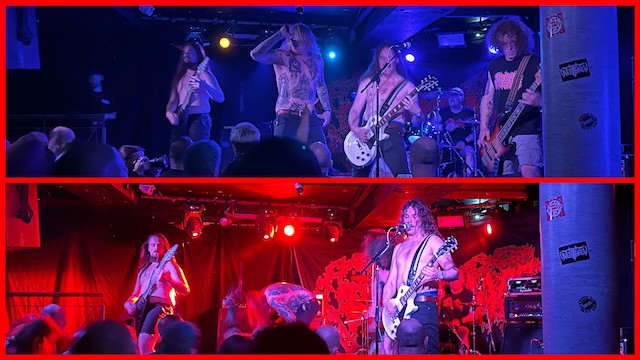 Did Plaguemace exhaust the crowd? Like f**k did they! Everyone is up for Nervosa and when they (finally) take to the stage at just after 10pm, the place erupts in a sea of furious head-banging and circle-pitting. It's a new look Nervosa, most notably with guitarist and founding member Prika Amaral now taking on full vocal duties. Yet, they are still the same tight and refined death-thrash beast they always have been.
Confidently crushing a litany of Nervosa hits, the majority coming from the last album 'Perpetual Chaos', The Underworld is subjected to a manic mauling here.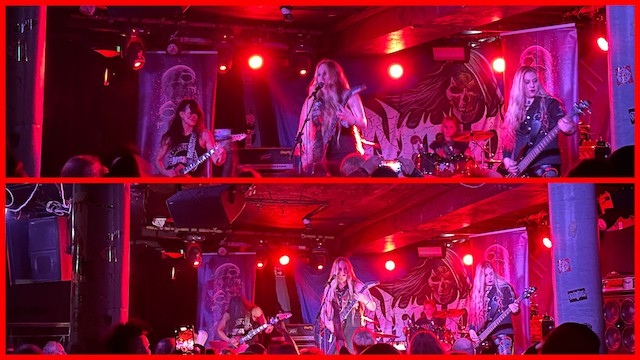 Kings of Domination, People of the Abyss, Time to Fight, Into Moshpit, Guided by Evil, and even the newest single, Endless Ambition. Nervosa do not disappoint, proving that they are striding forward with all the power and passion of a band reborn. If you don't believe us, just ask any of the blearily-eyed and sweat-drenched pit-goers who didn't stop for even a second.
Guitarist and founding member Prika Amaral is now the voice of Nervosa and ahead of this Underworld show, we spoke to her about the tour, the revitalised Nervosa, the costs and difficulties in touring, and so much more. 
Read the transcript of the interview here, and listen to the full thing via Soundcloud, Spotify, Apple Podcasts, and YouTube below.
Nervosa with Plaguemace, Cogas and Die Ego at The Underworld, Camden, London (22/05/23)
Nervosa -

9/10

Plaguemace -

9/10

Cogas -

5/10

Die Ego -

7.5/10