Live Review: Ithaca + Pupil Slicer/Forlorn At The Boston Music Rooms, London (04/08/22)
A showcase of the best in modern metal right now, metallic hardcore band Ithaca have arrived in London, alongside mathcore/extreme band, Pupil Slicer and the post-tinged metallic fury of Forlorn. Each band, breaking down the boundaries of heavy music, reflected in the fact that the Boston Music Rooms is sold out.
Which means opening act, Forlorn pull in a decent crowd, as eager heads get here nice and early. Those who are in the building are rewarded with a 30-minute showcase of dreamy post-metal with the sharpness of hardcore, explosivity of metalcore and a touch of Midsommar-esque eeriness. They're quite a captivating band and certainly leave an impression.
Talking of bands that leave impressions though… it's freaking Pupil Slicer. One of the hottest acts in the UK, maybe even the world, right now. Wherever they go, crowds follow and they leave anyone and everyone talking about them. Not only are they an exciting experience live, they're also growing in confidence. Approaching this show with a swagger that feels more than earned. There's no doubting that this might be the last time you see Pupil Slicer in a venue this small. There really is no ceiling on what this band can accomplish and the sea of banging heads and sweaty smiles is confirmation of that.
Likewise, you won't see Ithaca in venues like this come next year. Their meteoric rise is one to marvel at. Something that is also just getting started, the popularity of the new album 'They Fear Us', proving to be the spark that has set this ground-breaking band apart. From supporting Svalbard a few years ago at this same venue, to headlining it tonight, Ithaca have scratched and clawed their way to this point.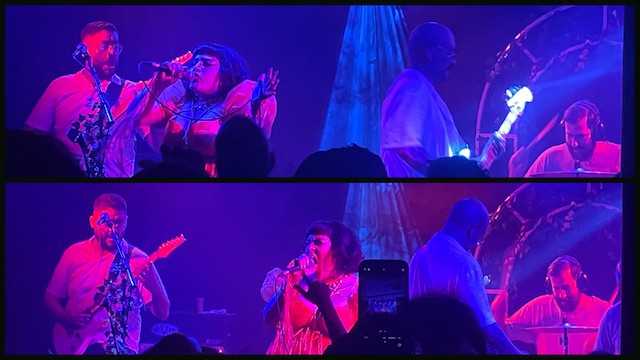 The connection they share with their fanbase is part of why London is watching, listening, head-banging and pitting to their music with great aplomb. Ithaca go the 'shock and awe' route, the majority of songs coming from the new album. Songs like The Future Says Thank You, Cremation Party, Camera Eats First and the title track are just some of the immense moments of this show.
Unbelievably watchable, utterly talented, heartfelt and honest, Ithaca are well on their way to being one of the top bands in metal. Shows like this can be considered a 'were you there' moment and if you're not aboard this train already, it's probably time you jumped on. Hold on tight, the ride is going to be intense.
Ithaca + Pupil Slicer/Forlorn At The Boston Music Rooms, London (04/08/22)
Ithaca -

10/10

Pupil Slicer -

10/10

Forlorn -

9/10