Horror Movie Review: The Vault of Horror (1973)
The Vault of Horror (also known as Vault of Horror, Further Tales from the Crypt and Tales from the Crypt II) is a British anthology horror film made in 1973. It is based on stories from the EC Comics series written by Al Feldstein with the film directed by Roy Ward Baker.
Five stories built around a group of five men who enter an elevator that takes them to the sub-basement against their will. There they find a table and chairs with drinks all set up for them to enjoy. The lift doors close & there is no button to call it back nor any other obvious exit. The five men resign themselves to having to wait for someone to come along so settle down & tell each other about their reoccurring nightmares.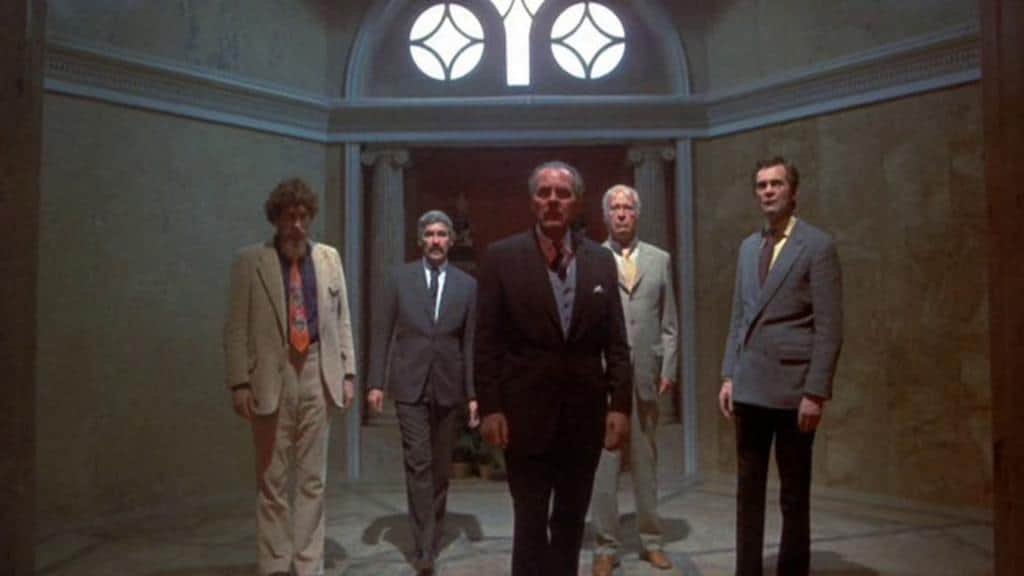 Midnight Mess sees Harold (Daniel Massey) tracks his sister Donna (Anna Massey) to a quiet village. She is less then pleased to see him, even less so when he kills her all so he can claim the family inheritance.
Afterwards he goes for a nice dinner but he should have listened to the warning he received when he first arrived…don't go out at night. This village is home to vampires & he is sitting amongst them.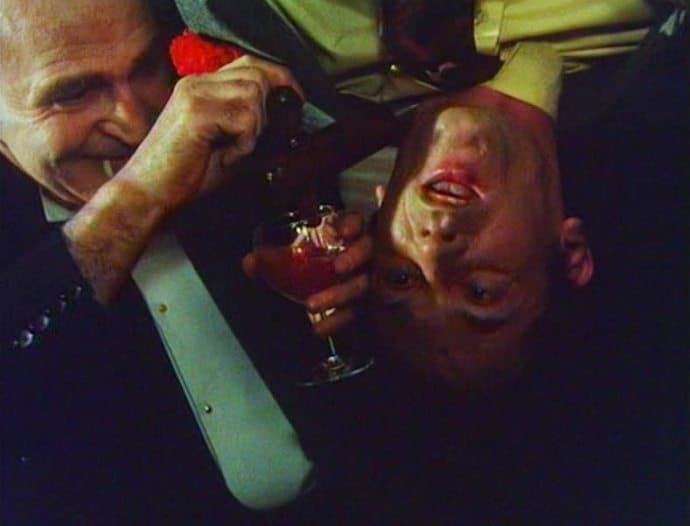 The revel is excellent & the final moments quite gruesome. A really enjoyable story that pays off in style.
The Neat Job is the highlight of the anthology with incredible tension & a tongue in cheek payoff that entertains wonderfully. Arthur Critchit (Terry-Thomas) is tired of being a bachelor so decides to settle down, meeting Eleanor (Glynis Johns) & marrying her. Unfortunately, she rarely meets his obsessively neat standards leading to him constantly nag at her. She becomes so frightened of upsetting him that it drives her insane & she eventually kills him.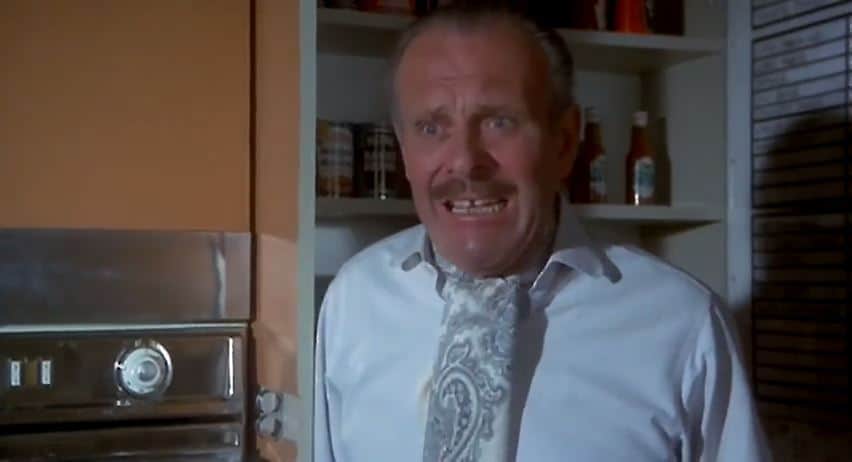 Such a great story, Terry-Thomas is such a git & Glynis Johns is fantastic as his suffering wife. Her final gleeful laugh as she stares at his neatly organised body parts is applause worthy.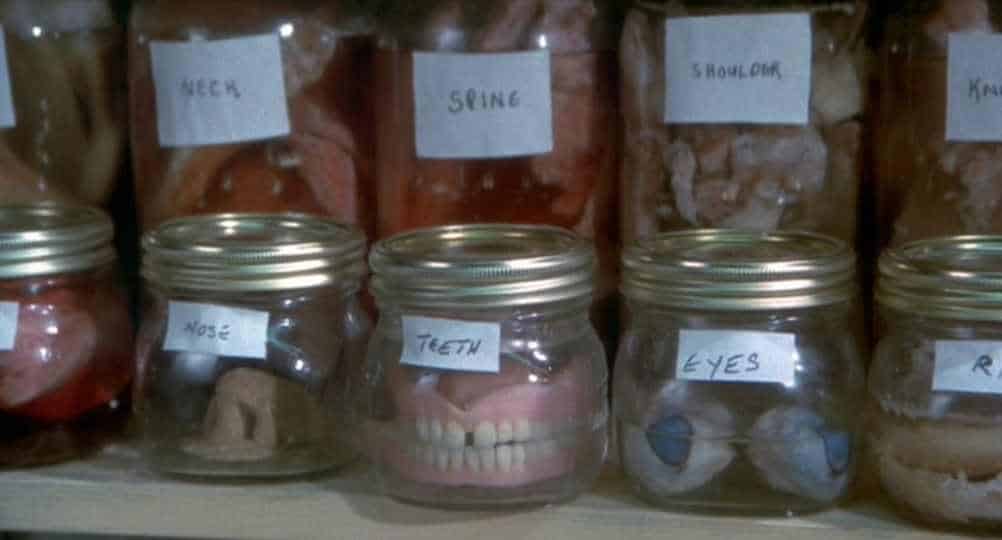 It's followed by the worst story of the bunch unfortunately. This Trick'll Kill You sees Sebastian (Curd Jürgens), a magician on holiday in India with his wife Inez (Dawn Addams), discover a young woman (Jasmina Hilton) charm a rope out of a basket with a flute.
Sebastian can't work out how the trick is done & manages to convince the woman to show his wife. Together, the couple kill the young woman planning to take the flute & rope for their own show. As they try to work out how they're going to use it, the trick reveals itself.
An unsatisfying & boring story feels dragged out. There is little imagination here & it's easy to predict the outcome.
Bargain in Death tells the story of Maitland (Michael Craig) who is buried alive as part of an insurance scam. His partner in the crime, Alex (Edward Judd) is supposed to dig him up at a certain time but double crosses him. Meanwhile, two young trainee doctors, Tom (Robin Nedwell) and Jerry (Geoffrey Davies), bribe a gravedigger (Arthur Mullard) to dig up a corpse to help them with their studies. They end up digging up Maitland who sits up desperate for air scaring the two trainee doctors off. The gravedigger reacts & kills Maitland with his shovel.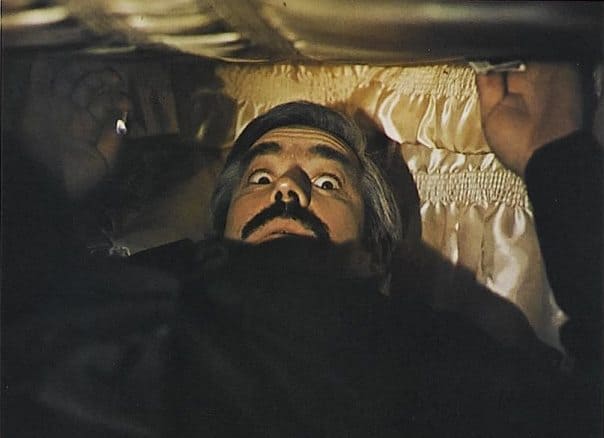 A short story but an entertaining one that has some well-placed humour & a really dark tone overall.
The final nightmare being shared amongst the five men is called Drawn and Quartered. Moore (Tom Baker) is a painter living in Haiti who discovers that his supposedly worthless art has been sold at a higher price then he expected. He believes he has been scammed by the art dealers & critics so goes to a voodoo priest who gives him the power to take his revenge. If Moore paints a picture & damages it, the damage will be inflicted on the person. Returning to London, he paints portraits of the three men who cheated him, and damages the paintings to exact his revenge.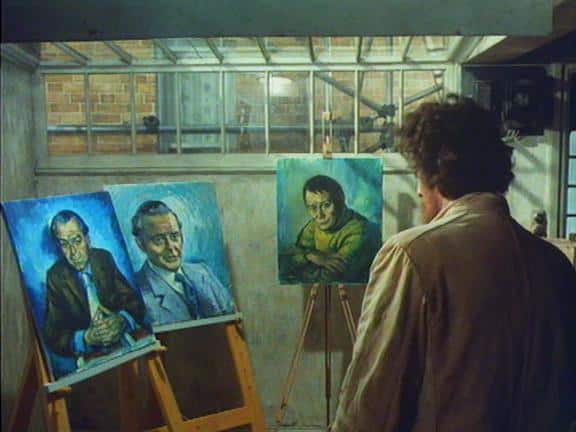 His revenge is brutal & uncompromising, a number of very entertaining deaths including his own as Moore's own portrait ends up meeting a messy & unfortunate end. A fantastic performance from Baker helps his story stand out.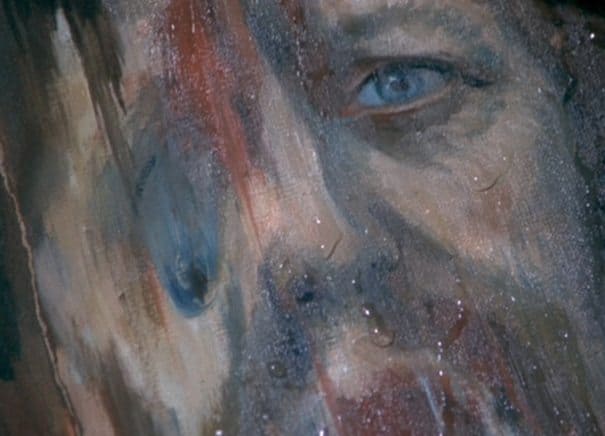 With all five men having told their stories, the lift doors open to reveal a graveyard. It turns out that they are damned souls forced to tell the story of their evil deeds for all eternity.
Vault of Horror is a great anthology with only one blemish amongst the five. The quality of the other four & the framing story more than makes up for it though. Very entertaining, very British & very horrific in that classic style.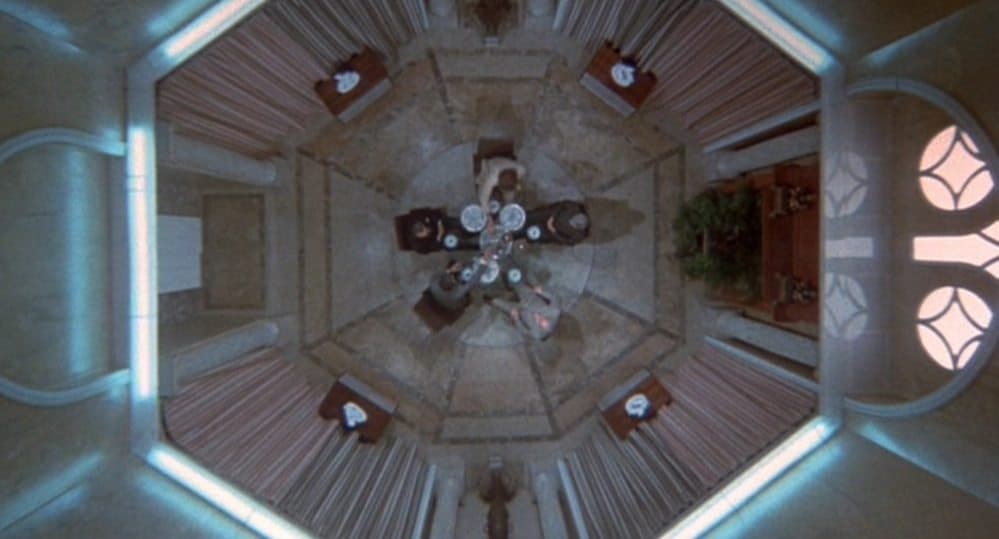 [amazon_link asins='B01AY4ELJ2,B01J5U9J16,1616559942,1616559950′ template='UseThisOne' store='g0e5b-21′ marketplace='UK' link_id='5e53fe8e-f8c8-11e7-8ea6-7f56da606d6c']
The Vault of Horror
The Final Score -

7.5/10