Horror Movie Review: After Midnight (1989)
"If I told you a monster would break through that wall and tear your heads off, that wouldn't frighten you, because a lifetime of experience tells you that couldn't possibly happen. But if I told you I was going to reach into my bag, take out a gun, put it against someone's head and blow their brains out, that would frighten you."
After Midnight is a 1989 American horror anthology film directed by Ken and Jim Wheat, and starring Marg Helgenberger, Marc McClure, Alan Rosenberg, and Pamela Segal. Besides the three stories within the movie, there is a wraparound story with a deus ex machina at the end.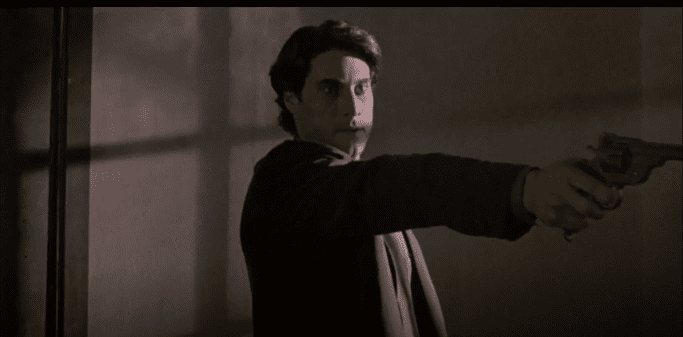 Allison and Cheryl are two college students in a new class, "The Psychology of Fear." It is taught by a strange professor named Edward Derek. One of Derek's in-class experiments involving a revolver makes jock Russ urinate in his pants, humiliating him. This leads to the censoring of the class by the university to which Professor Derek responds by inviting his students to his home for a private lesson. Allison reluctantly attends with Cheryl. There, the students share three tales centred on fear.
The Dark Old House: A young couple whose car breaks down by an old, abandoned house.

A Night on the Town: Four trendy teenage girls getting lost in a bad part of town, and chased by a pack of vicious dogs.
All Night Operator: A phone operator confronts a stalker at the answering machine service where she works the night shift.
After telling three stories, the house goes dark. Professor Derek goes to light the pilot in the basement, where he is attacked by Russ, seeking revenge. Derek is hung upside down and dangled over a ring of fire. Allison, Cheryl, and the other students rush downstairs, paralyzed by fear.
What happens next is something totally unexpected. Watch and find out what that is.
After Midnight is a decent horror anthology movie. Based around the concept of "real fear", each story is supposed to be realistic. I definitely agree that each tale could plausibly happen in real life, (especially the latter two) but the decisions the characters made were still classic dumb horror movie decisions – just climb the fire escape, dogs can't climb ladders!
Additionally, the stories were so well told and quality stories but, who knows a great horror tale that fits the criteria and can tell it on the spot. That doesn't seem very likely.
A big positive is After Midnight is it's well acted. Although the Professor is fully hamming it up, it was enjoyable to watch nonetheless – bonus that he's easy on the eyes. Unfortunately, the students behave quite childishly. They're freaked out from the moment they arrive and overreact when the lights go out. It's not hard to teach fear to this bunch of babies.
The ending is bonkers and comes out of nowhere. It's way better than this movie deserves, quite honestly and makes it better than it would've been without it.
Overall, After Midnight is a solid horror anthology, with a realistic spin. I suggest you leave your brain at the door until the twist ending and just enjoy the ride.
After Midnight
The Final Score -

6/10
Comments Rating
( reviews)