Graphic Novel Review: 30 Days of Night
I saw the movie adaption of this graphic novel first & was blown away by its story & graphic violence. The vampires were my kind of blood-suckers, unrelenting & brutal in their actions.
Written by Steve Niles & illustrated by Ben Templesmith it takes place in Barrow, Alaska. A town so far North that once a year, during the winter the sun sets & doesn't rise for 30 days.
A town in darkness for 30 days? One hell of attraction to a group of vampires.
We meet Sheriff Eben & his wife Stella, who are watching the sun set at the start of the 30 days. They have been investigating petty crimes such as the destruction of all the towns' phones.
In New Orleans an addict arrives at a dingy house where he reveals to the people inside that communications he's been monitoring just came to live. He shows them correspondence between two people about Barrow & the hope they have for it.
Meanwhile in Barrow, Gus is about to meet his end. He looks after the communication shed & the arriving vampires go there first. Elsewhere a stranger has arrived in town & after he gets into a bit of a row at the local diner he ends up in a cell. He teases & mocks them before declaring that 'they are coming & that he will get to join them this time'. He shows off incredible strength by bending the bars but is shot before he can attack.
Eben & Stella drive out to Gus & are stunned to find the comms shed destroyed & his head on a pole. They begin driving back to the town but Eben sees something in the distance so stops & uses his binoculars.
What he sees shocks him into silence, a large group of grinning vampires on their way to the town.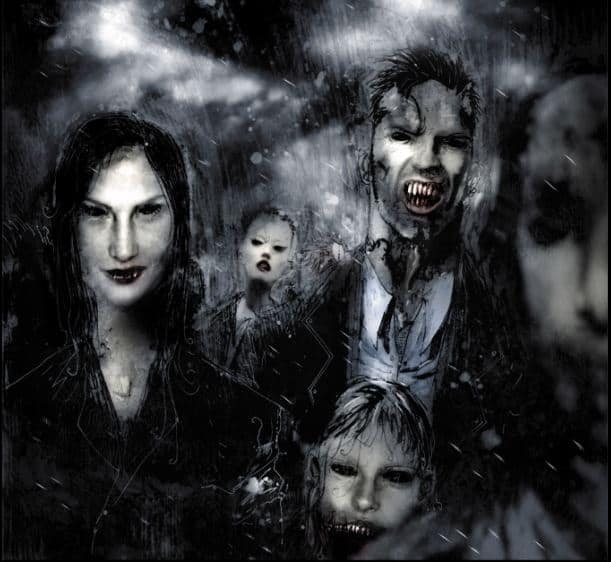 This is where things really get good…and gory. The vampires wreck havoc through the town, nothing can stand in their way & those that do are just food.
The art style throughout is really dark & moody but here we get crimson blood splashing the pages as the vampires feed on everyone they find. It is incredible & one of my favourite art styles I've seen.
The exaggerated mouths & expressions just make them so much more terrifying.
Eben, Stella & some of the townspeople manage to hide way from the vampires & thanks to the cold remain hidden (it messes with their sense of smell) but their food supply is getting low. They're going to have face the vampires eventually…but against those odds how can they even hope to survive?
This graphic novel is absolutely brilliant & I recommend it whether you are a fan of the movie or not. For those that have seen the movie there are enough differences here to make it an intriguing read (although I much prefer the movies style of having the vampires not speak our language).
The story told here is thrilling & told in such a way as to not over-shadow the fantastic artwork. Text & speech bubbles are small & kept well out of the way so you can take in the gory visuals in all their glory.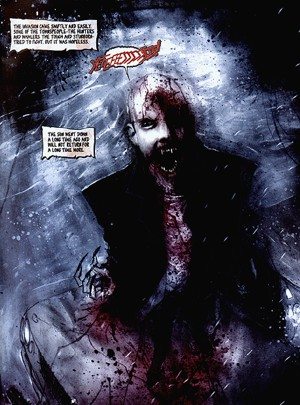 Additionally we get a few pages at the end that serves as an intro & selling point for the sequels. 30 Days of Night: Dark Days continues on from the event that took place in Barrow, 16 months later as Stella goes on the offensive in LA & 30 Days of Night: Return to Barrow.
Both offer just enough to make you want to see where their stories go.
Just amazing, simply fantastic.
30 Days of Night
The Final Score -

10/10
Comments Rating
( reviews)