Game Review: Kingdom Hearts III (Xbox One X)
Kingdom Hearts 3 is an action RPG that was developed & published by Square Enix. Following its announcement way back in 2013, it finally released in early 2019. As someone that plays their games primarily on an Xbox, this was my entry point into the franchise. Knowing that 3 is technically the 12th installment in the long-running story, I was somewhat intimidated. Still, I mainly picked up the game because I thought that it looked really cool. Getting to explore a number of beautifully recreated Disney landscapes was just too enticing. Also, I'm a long time Final Fantasy fan. I was sure I would be able to get to grips with things quite easily, right?
Look, I'm not going to sit here and write some lengthy explanation on the story of Kingdom Hearts. I did my best to imagine it in the simplest way possible and so should you if this is your first time. You play as Sora & your companions are Goofy & Donald Duck. You must battle enemies (Heartless, Nobodies, and Unversed) as well as the occasional boss fight. Using your key blade, magic, transformations & special abilities or "links" you must put an end to the darkness. The basic concept of the story is a battle of good VS evil. As Sora you must travel to different Disney inspired worlds in the hopes of regaining his lost power.
Man, where to start with this game? Firstly, the visuals that it presents throughout are incredible. If you're a Disney fan in any way then you are in for an absolute treat. You visit; Toy Story, Hercules, Monsters, Inc., Tangled, Frozen, Big Hero 6, Winnie the Pooh, Pirates of the Caribbean and so much more. These worlds come to life, as if you're playing in the very movies themselves. Although, each are recreated to fit the style of the game. It's impressive as the recreations rival even the original animations.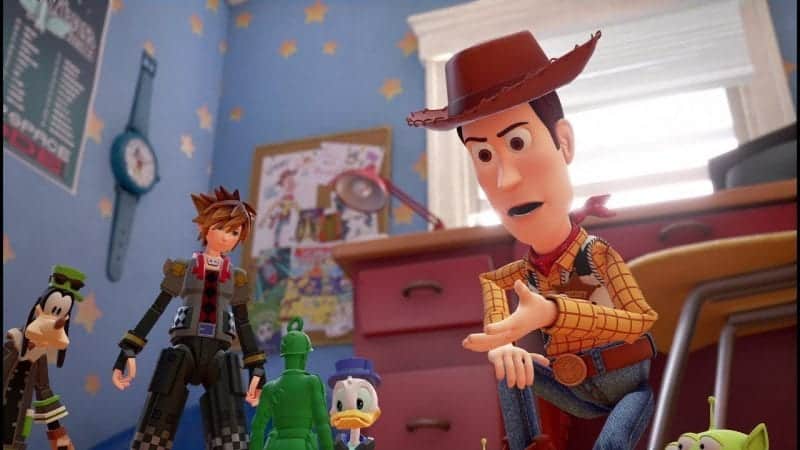 Each time Sora, Goofy & Donald enter a world, they go through a redesign. Hanging out with Woody & Buzz, then they're made to look like toys. Spending time with Sully & Mike, they'll get a monster makeover. My favourite is easily Pirates of the Caribbean where they are given a more realistic look to fit in with the "real-world" setting.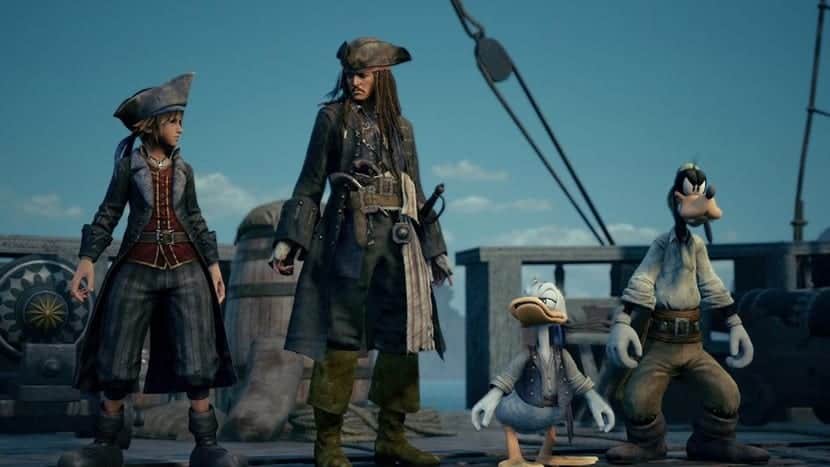 As must as it's an absolute delight to explore these locations, the stories within them are lacking. Too many simply follow the events of the films that they are based upon. Still, it's clever how they rework some aspects to include your characters.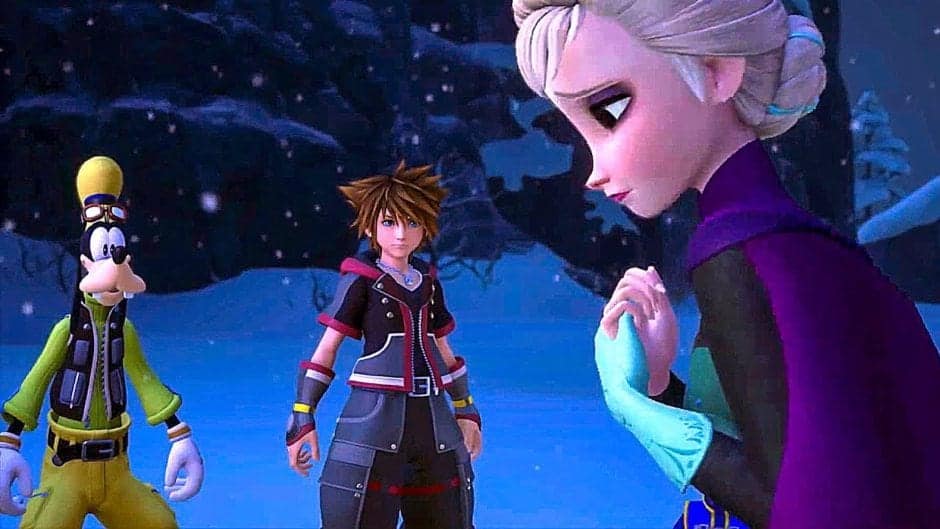 Visiting these contrasting places helped keep things fresh. Each one comes with a couple of new mechanics or abilities. The gameplay is one of the strongest aspects of Kingdom Hearts 3. It's surprisingly simplistic but this does help in making it very accessible, even for kids. It isn't hard at all and you'll quickly be pulling off some spectacular moves. Talking of the "moves", this is another highlight. Sitting back and witnessing the many special abilities or "links" take place, never ceases to amaze.
My only complaint is that the game can be a little too generous. The special attacks are handed out a bit too often which makes them lose some of the magic.
Considering how much it throws at your screen, it definitely pushes modern consoles to the limit. I never experienced any issues, this is testament to the polish they went into crafting Kingdom Hearts 3.
Basically, it's hard to fault the game when talking about its visuals or gameplay. That doesn't mean I'm not going to criticize it at all. My biggest issue is that there are far, far too many cutscenes. A lot of the time I felt like I was watching a movie with bits of gameplay littered in between. It should be the other way around but it just isn't. There are several hours of cutscenes and it really started to grind on me as I progressed. The story does have a simple core but it's made convoluted in a way that only Square could achieve.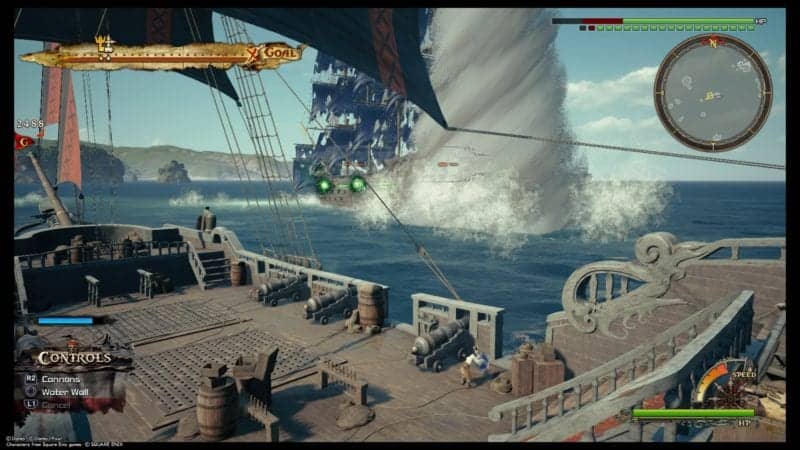 This brings me to my biggest complaint. In terms of story, Kingdom Hearts 3 absolutely fails as an entry point. There are so many different characters with new ones constantly being introduced and they all talk, talk and talk some more. It's almost impossible to follow at times. Unless you're willing to watch hours of cutscenes & read texts as long as books to catch up, you're going to feel lost.
Anyway, I do admire that Square didn't really care if you're caught up with the story. This feels like a game for fans and it's packed with noticeable fan service.
Kingdom Hearts 3 takes you on a delightful adventure that does drag in places. However, there's just so much fun to be had and a ton of replayability. I definitely recommend checking it out even if you're not the biggest Disney fan. It's one of the most unique gaming experiences out there and has one hell of a soundtrack.
Kingdom Hearts III
The Final Score -

8/10
Comments Rating
( reviews)