Game – Movie Review: Werewolves Within (2021)
Have you ever played Werewolves Within? Have you even heard of it? I hadn't. So imagine my surprise when this movie came along stating it was based on the 'hit' video game. If you're as confused by that as I was, let me enlighten you.
Werewolves Within is a video game. A VR game for Oculus Rift, HTC Vive and PlayStation VR, developed by Red Storm Entertainment and published by Ubisoft and released on 6 December 2016.
The game is set in a medieval-fantasy town that is being attacked by a werewolf, and players are tasked to guess which of the townsfolk is the werewolf in disguise in a Mafia-style format.
So, unless you're a purveyor of VR gaming, you're unlikely to have come across this. It sounds like fun though, right? It also sounds like the sort of game that could work as a horror movie. So, the big question is, does it?
Now, comparing it to the game is near impossible when I've never played it. However, based off the description of said game, it appears the word 'loosely' needs to be used here. It has a werewolf in it and it is based around finding out just who the werewolf is, sort of. That's your lot. I suppose it's a more faithful adaption then most!
A comedy horror, Werewolves Within is directed by Josh Ruben from a screenplay by Mishna Wolff. It stars Sam Richardson, Milana Vayntrub, George Basil, Sarah Burns, Michael Chernus, Catherine Curtin, Wayne Duvall, Harvey Guillén, Rebecca Henderson, Cheyenne Jackson, Michaela Watkins, and Glenn Fleshler.
Forest ranger Finn (Richardson) is sent to Beaverfield, a small town in Vermont. A shy and unassuming man, he walks right into a town divided over a new pipeline. One that would run straight through the town. Some residents want the money being offered by businessman Sam Parker (Duvall), whereas others want to preserve the town and surrounding nature.
This divide has caused tensions to run high, something that is made worse when a blizzard lands that night and something with claws attacks all the generators. A group of townspeople, with Finn and local postie, Cecily (Vayntrub) hold up at the lodge but soon come under attack by the mysterious beast.
Realising that it's a werewolf, it is further deduced that someone in the lodge is the fabled creature after an attack inside. Who is the werewolf within and will the townspeople of Beaversfield be able to defeat it?
There's no mystery sadly. It tries, it really does but it won't take long for most to work out just who is the werewolf. Even though the film attempts to misdirect, almost getting there a few times, it's wholly unsatisfying when the werewolf is revealed.
It's far from the film's only miss though.
Billed as a horror comedy, it is light on both. The former is really lacking and you can't help but wonder why there wasn't a bit more blood and gore. The latter is in abundance but fails to land more times than not. It's not that it doesn't have moments that will make you smile or chuckle softly, it's just… that is it. A small chuckle here and there. Which, considering how funny the film thinks it is, is a real miss.
So, what does Werewolves Within get right? Cast, characters and location. A wide array of actors, everyone does great here. None more so than the lead pairing of Sam Richardson and Milana Vayntrub. Their chemistry is on point and they also deliver a lot of the more amusing moments.
On that note, special mention has to go to both Cheyenne Jackson and Harvey Guillén who probably bring most of the actual laughs to the film. Although a lot of the characters are caricatures, they're enjoyable ones and played with a ton of gusto and believability. The whole situation is absurd so many play up to that fact.
The location is also excellent, the use of a snowy environment gives it a 30 Days of Night feel but with a werewolf.
Do these positives outweigh the negatives? Almost. Except we've not said if the story is any good and truth be told… it's middling at best. It starts off hot and then slowly begins to grind to halt, as characters talk and talk and talk and talk. Before the flame is lit again for a frantic final 15-20 minutes.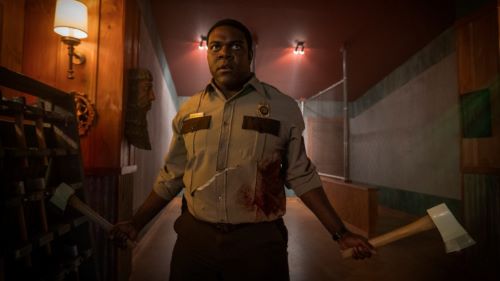 It's a 'middle of the road' film. Enjoyable once, forgotten pretty much straight afterwards. We've seen far worse horror movies, comedy horror movies and video game movie adaptions.
Werewolves Within
The Final Score -

5.5/10