EP Review: Traps – The Fighter (Halfmeltedbrain Records)
Vibrant, playful, eclectic; Traps are a wonderfully out there duo from Kent, UK whose songs are constantly shifting and exploring. Progressive in approach, with plenty of mathy goodness and spacey surrealism, Traps are really hard to pigeonhole so you've got to just dive in and take the journey with them. Following from a split EP release with Oriza, Traps will be unleashing The Fighter EP on CD and Digital formats through Halfmeltedbrain Records on Jan 10th 2020.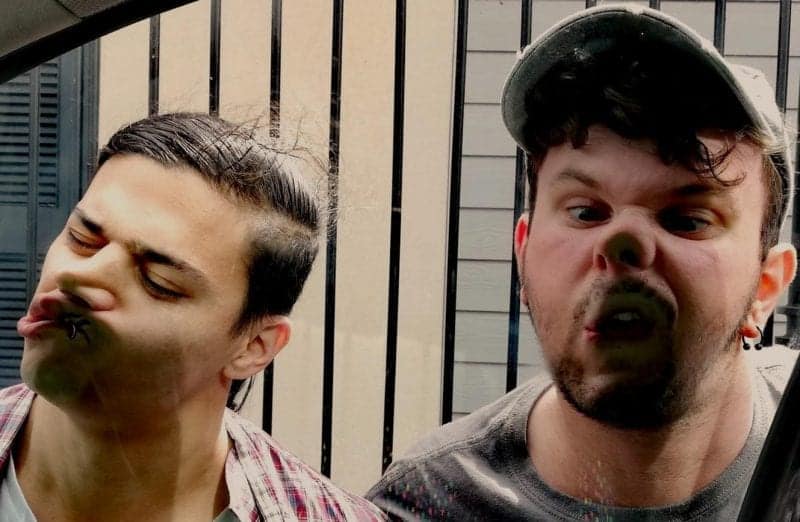 It is with much excitement and trepidation that we re-enter the world that Traps inhabit. A band where the word 'eclectic' just doesn't do them justice. There is very little like Traps which can only ever be a good thing.
Whatever expectations you have, lose them because Traps will bust them apart with a maddening and explosive burst of noise. This is the kind of release that few reviewers will be able to do justice.
It all begins so simply too as the riffs burst forth and the vocals breathe life into Cowboy. Of course, that's far from what we get as it plummets into insanity, twisting and turning around the mind. Creating utter confusion but the kind that excites and demands you go deeper.
Is it brilliant? That's going to be up to individual tastes but no one can argue that it isn't unique. Few will be able to argue that it isn't insanely wacky either but for every person who finds themselves madly in love with Cyborg, there will be just as many who hate it.
The frantic nature of the riffs and vocals are violent and powerful but not without musical merit either. If there's a track of the three that perfectly balances the madness that is Traps, it is this.
However if there is a track that perfectly shows just how wacky Traps are, it is The Count. Disconnecting and disconcerting, it is as savage as it is beautiful, at least in Traps own, impossibly weird way.
The Fighter has to be a recommend, something truly special and unique to start 2020 off in a strong way.
Traps – The Fighter Full Track Listing:
1. Cowboy
2. Cyborg
3. The Count
Links
Bandcamp | Facebook | Instagram
Traps – The Fighter (Halfmeltedbrain Records)
The Final Score -

9/10