Christmas Horror Movie Review: Red Snow (2021)
Red Snow is a 2021 American horror comedy film directed by Sean Nichols Lynch. The film stars Dennice Cisneros as a supernatural romance author living in Lake Tahoe who comes into conflict with vampires over the Christmas holidays. The film had its international premiere at London FrightFest on August 26, 2021 and was released on December 28, 2021.
Struggling vampire romance novelist Olivia Romo is spending her Christmas holidays alone at her deceased mother's cabin in Lake Tahoe. One night, an injured bat slams against her window. Olivia takes the wounded animal inside her garage to nurse it back to health. The next morning, Olivia is surprised to discover that the bat has transformed into a handsome vampire named Luke.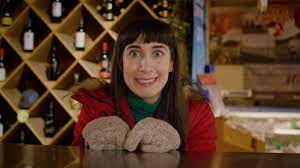 Olivia stocks up on pig's blood from the local butcher to feed her new house guest. Soon the weakened vampire is up on his feet and talking. The unlikely companions get to know each other and start to form a tenuous friendship. But Olivia grows suspicious of Luke's intentions as his past begins to catch up with him.
Vampire hunter Julius King visits Olivia posing as a private investigator. He tells her he's looking for a trio of dangerous criminals, one of them being Luke. Olivia covers for Luke, but King sees right through her lies. He attempts to seize Luke by force, only to be killed in the process.
Luke attempts to mend his shaky relationship with Olivia by giving her feedback on her book. Just as he's gotten back into her good graces, his vampire friends Jackie and Brock arrive on the scene. They imply that he's strayed too far from his ruthless vampire roots and must kill Olivia.
Will Luke revert to his true nature? Or will these vampires ruin Olivia's Christmas. Watch and find out.
It's pretty clear that Red Snow is a low budget horror movie. But as far as those go, it's really good. Nothing is overtly top quality but the effects, albeit minimal, are effective and convincing. The story and concept is a fun idea and relatable as hell. Who hasn't fantasised about meeting a vampire and what you would do.
I enjoyed the fact that the plot wasn't boring and straightforward. Olivia isn't as meek and naïve as she first appears and I delighted in the unexpected turn.
Although the dialogue isn't perfect, there are certainly some amusing moments and one liners. This movie is definitely a solid entry into the genre.
Overall, Red Snow was a pleasant surprise. A very Christmassy tale mixed with vampires, what's not to like?
Red Snow
The Final Score -

8/10