Bloodstock 2019 – Band Feature/Interview: Control the Storm
Bloodstock Open Air 2019 is nearly upon us and to say we're excited is an understatement. We adore the festival and this year's line-up is simply phenomenal. From the Ronnie James Dio Main Stage to the Sophie Lancaster Stage to the New Blood and Jägermeister Stages, there is something for everyone! Not got your tickets yet!? What are you waiting for!? Head over to the Bloodstock Festival website here and join thousands of like-minded head-bangers for a weekend of quality rock and metal.




Control the Storm are a UK based melodic metal band that have been going from strength to strength since winning Readings 'Metal to the masses' competition to play Bloodstock Open Air in 2012. The band deliver an explosive stage show, with a ferocious energy and catchy song writing. 2019 has already seen the release of their upbeat new single called Follow Me which is taken from their second album Forevermore. Forevermore is the follow up to their debut album, Beast inside which was released in 2015.
Forevermore will be released in July on all major online retailers and via the bands online store here.
If that doesn't excite you, how about this comment from Venom Inc's Tony Dolan: "If you haven't yet heard or seen this band – I highly recommend you do! They are a great British band with the intoxicating front woman, Firouzeh, who has a vocal that is both harmonious and descriptive – like a gypsy storyteller! That, with their powerful and almost orchestral style, will take you on a journey – that's at least what they did to me – and I highly recommend the experience!"
Control the Storm state: "We are delighted and honoured to return to Bloodstock on the Sophie Lancaster stage. Having seen so many bands perform their hearts out on that very stage, being given the opportunity to do the same this year means the world to us. Many thanks to Simon Hall and the team for putting their faith in us and continually supporting grass roots metal in the UK. We cant wait to have the most explosive album launch party with you all at Bloodstock open air 2019"!
Control the Storm are Firouzeh on lead vocals with Raedon Mac on keyboards and vocals. Rich Shillitoe is on guitars and vocals and Paul O'Shea is on bass and vocals. Finally, on guitars it is Matt Smith and on the drums, we have Iliyan Vasilev.
Control the Storm will be playing the Sophie Lancaster Stage on Friday the 9th August 2019.
Interview
1 – Congratulations on earning a slot on the Sophie Lancaster stage. With your second album, Forevermore, due to release at the end of July, you have a busy few weeks coming up. How are you feeling about it all? Excited? Nervous?
Thank you! We're very much looking forward to the upcoming shows. We have a new 2nd guitar player, Matt Smith, and a new drummer, Iliyan Vasilev. They are both extraordinarily talented musicians and we are sounding better than ever, so we really can't wait to get out and show everyone what we can do. There's no nerves at all, because we're very confident about how well we're going to perform with the new guys in the band.
2 – It has been a few years gap between your debut, Beast Inside, and Forevermore. Any particular reason for the gap or have you just been buys with touring and the like?
The main reason for the gap is because we've had a few people in and out of the band over the past 4 years and it's held us back. It was very frustrating, but we look back at it as a blessing in disguise, really. Myself, Firouzeh, Rich and Rae have been solid together for the best part of 3 years, but the drummer and 2nd guitar position hasn't been stable.
We ended up recording the album as just the four of us rather than wait any longer to fill the vacant positions. Everything has fallen into place nicely the past few months with Iliyan and Matt joining us and they play the songs perfectly.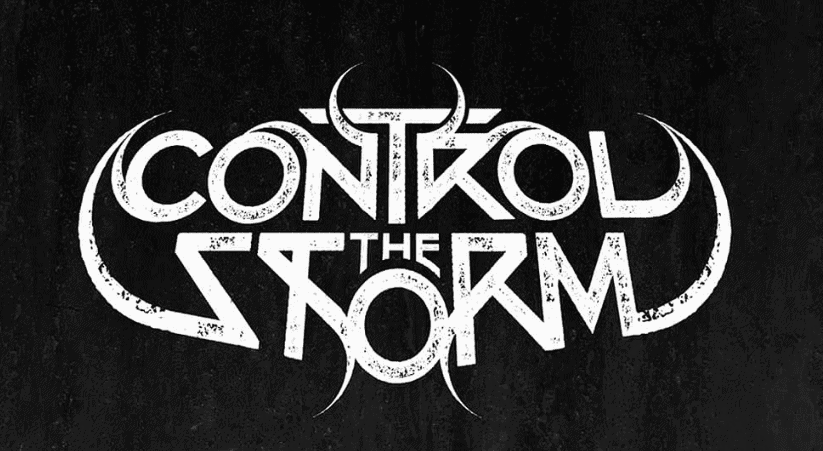 3 – How are you feeling about Forevermore coming out? Do you get nervous approaching release time or are you just eager to get it out, and heard now? You ran a successful Kickstarter campaign so I guess that must give you some positive vibes?
The main thing is that we ourselves are incredibly pleased with the record. We had a great time writing and recording it over the course of a year and a half and it's a document of that period in time. Of course we hope that everyone will love it as much as we do, but we'll have to see. I think it's going to go down really well.
4 – You won Reading's Metal to the Masses event back in 2012 to get your chance to play the New Blood Stage. How much of a positive impact did that experience have on Control the Storm?
I wasn't in the band until 2015, so I can't really comment on that specific time, but I'm told that it was a very positive experience for Control the Storm – especially as the band was very new at that point.
5 – What advice would you give this year's New Blood bands on enjoying and making the most of the opportunity?
Play as well as you possibly can and conduct yourselves in a professional manner.
6 – What can Bloodstockers expect from you come festival time? Why should they come and see Control the Storm?
We're investing a fair bit of money into the visual show and we've been rehearsing the set to death. We're going to play like a caged beast let loose after spending months in captivity.
7 – Are you regular attendees of the festival? If so, what is it about Bloodstock that has you coming back ?
Raedon, our keyboard player, goes every year. He's a gregarious fellow and it seems like he knows half the people there every year. The last time I went was in 2003. Rich, the guitarist, played there that same year in his old band, Mercury Rain.
8 – Are you hanging about all weekend? If so, who are you most looking forward to seeing?
We'll definitely be there all weekend. We all want to see different things. I'm looking forward to Anthrax, Children of Bodom and Ross the Boss. There's a load of bands that I/we want to see.
9 – What does the rest of 2019 look like for Control the Storm? Any planned tours or shows off the back of Forevermore?
Yes there are quite a few shows planned already. We're intending to tour, but for now we have 2 shows before Bloodstock: Rebellion, Manchester on July 27th and The New Hall, Tiverton supporting AC/DC-UK on August 3rd. After Bloodstock we have an intimate little home show at the Gryphon in Bristol on August 23rd and then we're at the Dreadnought in Bathgate on August 31st. There's several shows in September and more in the pipeline for the rest of the year. All the details will be on our various online platforms.
 Control the Storm Links
Facebook – Twitter – Instagram – YouTube – FatAngel PR – Bloodstock Open Air