Band Interview – Spidervayne (Metal 2 the Masses Essex 2019)
Rock/metal band, Spidervayne, will play in Heat Five of Metal 2 the Masses Essex 2019. They face off against Osmium Guillotine, Audrey Ripper and Elysium Sky on the 15th of March. The event takes place at The Soundhouse which is at The Bull, Colchester, CO3 3ES.
Each band will be giving their all to try to progress in the competition where the winner receives an amazing opportunity. A much coveted slot playing on the New Blood Stage at Bloodstock Festival, 2019. GBHBL are pleased to bring you a short interview with Spidervayne to help introduce them further to the metal masses.
Have a read, enjoy and make sure you get down to The Soundhouse on the 15th of March to give them some support.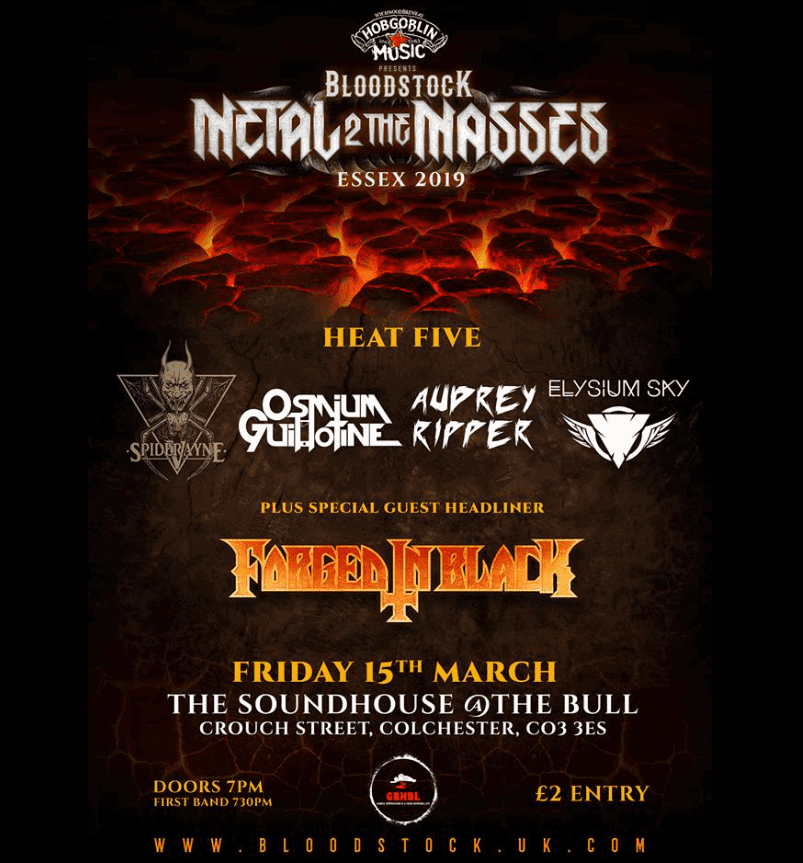 1 – Why Spidervayne? Where did the name come from?
Murf – it just came to me one day in Spain when I was on the balcony fumbling around with an acoustic talking to Faz on the phone about forming a new project. The name fit the theme of the band really well we thought as long as loving the name itself of course!
2 – Tell us a little about Spidervayne. How long have you been playing together? Who is in the band? Where are you from? How did you meet?
Faz – we've been together around a year, so essentially we are still in the infant stages of the band. The band is made up of 4 members Murf, Kev, Sam and myself (Faz). Murf and I knew each other from a previous band and we were keen to get something better going. I knew Kev from a little musical project I was involved in and from that, he asked to join the band as the bass player even though primarily he's a guitarist. I've known Sam's parents for a quite a while so I've known how good of a drummer he is, it just so happened he replied to the ad about the position and there ya go. As far as finding members go, we've been super lucky! We all share the same drive and passion to turn this into a full time career if you will.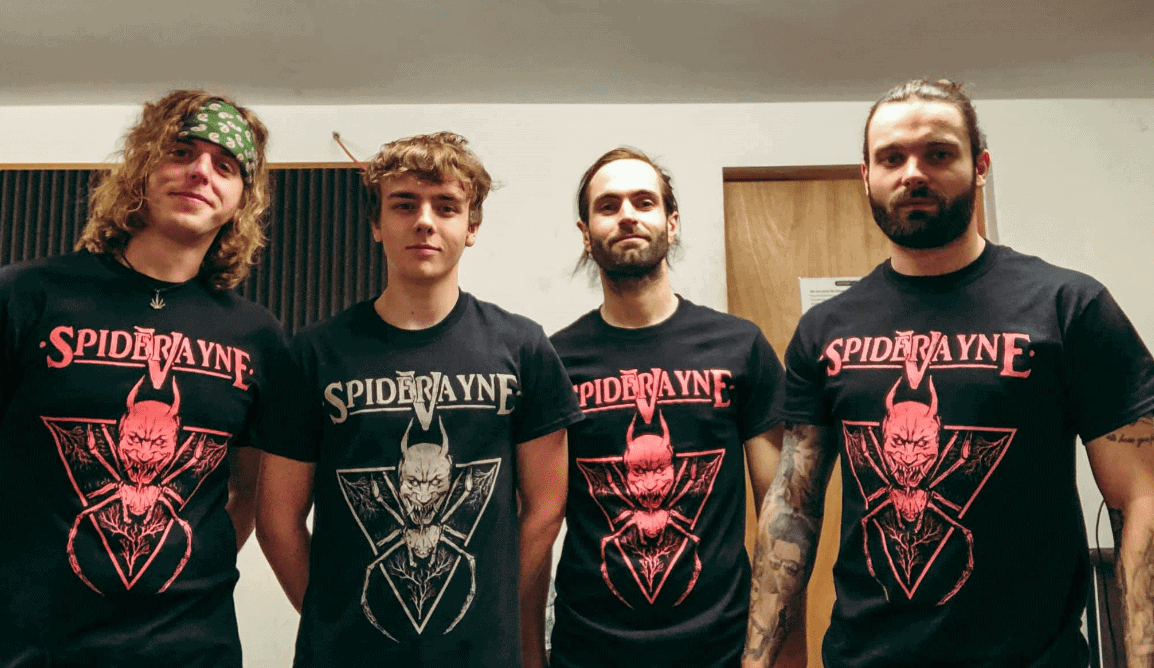 3 – What artists, metal or otherwise, have influenced you and your sound?
Murf – we have a range of influential artists on our ever growing pallet haha… Top influences would be 'Alice in Chains' , 'Metallica' , 'Skid Row' , 'Guns N Roses' , 'Motley Crue' , 'Led zep' , 'Soundgarden' , 'Black Sabbath' , 'Steel Panther' , 'The Doors' , 'Tool' and ''The Jimi Hendrix Experience'.
4 – With so many genres and sub genres around these days, what genre would you put yourself in?
Faz – If I'm completely honest, we are actively trying to not be put into a sub genre. We'd rather be known as just a metal band or a rock band ya know, sub genres can limit your potential audience massively in my opinion. Having said that, we usually say that we're a grunge infused rock/metal band.
5 – What will you bring to the Metal to the Masses heats? What can music lovers expect and how are you going to win their support on the night?
Murf –  We bring an incredible live show, loud and hyped as Fuck! We come bearing beautiful carnage man! You just gotta come and bang ya head to the thunderous riffs, get lost in the face melting solos, self combust from the bass lightning and drop your knickers for some awesomely melodic vocals and dynamically gifted and furious drums!! We like to tone down now and again as well to bring an all round approach to the atmospherics and treat every gig like Wembley with hyped and consistent crowd interaction.
6 – Any horror fans in the band? What are some of your favourite horror movies or books?
Faz – Yeah Murf likes a bit of horror, anything by Christopher Lee or Boris Karloff  really. Also Rob zombie has done some pretty cool stuff! For me personally, I am obsessed with anything Zombie/post apocalyptic related wether it be a film, book or Tv series. One of my favourite zombie series was that one 'Dead set' where the zombie outbreak was seen from the perspective of big brother house mates.
7 – How about games? What's your console or game of choice?
Murf – Grand theft fuckin auto, that is life. And PlayStation all the way.
8 – Have you been to Bloodstock Festival before?
Faz – Murf and Kev have but Sam and i haven't, I'd really love to go though! It would make it that much more awesome if we were playing it though 😀
9 – If yes, what is it you love most about the festival?
Murf – I myself have actually had the pleasure playing the awesome bloodstock festival in my old band Rezinwolf at personal request of Beholders Simon Hall. It was mayhem! We packed the marquee with 600 odd super enthusiastic ragers, it's still to this date the experience of my life. Such a great festival from every aspect!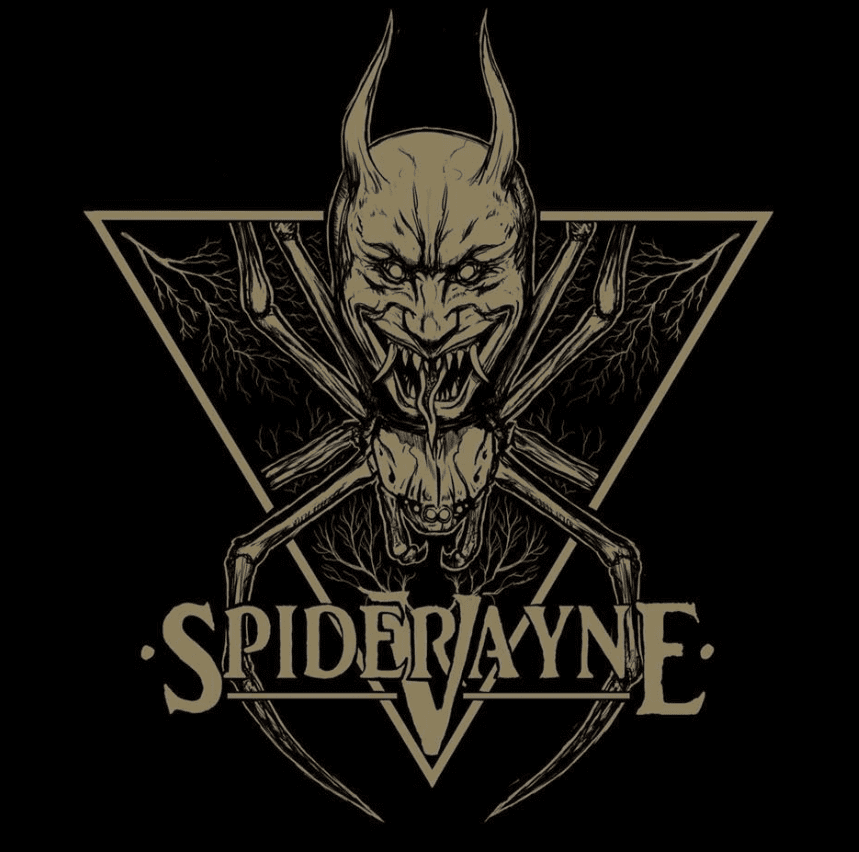 10 – Where can fans check out your music, merch and find out more about you?
Faz – we have a website where you can buy merch and any tickets for some special events we have, such as the Alice in Chains tribute gig we're doing. The site is www.spidervayne.bigcartel.com 
We are on social media too, we are most active on Facebook and that is simply facebook.com/Spidervayne all info on up coming gigs, releases and just cool band stuff can be found there. Our music can also be found on all major streaming and download platforms such as Spotify, iTunes, bandcamp, Apple Music etc.
11 – Aside from hopefully playing Bloodstock Festival, what else do you have lined up for 2019? Any releases due or tours/gigs/festivals line up?
Murf – Yeah man we've got a packed 2019 so far!! April 6th we are recording a new single 'Live To Rock' and yeah we're gigging immensely throughout. We've got plans of tours, an EP, hopefully playing Bloodstock (hehe), lyric/music videos, more lyric/music videos and some more recording haha. Catch us at heat 5 first up for heat 5 of M2TM.  March 15th , the Soundhouse. And then we're off to Ipswich, the black horse, Ipswich to rock again on March 22nd. Keep posted and come check us on all the socials and music streaming platforms!
GBHBL would like to thank Spidervayne for taking the time to answer these questions and we wish them all the best in their heat at Metal 2 the Masses Essex. Find out more about Spidervayne at their Facebook page, YouTube and on Bandcamp. Head over to their Big Cartel site to grab some merch and tickets to their special evening with Alice in Chains event in Ipswich in September this year.
Importantly, get yourself down to the venue on the 15th of March and throw them some support.