Band Interview – Killerkorp (Metal 2 the Masses Essex 2019)
Heavy Metal band, Killerkorp, will play in Heat Two of Metal 2 the Masses Essex 2019. They face off against Coda, Of Our Design, Seawolves and Herida on the 1st of February. The event takes place at The Soundhouse which is at The Bull, Colchester, CO3 3ES.
Each band will be giving their all to try to progress in the competition where the winner receives an amazing opportunity. A much coveted slot playing on the New Blood Stage at Bloodstock Festival, 2019. GBHBL are pleased to bring you a short interview with Killerkorp to help introduce them to the metal masses.
Have a read, enjoy and make sure you get down to The Soundhouse on the 1st of February to give them some support.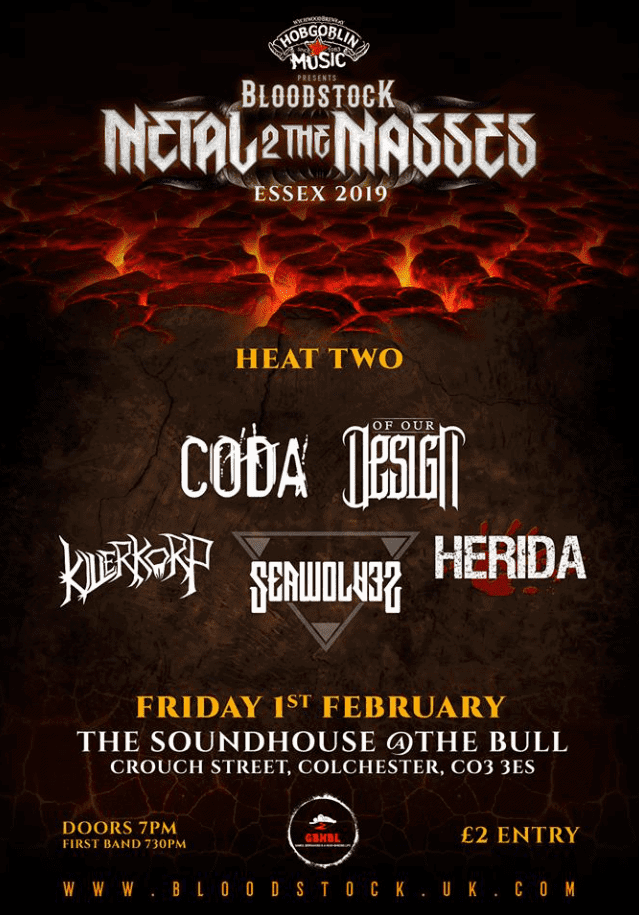 1 – Why Killerkorp? Where did the name come from?
As a band we have had a fair few name changes as we were just not happy with what we were coming up with. Our vocalist Ben was at his old job and was brainstorming band names and he came up with the idea of Killer Korperation and we all agreed of shortening it to KillerKorp!
2 – Tell us a little about Killerkorp. How long have you been playing together? Who is in the band? Where are you from? How did you meet?
We have playing together for a year as the current line – up; which consists of Ben (Vocals), Daniel (Backing Vox/Bass), Jakey (Lead Guitar), Jon-Luke (Rhythm) and Sonny (Drums). We are all from Ipswich, Suffolk. We all grew up together with exception of Jon who we met later on in our lives.
3 – What artists, metal or otherwise, have influenced you and your sound?
We all have huge range of influences which have contributed to our initial sound, A massive influence of all of us is early Slipknot with the attitude and raw aggression of the music. Narrowing it down a little more;
Ben – Converge, Corey taylor on the whole and Greg Puciato from Dillinger.
Daniel – Napalm Death, No Fx and performance wise Ben Weinman.
Jon – Machine Head, Ola Englund from Feared/The Haunted and Megadeth
Jakey – Gojira, Cannibal Corpse and Bloodbath
Sonny – Avenged sevenfold, Lamb of God and Bloodbath
4 – With so many genres and sub genres around these days, what genre would you put yourself in?
Metal as a whole but as you can tell from our influences we try and push the envelope of the different songs we have written.
5 – What will you bring to the Metal to the Masses heats? What can music lovers expect and how are you going to win their support on the night?
We will be bringing our all on the M2TM heat, music lovers can expect a completely raw, honest and abrasive sound and a pure energetic stage presence enough to put your pint down and join in with the madness!
6 –  Any horror fans in the band? What are some of your favourite horror movies or books?
Yeah we all appreciate a good horror film, we'll narrow it down for you. Daniel is big into black comedies especially Shaun of the Dead, Sonny's favourite horror is definitely between Hellraiser and Halloween, Ben's favourite is Texas Chainsaw Massacre, Jon is into the Alien films and Jakey's all time favourite is Dog Soldiers or 28 Days later.
7 – How about games? What's your console or game of choice?
Jakey – Console of choice is Xbox one and Game of Choice has to be The first Darkness game on the XBOX 360
Daniel – Console of choice is Xbox one S and game of choice Left 4 Dead 2
Sonny – Console of choice is Xbox one and Game of choice the Halo series
Ben – Console of choice has to be The Nintendo Switch and game of choice Ea Skate trilogy
Jon – Console of choice is the Xbox 360 and game has to be Bioshock
8 – Have you been to Bloodstock Festival before?
Yeah most of us have been to Bloodstock apart from Jon.
9 – If yes, what is it you love most about the festival?
Everyone so damn friendly and you can have a laugh with everyone there and the music is so much more up our street!
10 – Where can fans check out your music, merch and find out more about you?
All the fans can check us out on our social medias: https://www.facebook.com/KILLERKORPUK/ and our Instagram under the same name! All our music is located on our Bandcamp page and we will soon have merchandise available: killerkorpuk.bandcamp.com. Also keep an eye on our YouTube channel for more juicy bits!
11 – Aside from hopefully playing Bloodstock Festival, what else do you have lined up for 2019? Any releases due or tours/gigs/festivals line up?
Well aside from that, the year is bringing us more hard work to establish ourselves. February 9th we will playing the Smokehouse in our hometown and Renaissance Festival in march in London and plenty more gigs in the works. We will be recording our EP towards the end of January so make sure you all look out for that and merchandise is in the works!
Thank you for the interview opportunity! Stay Killer!!
GBHBL would like to thank Killerkorp for taking the time to answer these questions and we wish them all the best in their heat at Metal 2 the Masses Essex. Find out more about Killerkorp at their Facebook page and check out some of their music on YouTube . You can also grab some of their music on Bandcamp by following the link.
Importantly, get yourself down to the venue on the 1st of February and throw them some support.