Games, Brrraaains & A Head-Banging Life are proud to bring you an interview with Vermont based death, thrash and black metal influenced band, Crypitus!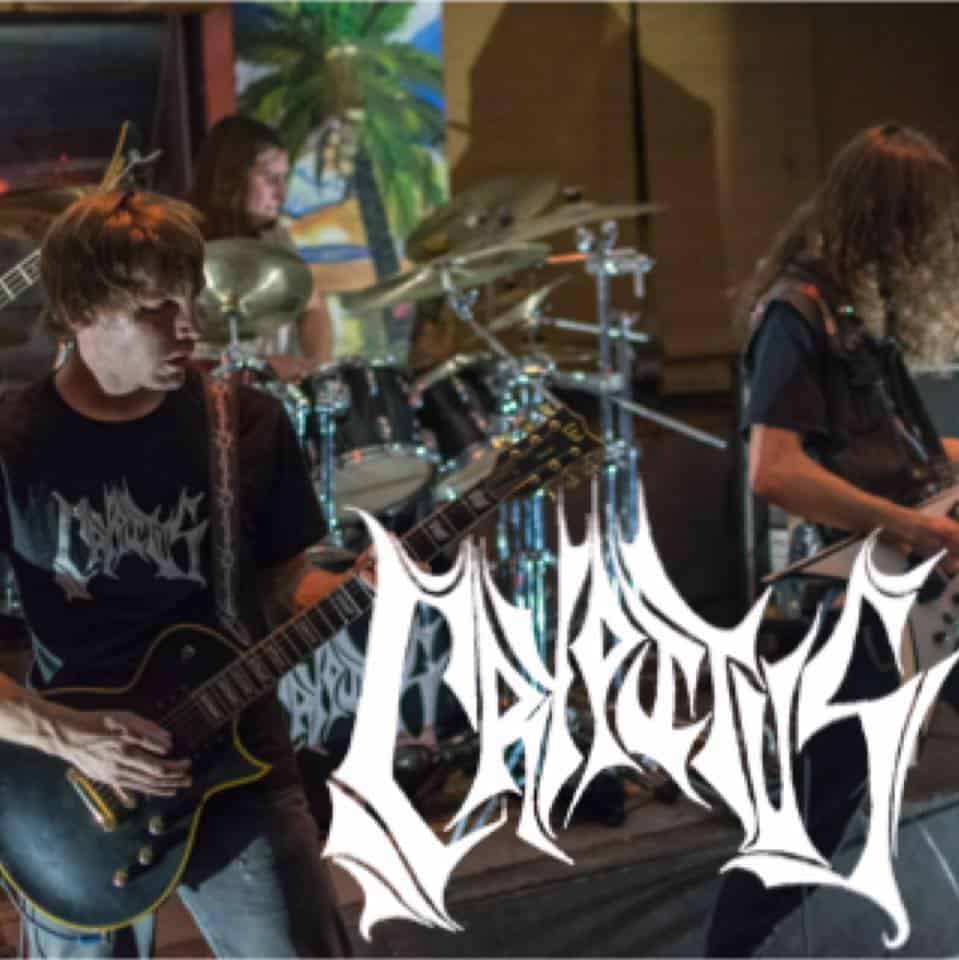 1. How did you get started as a band?
Doug: I had the idea for Crypitus for a while before me and Pete started jamming we found Zach online. The rest is history!
Pete: I started jamming with Doug to his songs. Before that I had been playing in my room.
Zach: I was desperately searching the internet for local musicians to jam with and Pete and Doug were the first clowns to respond. Eddie has been playing music with me forever.
Eddie: Doug is the soul creator of the name and band. He had done so a while before any of us met him. Pete, Doug, And Zach were playing for about a year with another Bass player, whom was fired. I just joined on bass last month.
2. How would you describe your sound?
Doug: It's a bone crunching thrash metal base, layered with death metal, slightly blackened and filled with gooey nougat.
Pete: Our sound is that of breaking bones; heavy riffs, screaming leads. Thrash metal influenced but not exclusive to any genre.
Zach: Psychedelic thrash. Got a better name for it?
Eddie: Crypitus is some riffy ass thrash!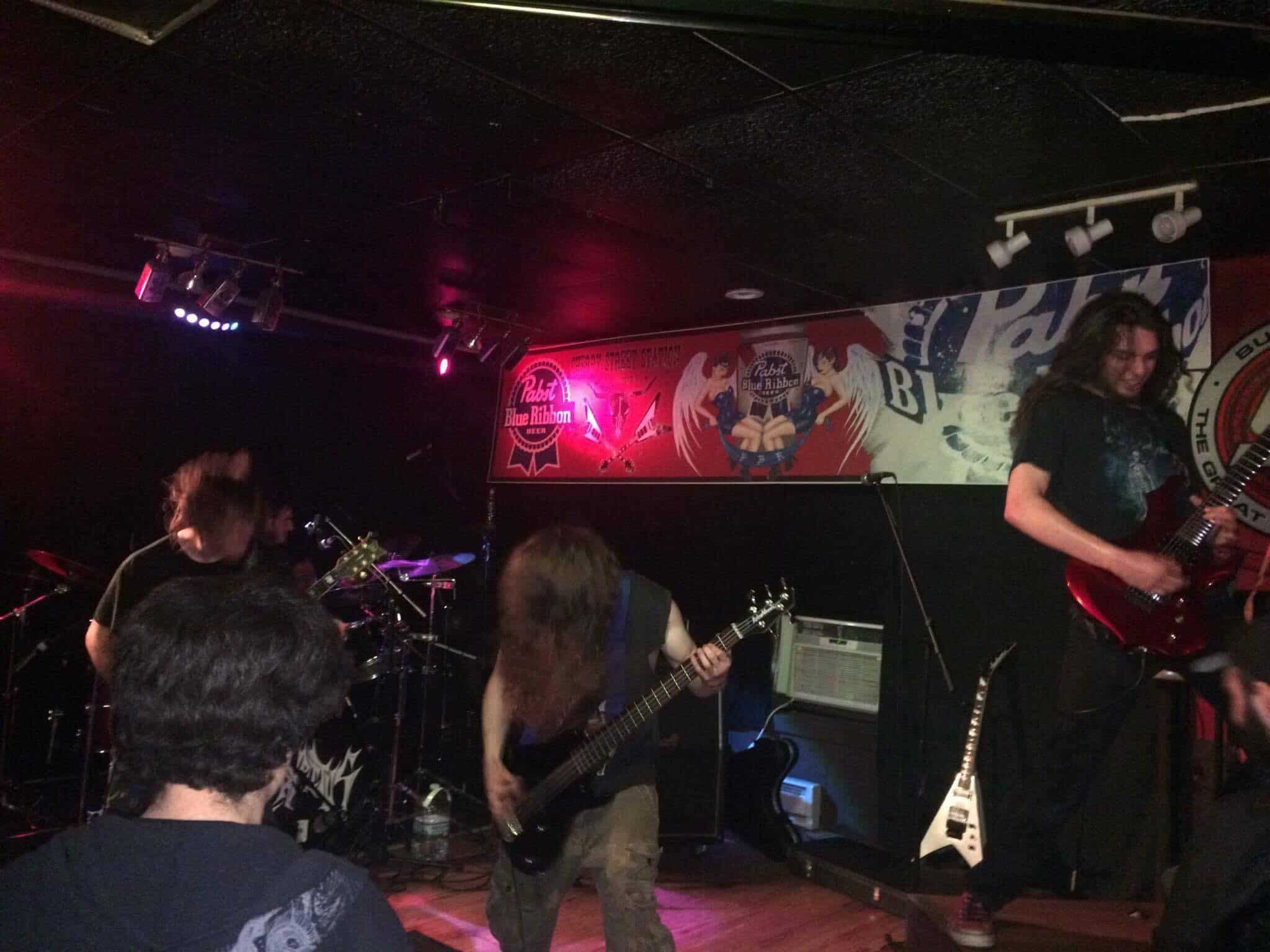 3. What bands/artists would you say have influenced your style of music?
Doug: Two main influences for me are Death and Megadeth! Such amazing innovative riffs!
Pete: We've definitely got some old school thrash influences like Megadeth, but there's also plenty of modern influences. I learned to play guitar to old Mastodon songs and Children of Bodom.
Zach: Between The Buried And Me. Mike Portnoy. Jerry Garcia.
Eddie: Well I have been influenced by Death and Death metal mostly.
4. Has the rise of YouTube & music streaming helped or hindered you as a band?
Doug: I think YouTube is a great platform to get your music out to the public!
Pete: YouTube and streaming has been incredibly helpful in getting our music out there. With live videos from shows, we can give fans a preview before they come see us.
Zach: YouTube and the rest of the internet has been an incredible tool for getting our material out there. When myself and Eddie did Severed Sanctuary way back, we had our demo on cassettes and had to physically hand them out to whoever would take it.
Eddie: Oh yeah I love YouTube! The internet rules! Crypitus has a YouTube channel, a Facebook page. A great promoting tool.
5. What do you enjoy doing when you're not making music?
Doug: I love the woods, hiking is important to me. But I never mind just kicking back and hanging with my friends and girlfriend.
Pete: I love being outside hiking or fishing or whatever. That being said, I also love sitting down and binge watching whole series on Netflix. Oh and Bethesda games.
Zach: I'd rather not disclose that information to the pubic. I go fishing though.
Eddie: I love spending time with my friends and family.
6. What are your future plans musically? Tours?
Doug: We have a demo releasing soon called "Exhibit 1: Prelude to the Dead World." Our show dates for the summer as of now are: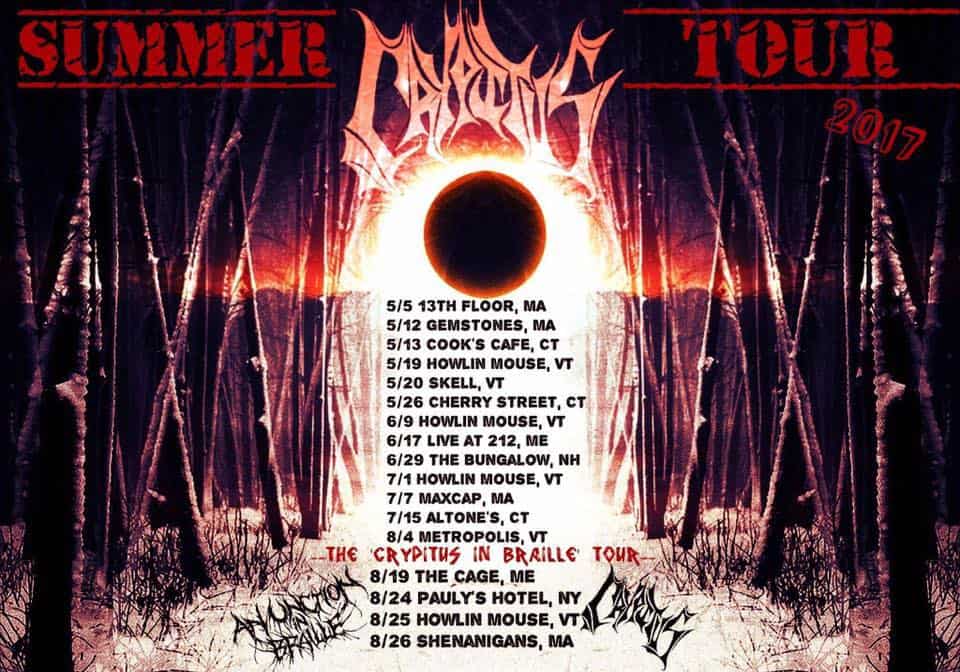 So we are keeping busy!
Zach: First – Crypitus does America! Then, we take over the world.
Pete: Keep making awesome music. We have a demo coming out soon and a whole bunch of touring in New England.
Eddie: To open up for our favourite bands and follow in the footsteps of our heroes like the thrashers and wizards that inspired us to have an awesome fan base!
We'd like to thank Crypitus for taking the time to speak with us & Stencil PR for arranging it. You can keep an eye on upcoming releases over on Bandcamp & keep up to date with the band over on Facebook. You can also check out some of their music now on YouTube & SoundCloud.