Band Interview: Crow Country Outlaw
Games, Brrraaains & A Head-Banging Life are proud to bring you an interview with the Swedish hard rock band, Crow Country Outlaw.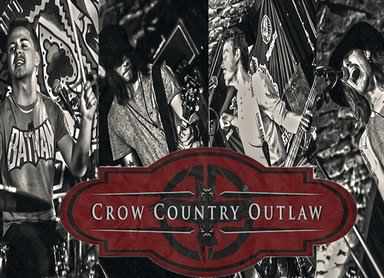 1. How did you get started as a band?
Initially, Sebastian moved back to our hometown after a couple of years of R&R and he got Adam and Mattias quickly on-board and then picked up Poods shortly thereafter. We got into the rehearsal and found out that this constellation was a great fit.
2. How would you describe your sound?
Our sound is a punk-struck, country/blues rock mash-up with a finger in every bowl of inspiration.
3. What bands/artists would you say have influenced your style of music?
Bands like KISS, Guns N Roses, Backyard Babies and Hank III are some of the few that have been a vital part to our music when we started out as a band back in 2013. Today we tend to indulge ourselves in as much great music that we can get our hands on, so the personal catalogues of inspiration is enormous.
4. Has the rise of YouTube & music streaming helped or hindered you as a band?
YouTube has been a great tool to work with and we are all for the streaming of music. In 90% of the case we believe that these networks has been a helping hand for us.
5. What do you enjoy doing when you're not making music?
Besides the music Mattias spends his time as a Lindy-hop dancer. Adam enjoys bar-tending back home. Poods spends his time travelling around and Sebastian is working towards a Masters of Art degree.
6. What are your future plans musically? Tours?
We are currently planning our next record and some long-awaited video-releases during the year. At the moment no tours are booked for this year.
We'd like to thank Crow Country Outlaw for taking part in this interview & Stencil PR for arranging it. You can find out much more about the band over on their official website here. You can also check them out on Facebook, Twitter, Instagram & YouTube.