Formed in 2012, the battle-hardened folk-metal warriors of East Anglia known as Atorc have become a force to be reckoned with on the UK metal circuit.
Utilising soaring classic metal vocals alongside harsh growls, over fleet-fingered guitar and violin work and raging double bass drumming, the group's music has drawn comparisons to the likes of Ensiferum, Turisas Iron Maiden, Bal Sagoth and Bathory.
The group will be releasing their successfully crowd-funded debut album 'Under The Raven Banner' on April 4th 2019 and you can read our review here. We're very proud to bring you an interview with the band.
1. Can you give us a bit of background about Atorc? How did you get started?
Jon (BattleBeast) formed the band in 2012 under the name Winterfell I believe, but changed to Atorc due to the rather obvious connection to Game Of Thrones and also Atorc being a more original name. There were quite a few different musicians in and out of Atorc between 2012 and 2015 alongside founders BattleBeast (bass) and Blistyg (guitar), but what we consider the main era of Atorc began in late 2015/early 2016 when Helbard and Boudikath came onboard. This was fully realised when we got Huldra on violin and Vili on drums later in 2016. Since then, the chemistry in this lineup has allowed us all to grow as friends, musicians and performers and cultivate what is now our trademark image and sound.
2. Where does the name come from?
The name Atorc is taken from the Snettisham Torc, an Iron Age artefact which was part of a famous cache of Iron Age precious metals discovered in our home region of East Anglia called the Snettisham Hoard.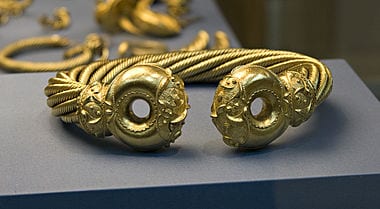 This torc was thought to possibly have been royal treasure of the Iceni celtic tribe – whose leader was the legendary warrior queen Boudica. The historical gravitas of this and the accompanying history struck a chord with us and inspired the name. Our song 'Boudicca' is of course a live fan favourite, and being tied into our identity makes it that bit more special.
3. You're billed as folk metal. A fair description or do try and steer away from that seeing as 'folk metal' is sometimes seen as a bit of a joke?
That is a fair description for our sound and we are proud of it. We don't see folk metal as a joke – you're not obligated to take it seriously, but we don't see it as a joke. People also say they can hear a classic metal and power metal influence too.
4. Tell us a bit about the new album. What can fans expect?
We're really proud of this album. We put right everything we were unhappy with about our last release (Seven Tales Of Swords & Ale) and improved on everything people liked about it.
The songs are more nuanced, more memorable, better written and better performed. This is Vili's first album drumming for us – he's given an amazing performance and allowed us to do things we couldn't do before, as well as laying down some monster blastbeats. The production by Danny B (HVR Studios, Criminal, Anihilated, Pentagram Chile) sounds huge and everyone played their heart out. There are plenty of folky, catchy hooks on this album, especially 'The Mead Hall' which goes down a storm live – but the album also shows off our heavier side on cuts like 'Shieldwall', 'Ragnarok', and the title track.
5. What made you decide to go down the route of crowd-funding?
We opted to use crowdfunding because it's an excellent way to build a connection with your fanbase, and some bands we know have had great success with it. It was a great opportunity to get creative and offer some unique items of merchandise we wouldn't usually do, and we have gained some real true and loyal followers out of the whole campaign. We'd consider it a success, even with the recent PledgeMusic funding fiasco – we still haven't been paid, but we ended up funding the orders ourselves and the outpouring of support in the wake of getting stiffed by Pledge has really opened our eyes to the passion and generosity of our fans and metal fans as a whole.
6. What inspirations were used when it came to writing the material?
The inspirations for this album are various – we could namedrop a list of bands, but people are always going to have their own opinions on who and what we sound like. The most important thing is that we've tried to expand and improve on the things that give us our own identity, and everyone has their own piece of the canvas to paint on, so to speak. The goal was to make a powerful, energetic, dynamic album with plenty of character, and we really feel like we've succeeded.
7. How exciting is it to be so close to the release date? I've never released an album but I imagine it must be like the birth of a child!

We are incredibly excited for the release and for the whole of 2019 really! Every week we get some new bit of news about interviews or reviews or gig offers and there's a great morale and sense of momentum in the band at the moment. The album is up for pre-order on our Bandcamp here and we'll be shipping out orders for release date.
8. What has been your proudest achievement in Atorc to date?
Probably the whole last 12 months! We've made an album we're massively proud of, we've played two HRH events and broken lots of new ground, and made many friends along the way. Also worthy of mention is the time a drunkard threw his shoe at Hellbard, who then filled it to the brim with water and threw it back at the man who was then physically ejected from the venue.
9. What gets you out of bed in morning and motivated?
We're a diverse bunch who live different and busy lives, but we can all agree that mead, ale, good friends and heavy metal are worth living for.
10. What does the rest of 2019 look like for the band? Where can people catch you live?
We have a busy diary of gigs over the summer months, and plan to push the album as hard as we can. We're at Retribution Alive in Camden on April 6th, the first gig where we'll be selling the album.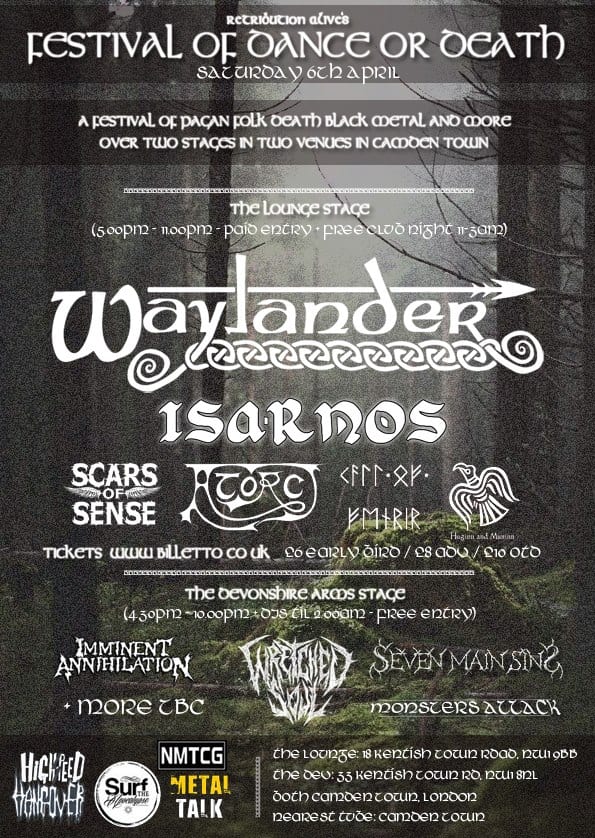 We're breaking some new ground this year too, playing Bristol for the first time in May, and doing a mini tour of the UK in July – we're also playing the excellently-named Asgardian Heathen Festival in August. We're also looking forward to seeing the response to our new album, and may even have some reviews in print….watch this space!
Under the Raven Banner can be ordered now over on Bandcamp. Find out even more about Atorc and keep up to date with their news via their Facebook Page, Twitter and Instagram. Check out their YouTube Channel for videos!