Album Review: Zgard – Place of Power (Schwarzdorn Production)
Zgard's seventh studio album 'Place of Power' features eight fascinating epic pagan black metal tracks and is set to be released on May 21st via Schwarzdorn Production.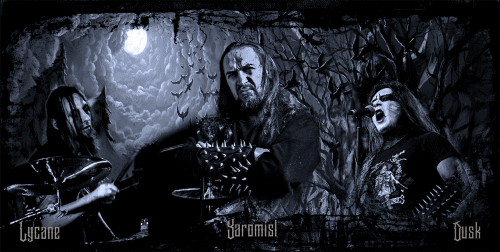 Like an icy wind that chills to the bone blowing from an ancient crypt filled with darkness, Zgard's Place of Power calls to a fear long buried. Something that humanity has evolved from but is hidden deep in our cores, waiting to woken when the time arises. This isn't flight or fight… it's run screaming in terror as what horror comes is ancient and terrible.
The intro of Arise makes that clear and the eruption of black metal that comes on Trap of Cold and Old Ruins just confirms it's too late. Now all that is left to do is drop to your knees and pray for forgiveness. Blistering guitars, crushing drums and howling vocals… layered with pagan melodies. It's surprisingly more epic sounding than you might expect.
It's that grandness that pushes Ascension Fog forth while Zgard continue to prove to be undeniably twisted in how they deliver their brand of black metal. Constantly startling stuff but also constantly exciting stuff. Their seventh album sees them burning as brightly as they did on their first.
Those pagan melodies are prominent again on The Fiendmother before the title track howls with darkened intent and Last Harvest has Zgard cleaving through fields of flesh and bone. Consistently spectacular stuff culminating in the starry wonder that is Thaw. The ice is beginning to melt as what we get is an extended outro that adds so much weight to the sinister pagan thread running throughout.
Zgard – Place of Power Full Track Listing:
1. Arise
2. Trap of Cold
3. Old Ruins
4. Ascension Fog
5. The Fiendmother
6. Place of Power
7. Last Harvest
8. Thaw
Links
Bandcamp | Schwarzdorn Production
Zgard - Place of Power (Schwarzdorn Production)
The Final Score -

9/10